The Lonergan brothers, Ryan and Lachlan, are part of a strong contingent of local rugby players selected in the Australian schoolboys team.
The two are an unlikely pair, Ryan is the nimble halfback and younger brother Lachlan a hooker in the front row.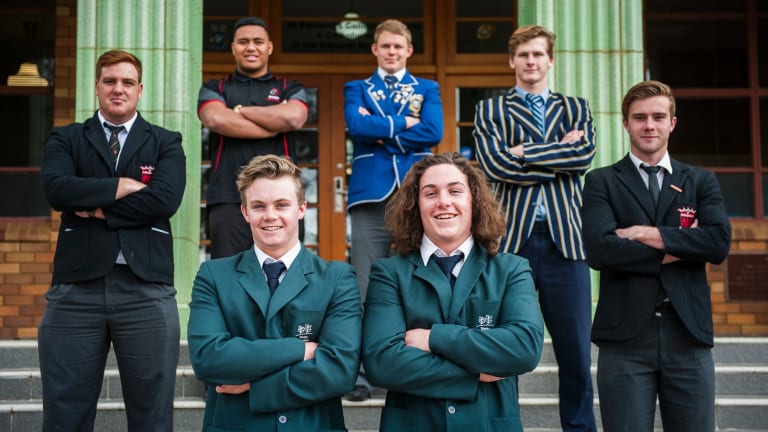 "I don't know how it works, he must have got the good genes," said Ryan. "I got stitched-up with the skinny genes and he got the big muscles."
It has been a big year for the Tuggeranong Vikings halfback, who has also signed a two-year contract with the ACT Brumbies, and he said representing your country is a "massive honour".
"It's a pretty awesome experience, especially with five other ACT boys and my brother so I'm pretty chuffed.
"Playing New Zealand is going to be what I'm looking forward to the most but just going on tour with the boys, making friendships and playing some good footy along the way should be awesome."
The Lonergan brothers will be joined by Luke Gersekowski (St Edmund's College), Thomas Ross (Darmalan College), and Francis Soakai-Tai (Erindale College).
As well as Australian schoolboy Barbarians selections Lachlan Osborne and Mackenzie Hansen.
The team's head coach and St Edmund's mentor Pat Langtry said the New Zealand game is an "acid test" but there is no easy team at this level.
"The game in Samoa certainly won't be easy, Fiji never are, and then we have got the New Zealand Barbarians so it is a tough tour and a tough program."
He said the territory's representation peaked in 2001 with seven players included in the national squad, so five is an impressive number.
"It's good, it's a reflection of a very tough under-18 competition in Canberra this year, and any one of four teams on the day could have won that competition it was that tight.
"That tough competition then transferred in to the Australian Championships, where the ACT schoolboys were very well prepared and also very competitive, and that reflected in selection as well."
Langtry said being selected is a significant achievement for the players and their families who dedicate so much to help them develop.
"Some of these kids have been playing rugby since they were eight years old and they've had a network of coaches, parents and support from their schools and clubs, and I come in right at the pointy-end and hopefully get some benefit from that extensive preparation.
"In Australian rugby when you're a boy at school this is the pinnacle, there's no doubt about that."
James is a reporter for The Canberra Times and Chronicle