With 12 of the men's top 100 and the fastest serve in the game coming, Tennis ACT chief executive Ross Triffitt believes the increasing strength of the Canberra Challenger has it set to become a permanent lead-up tournament to the Australian Open.
German world No.63 Jan-Lennard Struff leads the field for the men's tournament, which starts at Canberra Tennis Centre on January 7, while the man who's recorded the fastest serve ever, Sam Groth, heads the Aussie contingent.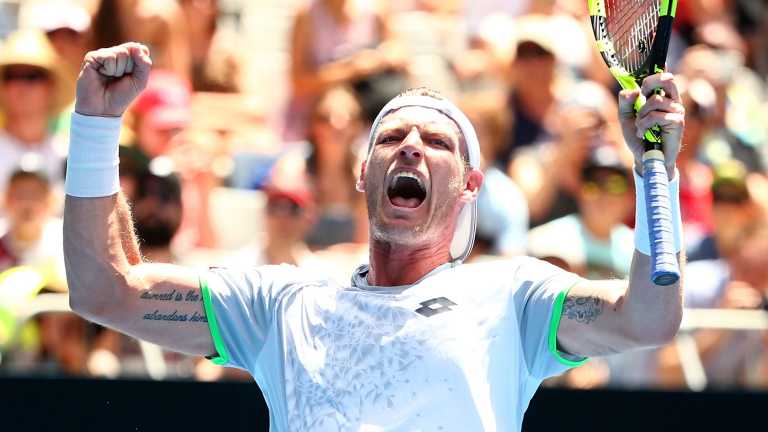 Not only is Groth known for the 263.4 km/h thunderbolt he sent down in South Korea four years ago, but also the Davis Cup heroics he produced for Australia against Kazakhstan last year.
Both Groth and Lleyton Hewitt guided the Aussie team back from 2-0 down to claim the quarter-final tie.
The 29-year-old was world No.53, but he's dropped to 180 after undergoing foot surgery last year.
"He will be a big drawcard. People are familiar with his success in Davis Cup, he's had some good results in Australian events," Triffitt said.
"He had a tough time last week in the [Australian Open] play-off, but I'm sure come January he'll be firing on all cylinders and it'll be great to see that big serve here in Canberra.
"At altitude it'll certainly be coming down very quickly."
Triffitt was also excited about the quality of players they'd attracted. Last year they had 10 inside the top 100, which has increased to 12 this summer.
He said while they weren't household names, the quality of tennis being played by those ranked 60-90 was still "phenomenal".
Struff was the highest ranked at 63, but has been as high as 46, and represented Germany in the Davis Cup.
France's Herbert Pierre-Hugues, ranked 78, won this year's Wimbledon doubles title and USA world No.88 Donald Young has twice reached the fourth round of the US Open.
"We're ecstatic to have 12 top-100 players and some great Australian representation with Sam Groth and Marinko Matosevic and Omar Jasika ... it's a great field," Triffitt said.
"The guys that are in these rankings from 60-90 their standard is phenomenal.
"Sometimes it might not be names you've heard of, but if you look at who they've beaten, how they've performed in events ... it shows there's a real depth of talent in the field."
It'll be the second Canberra Challenger year after Tennis Australia wanted an extra lead-up tournament for the first major of the year last summer.
Triffitt felt that increased depth pointed towards it becoming a permanent fixture leading up to the Australian Open.
"Yeah I think it does. In the first year we had 10 top-100 players, which took us by surprise that we would get such a strong field at Challenger level," he said.
"But the fact that we've improved on that in its second year shows that it wasn't a one-off with a new event coming on.
"This just confirms the week before the Australian Open Canberra is a great place for people to be preparing for the main draw in Melbourne."
David Polkinghorne covers the Canberra Raiders, local rugby league, Canberra Cavalry, racing and cycling, along with every other sport, for The Canberra Times.