Tuggeranong coach Tim Sampson will use the John I Dent Cup to scout potential National Rugby Championship after being named the new Canberra Vikings mentor.
Sampson will take the Vikings' reins and replace Wayne Southwell as the NRC coach, adamant he will scour rival clubs for the best players to chase a premiership.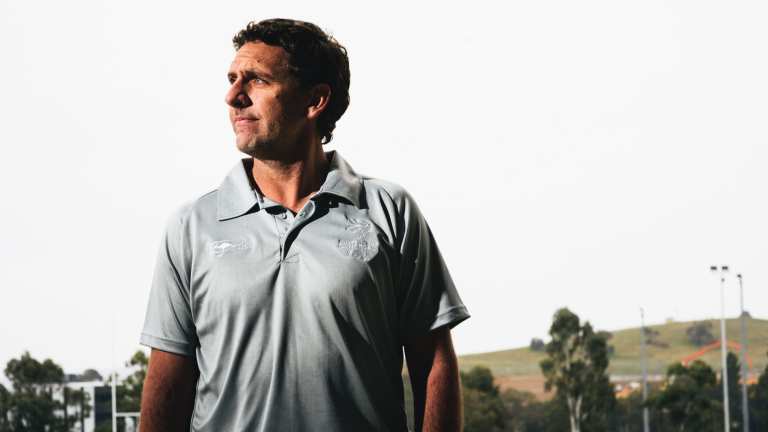 The Vikings Group has taken over Canberra's NRC licence after striking a four-year deal with the ACT Brumbies.
They will inject $1 million into the program with Sampson keen to chase the franchise's first championship.
He will lead the Tuggeranong Vikings into battle against the Uni-Norths Owls at Viking Park on Saturday as he aims for back to back John I Dent Cup titles.
But NRC recruitment will be at the back of his mind with the season looming.
"The NRC is there to enhance opportunities for local players and there is a lot of quality in the Canberra competition," Sampson said.
"I'm not sure how it's going to work with which Brumbies are available and things like that, we'll speak with the new [Brumbies] head coach when he's appointed.
"As far as selection goes for everyone else, it will go on form throughout the competition and it's no different to previous years.
"I'm reviewing [John I Dent Cup] games on a weekly basis so players are always in the picture there when you're analysing key players in opposition teams."
There is still some angst in the Canberra rugby community with the Vikings taking charge of the NRC team.
It stems from a fear players keen to play in the capital's premier division will join Tuggeranong because of the club's obvious link to the NRC team.
Sampson is keen to allay concerns, reiterating the Canberra Vikings are keen to break down the barriers to make sure the NRC team is supported by all.
The Vikings are putting plans in place for a heritage round to start the season, with the team to wear traditional ACT colours of blue, white and gold.
"I don't see there being any issues, I see it as a smooth flow on from previous years," Sampson said.
"That comes down to how the Brumbies and Vikings Group manage it. There have already been discussions around that.
"It's going to be the same focus for the NRC platform and hopefully there are no issues in rugby throughout Canberra.
"It's important for the community to know the Vikings Group has supported rugby for 20 years and they're keen to continue that support."
JOHN I DENT CUP ROUND NINE
Saturday: Royals v Queanbeyan Whites at Phillip Oval, 3.05pm, Wests v Gungahlin Eagles at Jamison Enclosed, 3.15pm, Tuggeranong Vikings v Uni-Norths Owls at Viking Park, 3.25pm. Easts - bye.
Chris Dutton is the sports editor at The Canberra Times.