A refreshed Caroline Buchanan hopes spending time away from the BMX circuit will help her achieve a world championship double on Sunday morning.
The two-time Olympian will race at Rock Hill, South Carolina, this weekend as she chases her eighth world title in her pet event.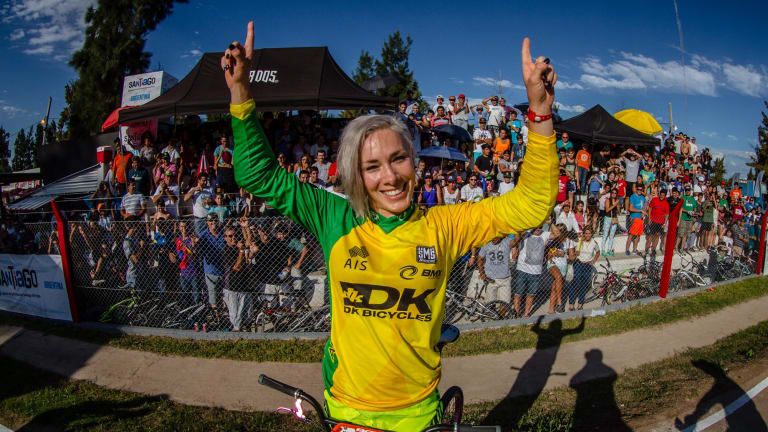 Buchanan has spent most of this year off her BMX bike to avoid a post Olympic Games hangover, opting for mountain bike adventures and adrenaline junkie jumps.
But her time away has given her a chance to improve her power and she hopes it pays off when she clashes against rival Mariana Pajon.
"We've been doing a lot of tourism things this year, so I definitely feel refreshed going into this one," Buchanan said.
"I'm relaxed, but that's because the work at events like this is all done behind the scenes.
"You can't freak out now and try to cram everything in. I've been doing a lot of mountain biking and travel, but I've still been working really closely with Julian Jones from the AIS.
"We've been focusing on different areas this year because we have this opportunity after the Olympics to experiment with strengths and weaknesses.
"I guess I'm a mature athlete now at 26 years old. We've built a strength and conditioning base so we can do a lot more to try to progress to the next level."
Buchanan will be part of a 274-strong Australian contingent at the two-day event in the United States.
Buchanan crashed out of the Olympic semi-finals in Rio last year. It brought back memories of her heartbreak in London in 2012.
But she is using that disappointing to fuel her desire to get better, testing herself on the mountain bike Crankworx series this year instead of the BMX World Cup events.
She's unfazed by the challenge of swapping bikes and competing with the world's best, but she's keen for redemption against reigning world champion Pajon.
Buchanan won the time trial world title last year, but finished second to Pajon in the championship race.
"Rock Hill is also a track we have all raced on a lot before. I have done my research, watched the other girls racing and kept an eye on who is and isn't going fast," Buchanan said.
"I feel like I'm coming in with a little less pressure on me this year just because I haven't raced as much BMX.
"It's a pretty basic track, a real race track that I actually really like. It's going to come down a really tight race between us.
"I'm a performer. I like to rise on the occasion and BMX is such a heat of the moment sport.
"You can't get nervous, you've just got to be ready and make the most of a crazy 30 seconds on the track. I'm excited and I'm definitely feeling fresh and ready to go."
Chris Dutton is the sports editor at The Canberra Times.