Young Socceroos coach Ufuk Talay says a long-term commitment from the A-League to play games in Canberra will kick off a boost in crowd numbers.
The Central Coast Mariners drew 10,569 fans across two fixtures in Canberra this season, but a long-term partnership with the ACT government needs to be struck for the experiment to continue.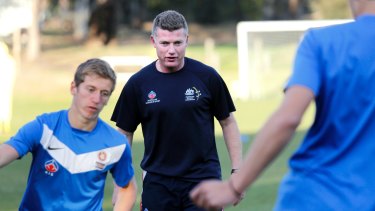 The former Sydney FC midfielder says there is no shortage of football fans for the Mariners to connect with in the capital - all they need is time.
"Football is the most participated sport in Australia at the junior level, so the more games we get out here, the more people will be involved, and obviously we'll get bigger crowds hopefully coming to these games," Talay said.
"Central Coast have created a relationship now with Canberra United and Capital Football, and I think if they have at least two or three games a season [in Canberra] a lot of people will turn up.
"Football is growing in this country and it's getting stronger and stronger."
Talay is based in Canberra and will coach the Young Socceroos against Belconnen United at McKellar Park on Wednesday evening at 6pm.
A number of the Young Socceroos - Australia's under 20's team - are still 17 years old and the squad includes Canberra's Marc Tokich.
"All these players that we've brought in have been identified and we'll bring them under our umbrella and they'll understand our philosophies and how we want to play as a national team, Talay said.
"It's a great opportunity for them to take that next step."
Meanwhile, match-ups for the National Premier Leagues finals series have been announced, with the tournament pitting all eight NPL winners in a sudden-death tournament.
Winners of this season's Capital Football NPL will square off with the winners of the Northern New South Wales competition in September.
Caden Helmers is a sports reporter for The Canberra Times