Canberra United's Japanese international Yukari Kinga has cleaned up at the club's awards night, taking out the player of the year and players' player honours.
Outgoing Canberra coach Rae Dower says it has been it has been "a real privilege" to coach Kinga, who quickly became a cult hero within the team and in the grandstand.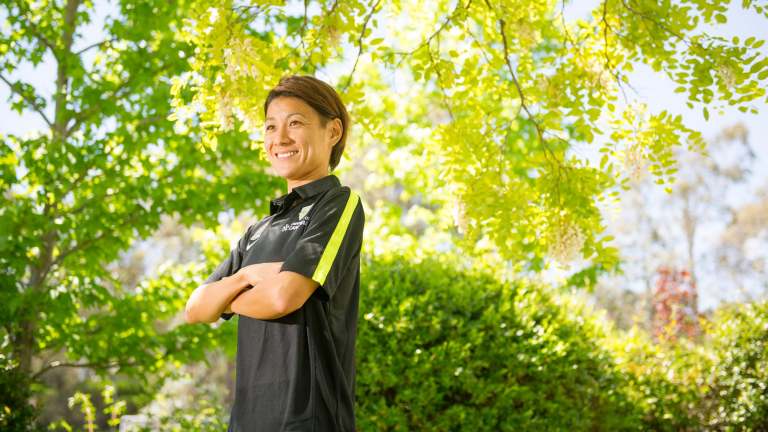 Dower will depart Canberra at the end of March to be closer to family in Brisbane and says Kinga has left a lasting impression on the club.
"She's not only a phenomenal player - a World Cup winner, Olympic silver medallist, 100 caps for her national team - but she's just the most amazing person," Dower said.
"Just the way she conducted herself and prepared, she's just such a great role model. She's far outweighed the expectations that we had of her. She's just been brilliant for us.
"I think everyone just felt really lucky that they were actually able to witness somebody who is 32, who has been there and done that, but is still at the top of her game."
Canberra United's season ended in a heartbreaking extra-time loss to Melbourne City, but falling one game short of the decider mattered not for Kinga.
Kinga would not have played in the W-League grand final regardless of the semi-final result, with the club allowing her to leave early to take up a deal with a Chinese Women's Super League club.
The Chinese competition's international signing window meant Kinga needed to arrive by February 10, and Canberra couldn't deny her the chance to take up the "most lucrative contract of her playing career."
Kinga played every minute of the competition this season having touched down just days before round one in November and shouldered a heavy workload in the absence of co-captains Michelle Heyman and Ellie Brush.
The World Cup winner beat second-placed Ashleigh Sykes "by quite a stretch" for the top gong with Hannah Brewer finishing third in the voting.
Sykes won the competition's golden boot as the leading goal scorer with 12, and the stand-in skipper was recognised for her efforts with the supporters player of the year award.
"I still think that there's still so much untapped potential in [Sykes]," Dower said.
"I think that she could be anything. She's already great, I think she can be really great, and I'm just excited for where her football takes her because she's got so much improvement in her."
Dower has overseen the emergence of generation next in Canberra United's ranks and 17-year-old Grace Maher has been recognised as the club's rising star.
The outgoing mentor says "the sky is the limit" for the next crop of Canberra's stars with Maher leading the league in assists this season.
Canberra United W-League 2016-17 award winners
Player of the Year - Yukari Kinga
Players' Player - Yukari Kinga
Supporters Player of the Year - Ashleigh Sykes
University of Canberra Rising Star - Grace Maher
Volunteer(s) of the Year - Danielle Steele & Megan Lane
Caden Helmers is a sports reporter for The Canberra Times