The Canberra Capitals are in danger of losing Australian basketball's brightest prospect Eziyoda Magbegor as she considers a move to the United States college system.
Magbegor left Australia on Thursday to visit the University of California, Los Angeles, and the University of Connecticut, just days after returning from an Australian Opals camp in Italy.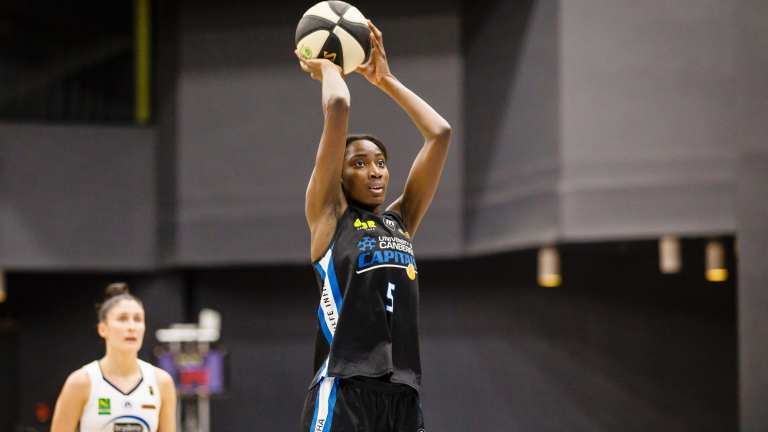 Capitals coach Paul Goriss says he is "crossing every part of my entire body" in the hope the WNBL rookie of the year returns to Canberra next season.
The Capitals are still settling on a budget for the 2018-19 season but Goriss is hopeful of announcing further signings this week in a bid to snap Canberra's seven-year finals drought.
Lauren Scherf is Canberra's only contracted player and the free agency period has been a "long, arduous process" in the wake of a condensed season which finished in January.
Reigning champions Townsville have already started an aggressive recruitment drive, re-signing the league's most valuable player Suzy Batkovic, Darcee Garbin and Micaela Cocks, and welcoming Opal Tess Madgen.
It means the likes of Magbegor and Opals star Marianna Tolo - who is considering a shock return following a second anterior cruciate ligament tear - loom as trump cards for Goriss.
"When [Magbegor] comes back she'll make a decision on whether she chooses to go to USA college or stays and plays WNBL," Goriss said.
"I am crossing every part of my entire body [in the hope she stays]. I spoke to her before she left and she's got to do what she needs to do.
"Obviously I think the WNBL is a better fit for her after her season and for the Opals, but it's her choice and her decision. She's got to decide what's best for her future.
"It's difficult for the girls to make decisions when they're talking about decisions where anything won't happen until September when you start pre-season."
Australian coach Sandy Brondello has previously christened Magbegor "the future of the Opals" and the duo linked up alongside Opals assistant Goriss at a national team camp in Italy this month.
Emerging forward Magbegor did her Commonwealth Games chances no harm at the camp with Goriss saying she was "fantastic" in maintaining the fearless approach she took into her rookie WNBL season.
"She went in there with little expectation as the rookie or the 18-year-old," Goriss said.
"One of the girls made the comment, I think it was Jenna O'Hea, that Ezi was the best person at practice for the first two days, she stood out.
"It does help a little bit too that we run some of the Opals' plays with the Capitals and some of the terminology is the same or similar.
"For her to be able to go to that environment and feel at ease, she knew some of the plays, she knew some of the terminology, that helped her transition from WNBL into Opals."
Magbegor could be the second Capitals prospect to make the jump into college basketball this year after development player Callie Bourne signed with division one outfit Idaho State University for the 2018-19 season.
Caden Helmers is a sports reporter for The Canberra Times