Eziyoda Magbegor has been hailed as one of the best young basketball players in the world - some even say she's the next Lauren Jackson.
It's a label fitting for an 18-year-old Canberra Capitals recruit that has sparkled in the opening fortnight of her first WNBL season.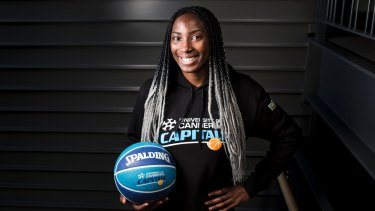 But life on the court hasn't always been easy for "Ezi", who barely ever saw the ball when she played with boys - at least until they realised how good she was.
The teenage sensation with a uniquely blended heritage will take the next step in her remarkable journey against the Dandenong Rangers at the National Convention Centre on Sunday.
It all started when her sister Elo was lured to basketball by her singing teacher, and her brother Ovie wasn't far behind.
Naturally, Magbegor - who towered over most kids her age - followed suit.
"[My brother] started playing, then I started playing with him in under 8s in a mixed team. I didn't really enjoy because I was the only girl in a mixed team, so I never saw the ball," Magbegor said.
"No one would pass it to me or anything so I was just running up and down the court. I stuck with it, and here I am."
Magbegor's heritage is something she is extremely proud of, having been born in New Zealand to Nigerian parents Patience and Appolus.​
The family moved to Craigieburn in Melbourne's north when Magbegor was six years old with Patience and Appolus keen to find a better environment to raise their kids in.
The emerging basketball star hasn't been to Nigeria yet, but she'd "love to go over the next few years" to connect with her family roots.
Magbegor is the third of four kids behind older siblings Elo and Ovie - who is pursuing a college basketball career at the University of West Georgia - and ahead of younger brother AJ.
But she was the first to leave home when she moved to Canberra as a 15-year-old, leaving behind her immediate family in Melbourne to join the Australian Institute of Sport's basketball program.
"Just waiting for that phone call [from the AIS] got me really excited. I wasn't nervous at all to leave home," Magbegor said.
"I missed my family for the first couple of months but having such a great group of girls there who were in the same situation as me helped a lot in my transition to the AIS and moving away from home."
The Capitals won't have a game broadcast on television until they host the Sydney Flames on November 4, so Magbegor's family is yet to see her play in the WNBL.
They've been keeping a keen eye on the live stats during every game, cracking a huge smile every time every time the teenage sensation hits a bucket or dishes off an assist.
They will finally get to see her play on November 18 - just when Magbegor is set to start exams at Lake Ginninderra College.
She knows she'll be busy but Magbegor is hoping she can stay with the family for a few days - if she does, she knows she'll get all her favourite meals cooked.
"My sister, when I go home, she's always complaining," Magbegor laughed.
"'Mum you never cook this when Ezi is away, only when she is here you do'. I definitely get spoiled when I'm home."
She's still weighing up her options between continuing her WNBL career or heading to a United States college next year.
But either way, when it comes to the Lauren Jackson comparisons, Magbegor says she has a "long way to go".
WNBL ROUND THREE
Sunday: Canberra Capitals v Dandenong Rangers at National Convention Centre, 3pm.
Caden Helmers is a sports reporter for The Canberra Times