Woden-Weston FC coach Martin Lategui has quit his National Premier League job, questioning the club's priorities and saying he felt betrayed and undermined in the position.
But club president, Steve Rohan-Jones, said Woden-Weston remained focused on building a team for the future and conceded officials did not expect everyone to agree with their decisions.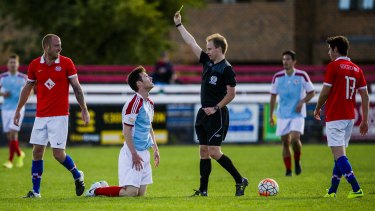 "We accept that there might have been some philosophical differences between how he [Lategui] sees the first-grade base operating within a club and how the club sees it operating," Rohan-Jones said.
Lategui quit just eight months into his three-year contract on Tuesday night and fired a shot on his way out by claiming he had been disrespected by the club's decision to remove his assistant coach.
Technical director Rey Castro will take the coaching reins for Woden-Weston FC's clash against Tuggeranong on Sunday at Kambah.
Lategui leaves as the club languishes in second last spot on the ladder, with just one win from its five games so far this season.
Lategui told players he was leaving on Tuesday night and said he knew he was "letting people down" by walking away, but felt he made the right choice.
"In the end I didn't feel that the club was making decisions in the best interests of the club and also of the first-grade team," Lategui said.
"The decision to remove my assistant Mase Tate and appoint him to another team despite my clear and strong objection was the last in a line of decisions that the club made, that made me feel unsupported and disrespected.
"I felt that the club did not realise the importance of having a successful first-grade team, and this made me question if our medium to long-term objectives were aligned.
"I couldn't see myself fighting these constant battles and continuing to feel undermined any longer."
Tuggeranong coach Miro Trninic was surprised when told of the situation, but added that his team couldn't expect Woden-Weston to lie down in the wake of Lategui's announcement.
"When the team changes the coach, sometimes the team comes out very positive, and sometimes they can come out very negative, you never know," Trninic said.
"But it's not a pleasant situation for the Woden-Weston club."
Despite exiting so early in his contract, Lategui's tenure was a big boost for the fledgling club, and Rohan- Jones maintained he would still be held in high regard around the club.
"The way we want to remember Martin is for the really positive things he has brought to the club that will last well beyond his time here," Rohan-Jones said.
Meanwhile, on Saturday Gungahlin United play Belconnen United at McKellar Park as they look to close the gap to the top four and Belconnen chases ladder leaders Tigers FC.
NATIONAL PREMIER LEAGUE ROUND SEVEN
Saturday: Belconnen United v Gungahlin United at McKellar, 5:30pm
Sunday: Canberra FC v Tigers FC at Deakin Stadium; Tuggeranong United v Woden-Weston FC at Kambah; Canberra Olympic v Canberra United Academy at O'Connor; Monaro Panthers v FFA Centre of Excellence at Riverside. All games 3pm.