Assad 'dialogue' proposal rejected
SYRIAN President Bashar al-Assad's proposal to end the country's civil war by dialogue – at the same time as he branded his opponents ''slaves'' of the West – has failed to persuade his critics.
The main Syrian opposition grouping, the National Coalition, immediately rejected the plan while Britain described Dr Assad's speech, his first in public in seven months, as ''beyond hypocritical''.
The European Union renewed its calls for him to step aside.
Dr Assad, speaking to wild applause from crowds packed into the Damascus opera house on Sunday, outlined a plan he said was aimed at resolving the 21-month conflict, which according to the UN has claimed more than 60,000 lives.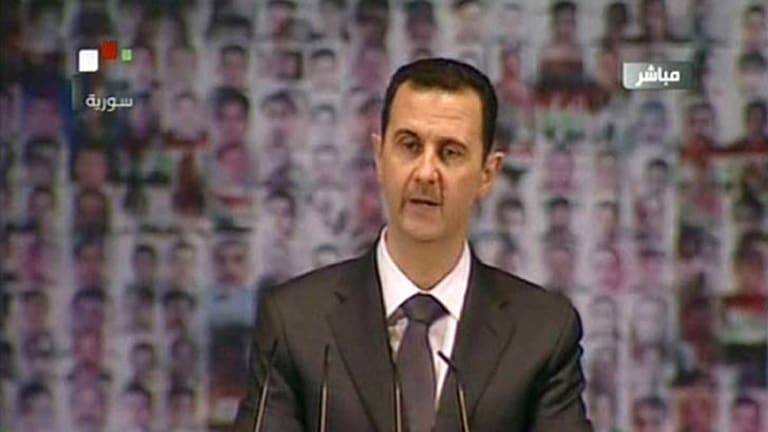 The first step, he said, was for foreign powers to end their support for rebels seeking to topple his regime.
''Right after that, our military operations will cease,'' he said, adding, without elaborating, that a mechanism would be set up to monitor any such truce.
The government would then step up contacts to convene a national dialogue conference with opponents ''inside and outside'' the country – though not those who ''take orders from abroad''.
''We will hold dialogue with (those who are) the masters (of their decisions), not the slaves (of foreign powers),'' Dr Assad said.
The national dialogue would draft a charter that would then be put to a referendum. That would be followed by parliamentary elections and the formation of a new government, he said.
''We are now faced with a state of war in every sense of the word, an external aggression more deadly and dangerous than conventional wars implemented through a handful of Syrians and many foreigners,'' Dr Assad said in the live televised speech.
He said the conflict was not one between the government and the opposition but between the ''nation and its enemies'', saying of his opponents: ''This is not a loyal opposition but a gang of killers.
''The one thing that is sure is that those who we face today are those who carry the al-Qaeda ideology.''
The National Coalition, which insists that Dr Assad must step aside before it is willing to enter dialogue, said his speech was directed at those ready to see him remain in power.
Dr Assad will not accept ''any initiative that does not restore stability to his regime and put him at the helm of control'', National Council spokesman Walid al-Bunni said.
British Foreign Secretary William Hague took to Twitter to vent his anger, writing: ''AssadSpeech beyond hypocritical. Deaths, violence and oppression engulfing Syria are his own making, empty promises of reform fool no one.''
In Brussels, a spokesman for European Union foreign policy chief Catherine Ashton said: ''We will look carefully if there is anything new in the speech but we maintain our position that Assad has to step aside and allow for a political transition.''

AFP
Morning & Afternoon Newsletter
Delivered Mon–Fri.