Bali nine: Myuran Sukumaran captures Joko Widodo in an ironically moving portrait
Devastated by news his petition for clemency was rejected, when Myuran Sukumaran finally picked up a brush again, the first subject he painted was the man who consigned him to death.
After several weeks of paralysing depression, Sukumaran began the portrait of Indonesian president Joko Widodo, completing it on January 23 and inscribing the poignant message "People Can Change".
Entitled "Jokowi" – after the president's nickname by which he is universally known in Indonesia – it is one of Sukumaran's most accomplished paintings.
The Indonesian leader looks into the middle distance, his expressionless face and the slight downturn of the mouth indicative of the lack of mercy he showed the painter.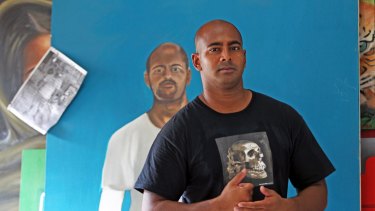 "He had struggled with many emotions for several weeks," said a family friend.
"Painting is his refuge. After he painted this image, he returned to teaching his painting classes in Kerobokan, which have helped so many other prisoners. It was an important step for Myuran."
If they are sold, the money from Sukumaran's work is likely to be ploughed back into rehabilitation programs or to support the continuation of the vocational classes he founded at Kerobokan prison, including his art courses.
"Myuran wants the paintings to be used to help the Indonesian people," says Oivind Zahlsen, who is organising an exhibition of the work of Sukumaran's students in Bali on Friday.
In an interview with the Norwegian philosopher and Bali resident Ivar Schou, Sukumaran explained what drove him to paint and start his art classes.
"I can sit around and do nothing, I can be destructive or I can be productive. Those are the three only choices that I have inside here. [It is] being productive that makes me happy," he says in the videotaped interview, supplied by filmmaker Karen Gall.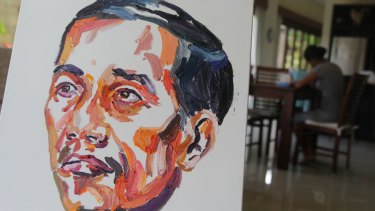 It was the renowned artist Ben Quilty who spurred the reformed drug smuggler to sit at an easel and paint again as his execution loomed frighteningly closer.
He told Fairfax Media in January that Sukumaran was now as good an artist as he was.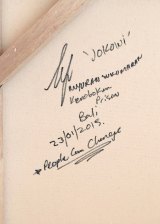 I can sit around and do nothing, I can be destructive or I can be productive. Those are the three only choices that I have inside here.

Myuran Sukumaran, when he was in Kerobokan.
"It really is through hours and hours and hours of practice and the drawings are beautiful, they are f---ing beautiful," he said.
"They are all inmates, there are drawings of Andrew, there are self-portraits, but the best things are the drawings he has been doing with coloured pencils."
Sukumaran has also reportedly painted brooding, phantasmagorical landscapes of Nusakambangan, the place where he now resides and where Indonesia intends to put him before a firing squad.
Sukumaran told Schou in May last year he did not hate those that handed him the death penalty.
"No. I accept what I did was wrong. I know that I should be punished for it, But I do think that the death penalty is too excessive and I should be given a chance ...
"I think I can do a lot of good on the outside if I ever go free ... I would want to do stuff like work and make good stuff and help people. That's what I would be hoping to do."
There are legal appeals still in the works for Sukumaran and his fellow member of the Bali nine heroin smuggling syndicate and death row inmate Andrew Chan.
But the man he painted has been unmoved.
Despite his rehabilitation and passion for helping downtrodden and desperate Indonesians inside Bali's Kerobokan prison, "Jokowi" insists he must die.
While Myuran can change, it seems the man he painted cannot.
Tom Allard is the National Affairs Editor of the Sydney Morning Herald.