Baton Rouge shooting: Online trail illuminates gunman's path to violence
Baton Rouge: He joined the Marines, served in Iraq and earned a Good Conduct Medal. He was an entrepreneur, a self-published author, a nutrition and fitness counsellor, a proponent of the American gospel of self-improvement. He considered himself a lifestyle coach, even though he had failed in marriage; neglected to pay his taxes and was, at one point, living on $US500 per month. He had also embarked on a spiritual quest to find his roots as a person of colour, travelling around Africa for two years.
But Gavin Long's life - a life that had seemed, in many ways, deeply, and even typically, American - also became a web of paranoid ideas, a professed allegiance to an anti-government "sovereign citizen group" and a belief that "bloodshed" was a better tool than peaceful protest in the fight against oppression.
On Sunday, Long died on a commercial street here in a shootout with the police. It was his 29th birthday. He killed three law enforcement officers and wounded three others. On Monday, a State Police spokesman said Long had been "targeting" officers, though his motives otherwise remain murky.
Long had been a resident of Kansas City, Missouri, and it is also unclear what he was doing in Baton Rouge, though a video that appears to have been posted by him shows him in the Louisiana capital discussing the July 5 fatal police shooting of a fellow African-American man, Alton Sterling. In the video, Long also hawks one of his books and expounds on his theories of life, success strategies and Afrocentric business practices.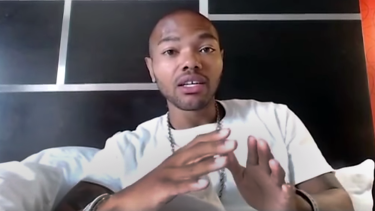 Though the police here have released little information about Long, a deeper portrait is beginning to emerge, based on a large trail left online.
Many of these digital breadcrumbs - web posts, YouTube videos and podcasts - are tied to Long's given name, or some version of a new name, Cosmo Ausar Setepenra, which he filed court documents in Missouri to adopt in May 2015. (He never petitioned the court, so the name change was not legally binding, officials said.) Some of these posts and videos included biographical and personal information that aligned with the information released by the authorities.
There is evidence that he sought to do the right thing, pursuing higher education and serving his nation. There is also evidence of paranoid thinking, and an interest in shedding blood to advance the cause of oppressed peoples.
In an interview with a podcast host in March, Long identified himself as a member of the online community of so-called targeted individuals, people who believe they are being harassed with mind-control weapons and by armies of stalkers.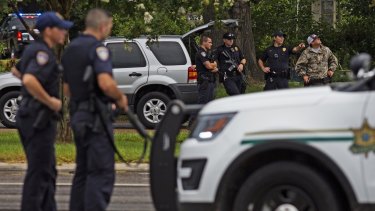 And in one YouTube video, titled "Protesting, Oppression and How to Deal With Bullies," he discusses the killings of African-American men at the hands of police officers, including the death of Sterling, and advocates a bloody response instead of the protests that followed the deaths.
"One hundred per cent of revolutions, of victims fighting their oppressors," Long said, "have been successful through fighting back, through bloodshed. Zero have been successful just over simply protesting. It doesn't - it has never worked, and it never will. You got to fight back. That's the only way that a bully knows to quit."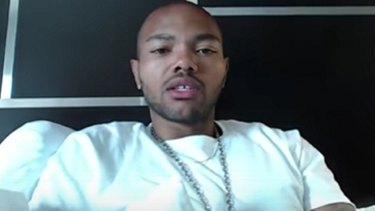 "You've got to stand on your rights, just like George Washington did, just like the other white rebels they celebrate and salute did," he added. "That's what Nat Turner did. That's what Malcolm did. You got to stand, man. You got to sacrifice."
At a news conference Monday afternoon in Baton Rouge, local and state officials detailed the shootings of the officers and the gunman and said the attack had been well planned.
"There is no doubt whatsoever that these officers were intentionally targeted and assassinated," the superintendent of the Louisiana State Police, Col. Michael D. Edmonson, said. Long carried two guns - an IWI Tavor semi-automatic 5.56 caliber rifle, which is an Israeli assault weapon, and a 9 mm handgun, the colonel said - and had a second assault-style rifle in the car.
The crime scene along Airline Highway had been dismantled and business was returning to normal. Bullet holes could be seen in an outside wall of the Hair Crown Beauty Supply Store, where the shooting took place. The city had begun the process of mourning the police officers Long gunned down - including Montrell Jackson, 32, an African-American and 10-year veteran of the Baton Rouge Police Department, who left behind a wife and son.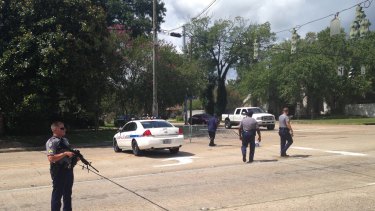 On a podcast posted on iTunes and dated April, the speaker, who gave his name as Cosmo, gives a sketch of his life story. He says he grew up in Kansas City, and was a straight-A student until about middle school, when he became fat and started getting C's. As a child, he was something of a hustler who made extra money by making loans and charging interest.
"Say if I loaned out money to my family, even to my mother, I would make her pay me back, with interest," he says. "If I loaned $20, I would make you pay me back $5 on Friday."
He says he lost significant weight in high school, bought his first car at age 16 and joined the Marines.
Long's military records show he served from 2005 to 2010, including a six-month deployment in Iraq. He was a sergeant and a data network specialist who earned several awards, including one for good conduct. He was also assigned to Okinawa, Japan, and several locations in Southern California.
He attended Central Texas College at its Marine Corps Air Station Miramar site in San Diego, and via distance education, earning an associate of arts degree.
In 2011, court records show, he had an uncontested divorce from a woman named Aireyona Osha Hill. They listed that they had no children or assets and that Long earned $500 a month.
By 2012, Long had moved - briefly, apparently - to Tuscaloosa, Alabama, where he spent one semester at the University of Alabama. He majored in business. He made the dean's list. The University of Alabama police had no interactions with him during his time there. Mike Mansur, a spokesman for the Jackson County prosecutor's office, which covers most of Kansas City, said his office also had no record of contact with Long.
He also attended Clark Atlanta University during the 2012-13 school year, and was in good academic standing, a university spokeswoman said. Although he claimed to be on the dean's list there, he said he had dropped out, sold his two cars, gave away his possessions and travelled to Africa.
Long appeared to be obsessed with the idea of self-improvement, for himself and for others, and he embraced more esoteric means of achieving those goals. A website registered to Long identifies him as a "freedom strategist, mental game coach, nutritionist, author and spiritual adviser." He posted regular podcasts and blog entries sharing his philosophies about standing up for one's rights.
While travelling to Burkina Faso, Egypt, Ethiopia, Ghana, Kenya, Rwanda, Tanzania and Uganda, he said, he wrote three books, covering topics like "holistic detoxification for health, well-being and success"; the "ancient esoteric secrets of the Pineal Gland"; and the "124 Universal Laws and their use in The Laws of The Cosmos."
In 2015, Long filed the petition to change his name. In his statement of intent, he said he was a member of an "indigenous society" called the United Washitaw De Dugdahmoundyah Mu'ur nation. It was apparently a reference to the Empire Washitaw De Dugdahmoundyah. On its website, the group says it is "a multicultural, highly spiritual nation of aboriginal, indigenous Americans" who accept both "lineal and nonlineal" members.
Ryan Lenz, a senior writer for the Southern Poverty Law Centre, which tracks extremist groups, said the group was largely African-American and subscribed to a "sovereign citizen" ideology holds that members are "no longer beholden to any form of government."
On Monday morning, a man who answered a phone number on the website and said he was a leader of the group, Fredrix Joe Washington, said he had never heard of Long.
"You have to understand that this is, Washitaw is, a family, a close-knit gathered group," said Washington, 71. "And we are about peace - and especially not about going out and killing some police officers. That is nothing but a devil."
This year, court records show, a case was filed against Long for not paying his local earnings tax. Papers in that case were served on his address last month, and his mother accepted them, according to court records. Six days later, the tax case was dismissed.
In many of his podcasts, Long expounds at length on dating and self-improvement tips for men, arguing that they must display the characteristics of an "alpha" male. But a number of his other online offerings discuss the historical oppression of minorities, and America's current racial problems.
In a recent email he sent out to those interested in his ideas, he listed numerous instances of massacres of African-American people. And he offered a suggestion for those who encounter ideas similar to the one proposed by the presumptive Republican presidential nominee, Donald Trump, which would temporarily ban Muslims from the country.
"Whatever new speech/scheme the mainstream news starts promoting, you go along with it (but with your spiritual eye open). Dont fight it, go with the ocean! If co-workers at your job start telling you we need to ban Islam, then agree!" he wrote.
He continued: "Say: 'By-gosh that's an excellent idea. And after that, we need to ban Christianity because of the KKK.'
"You say 'That's been long overdue. Whatever you are doing to help rid the USA of KKK or ANY other fringe religious extremist group call me, I'm your guy or gal.'"
On July 8, Lance Scurvin, a podcast host in Orlando, Florida, posted a note from Long on his Facebook page that seemed to suggest that Long was feeling paranoid about his safety. Scurvin, who is known for lending a sympathetic ear to conspiracy-minded guests, had interviewed Long in the past.
"I just want everyone to know that if anything may happen to me or with me, I am NOT affiliated with anybody, any group, nationality, association, religion, corporation, business, etc." the note said.
In an online video expressing similar sentiments, Long said he had been a Nation of Islam member but was "not affiliated with it."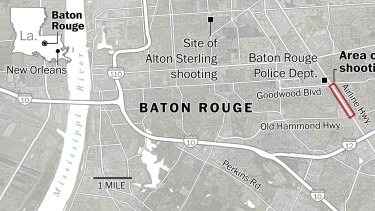 Long appears to have been in Dallas after the killing of five police officers at a demonstration on July 7. In a video posted on July 10, he sits on his bed in a hotel room with dark red walls and says to the camera that he is in Dallas on a book tour. He says that when Washington and others fought back against their British oppressors, they were celebrated.
"But when an African fights back, it's wrong," he says. "But every time a European fights back against his oppressor, he's right."
A spokesman for the Dallas Police Department had no comment Monday when asked if the Dallas police were looking into whether Long was at the scene of the shooting on July 7, whether he had known the Dallas gunman and whether Long had played any role in the Dallas attack.
One of Long's other videos, posted to YouTube but taken down as of Monday, shows him driving around what appears to be Baton Rouge. He approaches a number of African-Americans, strangers apparently, and doles out stray nuggets of advice and wisdom, deploying the salty language of the street.
He comes off as a kind of black nationalist Tony Robbins. He talks about how people need to have different skills to succeed, to have more than one area of expertise. He refers to himself as a life coach, a freedom strategist, a real estate entrepreneur, an author, a teacher, a motivational speaker. And he tells them about his book.
"I want my people to succeed," he says at one point. Later, he refers to "Arabs" and "Indians" who do not care about people, ostensibly African Americans, except when the latter give them their money. At one point he uses the word "cracker," apparently in reference to whites. He also makes a passing reference to the shooting of Sterling.
"It's two parts to freedom, bruh," he says. "Knowing your rights and standing on your rights. They know we know our rights. But how many niggas stand on their rights? And if you not standing on your rights then you have no rights."
New York Times