Blade Runner no murderer, distraught family says
THE family of Oscar Pistorius has denied that the world-famous Paralympian murdered his model girlfriend, Reeva Steenkamp.
''The alleged murder is disputed in the strongest terms,'' Pistorius' family and management company said in a statement.
''These are now live and active legal proceedings, which must be allowed to take their course through the process of proper investigation by the police, evidence-gathering, and through the local South African judicial system.''
The family also said Pistorius had ''made it very clear that he would like to send his deepest sympathies to the family of Reeva. He would also like to express his thanks through us today for all the messages of support he has received. But as stated, our thoughts and prayers today should be for Reeva and her family - regardless of the circumstances of this terrible, terrible tragedy.''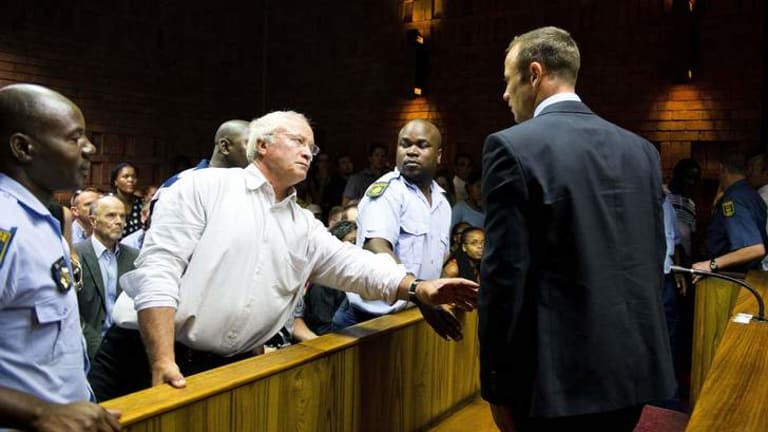 The family's statement followed Pistorius' emotional appearance in a Pretoria court charged with the shooting murder of the 29-year-old Ms Steenkamp, a law graduate. He is spending the weekend in jail after his bail application was postponed until Tuesday.
More details have emerged about the final moments of Ms Steenkamp, who was shot four times in the athlete's home outside Pretoria.
Security guards at the upmarket gated community were first to arrive on the scene, reportedly discovering Pistorius standing over Miss Steenkamp's body. She was allegedly shot through the bathroom door, which had four bullet holes in it.
Police are investigating claims that estate guards had gone to the house two hours before the shooting after neighbours reported a disturbance.
Detectives are also believed to have approached Samantha Taylor, a former girlfriend of the athlete, who told a local newspaper last year that she was ''prepared to reveal what Pistorius made me go through''.
Although Pistorius, a double amputee known as the Blade Runner, has inspired awe around the world for his ability to overcome adversity, less well known is his love of guns and a tendency to lose his temper.
As well as reportedly keeping a handgun by his bed and a machinegun near his window, the 26-year-old has also attracted attention for domestic unrest at his home.
In September 2009 Pistorius spent 17 hours in jail after being charged with common assault. A female student at the University of Pretoria at the time alleged that Pistorius slammed a door on her after they had a fight at a party at his house.
At Schipol Airport in Amsterdam in 2006, Pistorius was detained after being accused of making a false declaration over a plane ticket, and was held again after security officers found traces of explosive material on his prosthetic limbs.
Pistorius could appear to be intensely disciplined, but away from the athletics track he lived a far less structured life. In 2008 he crashed his boat in a river south of Johannesburg, breaking his jaw and requiring 172 stitches in his face.
He has also disclosed that his relationship with former girlfriend Vicky Miles had been ''very fiery'' and that
the couple ''often rowed''. After one phone argument he set off to ''make his peace'' with her, leaving Durban at 3am to join her in Johannesburg, more than 600 kilometres away. He fell asleep at the wheel and crashed, wrecking his car.
He also allegedly threatened to ''break the legs'' of Mark Batchelor, the South African football player whom he believed had slept with his then girlfriend. Batchelor later accused the athlete of intimidation.
But friends of Pistorius have made a concerted effort to defend his character. Jenna Edkins, a business student in Johannesburg, wrote on Twitter that she had dated Pistorius ''on and off'' for five years. ''Not once has he ever lifted a finger to me [or] made me fearful for my life,'' she said. ''People must stop jumping on the bandwagon with such hurtful allegations. 'Os' is the loving, amazing, inspirational person we know him to be.''
Close friend Alex Pilakoutas posted on Twitter: ''Drained, confused, I just can't wrap my head around things.''
Darren Fresco, who described himself as one of Ms Steenkamp's best friends, said he was hoping to awake from a nightmare and to hear her infectious laughter again.
''We were just goofing off the other day talking to each other in only the way that we could to each other. My heart is on the verge of exploding with the pain of such a sudden loss of one of my best friends,'' Mr Fresco, who said he was one of the last people to exchange tweets with Ms Steenkamp, posted on Facebook.
DAILY TELEGRAPH, AGENCIES
Morning & Afternoon Newsletter
Delivered Mon–Fri.