Britain farewells Iron Lady
Britain has said farewell to Margaret Thatcher on a grey London day in a £10 million ceremony drenched in tradition and bookmarked by the hymns and poems of the patriots.
Thousands lined the streets for the funeral parade and many applauded as the coffin passed by – though numbers were well down compared with the packed ranks of wellwishers at the Queen Mother's funeral a decade ago, and some boos mixed with the applause.
"We love you Maggie" was shouted in the streets of the City, London's financial centre which boomed under her reign.
But Lady Thatcher was more admired than loved, said onlookers.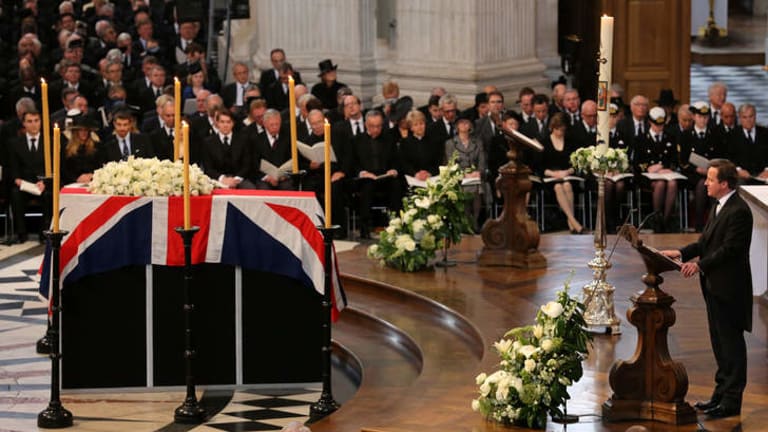 "It's not affection, absolutely not," said Julia, 52, who came to Ludgate Hill near St Paul's Cathedral with her children because she wanted them to "see a bit of history".
"I respect her for her achievements as a woman and a politician," she said.
Claire Aston, 69, said she was raising a family during the Thatcher years and a lot of the politics passed her by, but Lady Thatcher's rise had given her daughters confidence and ambition.
And former soldier Eddie, 48, from Hertfordshire, cloaked in the Union Jack, said he was there because of patriotism and "respect for a leader of our country".
The Union Jack-draped coffin travelled by hearse then horse-drawn gun carriage from Westminster to St Paul's. The route was lined with 700 military personnel. A gun fired from the Tower of London, and Big Ben was muffled.
More than 4000 police were deployed for the day of the funeral, to suppress protest flashpoints and be on high alert after the Boston Marathon bombing.
But there was little trouble. Some protesters booed as the coffin passed by. A few threw objects at the carriage and at Ludgate Circus several hundred turned their backs on the procession, chanting "What a waste of money" and "Tory scum".
At St Paul's Cathedral the 2300-strong congregation included family and friends of Lady Thatcher, current and former politicians, and celebrities.
The Queen and Prince Philip attended, and Australia was represented by John and Janette Howard and high commissioner Mike Rann.
Lady Thatcher planned her farewell in meticulous detail – approved by the governments of Gordon Brown and David Cameron.
It was a deeply traditional plan: patriotic hymns familiar to generations of schoolchildren, and readings from the King James Bible.
She asked for modest displays of white lilies and greenery, and chose several well-known pieces of music by British composers, including the rousing I Vow To Thee My Country to the music of Holst, which Lady Thatcher quoted in one of her most memorable speeches, the "sermon on the mound" in 1988.
The bishop of London Richard Chartres told the gathering a funeral was not a time or place to debate Lady Thatcher's legacy.
"Today, lying here, she is one of us, subject to the common destiny of all human beings," he said.
He praised her "uncoded" personal style, her energy and passion, and her reflections on faith and politics.
And he said Lady Thatcher was quoted out of context saying there was no such thing as society. He offered another quote: "We do not achieve happiness or salvation in isolation from each other but as members of society."
Lady Thatcher's 19-year-old granddaughter Amanda – a student in America – read from Ephesians: "Stand therefore, having your loins girt about with truth, and having on the breastplate of righteousness."
Prime Minister David Cameron read from the Gospel according to St John: "I am the way, the truth and the life."
Lady Thatcher wanted readings from the King James Bible, which she found more "beautifully poetic".
She also chose two poems for the order of service: William Wordsworth's Ode: Intimations of Immortality ("There hath pass'd away a glory from the earth") and T.S. Eliot's Little Gidding ("In a secluded chapel / History is now and England.")
Lady Thatcher's coffin was applauded and cheered as it left the cathedral. It was taken to a private cremation. Her ashes are to be placed with her husband's at the Royal Hospital cemetery in Chelsea.
Nick Miller is Europe correspondent for The Sydney Morning Herald and The Age
Morning & Afternoon Newsletter
Delivered Mon–Fri.