British teenage cancer sufferer Stephen Sutton dies after raising millions for charity
A British teenage cancer sufferer who raised more than £3 million ($5.3 million) for charity after his fund-raising campaign went viral on social media has died, leading to an extraordinary outpouring of grief online.
British Prime Minister David Cameron and comedian Ricky Gervais were among those leading tributes to 19-year-old Stephen Sutton, who died in his sleep in the early hours of Wednesday morning.
Mr Sutton was first diagnosed with bowel cancer four years ago, but it was his remarkable positivity in the face of adversity that catapulted him into the national spotlight in Britain.
In April, he posted on Facebook a final "goodbye" message that went viral.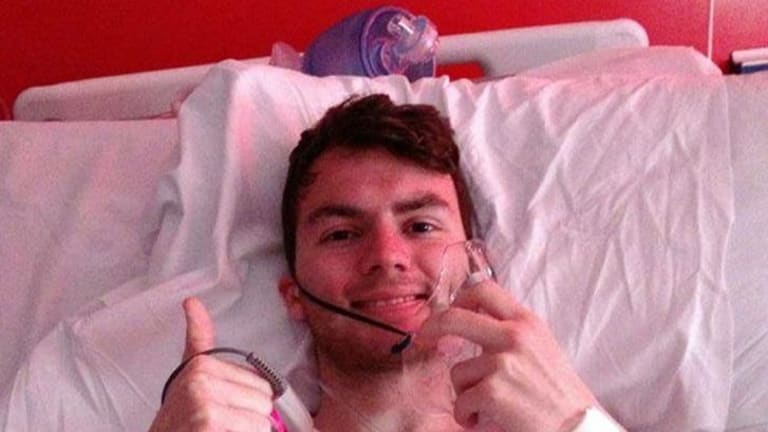 "It's a final thumbs up from me," the teenager wrote, alongside what he thought was a last picture of himself. He was shown lying in a hospital bed, surrounded by drips and an oxygen mask, with a big grin on his face and giving the "thumbs up" sign.
"I've done well to blag things as well as I have up till now, but unfortunately I think this is just one hurdle too far," he wrote at the time.
To his surprise, his act of cheerful defiance won him the support of numerous celebrities and politicians, including Mr Cameron and Gervais, as well as actor Benedict Cumberbatch, actor and comedian Stephen Fry and music mogul Simon Cowell.
Mr Sutton's mother, Jane, announced the news of her son's death on his Facebook page. The news caused thousands of people to flock to his fund-raising page, causing it to crash temporarily.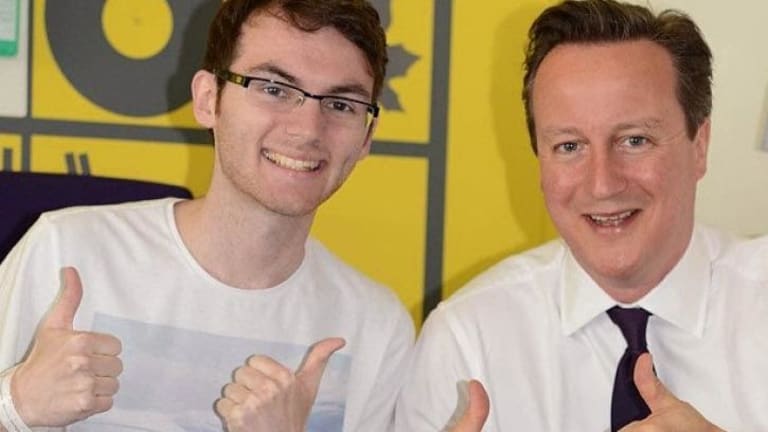 "My heart is bursting with pride but breaking with pain for my courageous, selfless, inspirational son who passed away peacefully in his sleep in the early hours of this morning, Wednesday 14th May," Mrs Sutton wrote on Facebook.
"The ongoing support and outpouring of love for Stephen will help greatly at this difficult time, in the same way as it helped Stephen throughout his journey.
"We all know he will never be forgotten, his spirit will live on, in all that he achieved and shared with so many."
Mr Sutton's 21-year-old brother, Chris, tweeted that he was "blessed" to grow up with Stephen.
"So Stephen passed away in the early hours of this morning," he tweeted.
"I could sit here all day typing words like inspirational, proud, but frankly his life and what he achieved speaks for itself, it doesn't need a rambling eulogy from me.
"He'll still always be a bit of tw*t to me, hey he was my younger brother, it's in the contract, but I was blessed to grow up with the best little tw*t you could have. So yeah, RIP bro."
Mr Sutton, from Burntwood in Staffordshire, had originally set a £10,000 fund-raising target for the Teenage Cancer Trust charity after being told in 2012 his cancer was terminal.
However after he posted his goodbye message, he received moe than 100,000 public donations and raised his target to £1 million. At the time of his death, the total had passed £3.4 million.
He was discharged from hospital at the beginning of May after his health improved, but he was readmitted last weekend suffering from "breathing difficulties".
His family said on Tuesday that his condition had deteriorated and he was struggling to breathe, due to a regrowth of tumours that were blocking his airway.
Speaking about the money he had raised, Mr Sutton once told the BBC: "I don't actually do what I do for recognition. I love nice comments but I do what I do because I find the best way to help myself is to help others.
"I'm proud of the feeling I get just by raising all this money," he added.
On the day he began chemotherapy, Mr Sutton went to a party dressed as a grandma. He said at the time he was so thin and pale that his costume was "quite convincing".
Mr Cameron was among the first to pay tribute to Mr Sutton following news of his death.
Other high-profile people praised the teenager following news of his death.
Morning & Afternoon Newsletter
Delivered Mon–Fri.