Charlotte's Web
Chinese authorities claim Charlotte Chou is guilty of embezzlement but her lawyer says she is innocent and has been sucked into a criminal labyrinth not of her making. John Garnaut reports.
ZHU Hanbang says it was with sorrow, not avarice or anger, that he set the wheels of Chinese justice spinning towards today's embezzlement trial of Australian accountant Charlotte Chou.
Unlike four other cases of Chinese Australians that have hit the headlines - that of Stern Hu, Matthew Ng, James Sun and Yang Hengjun - this one does not involve Chinese state security or state economic interests. Instead, Chou has been caught in the crossfire of a bitter feud between her Hong Kong benefactor and her Guangzhou lover, with allegations the Guangzhou criminal system has been bought for private gain.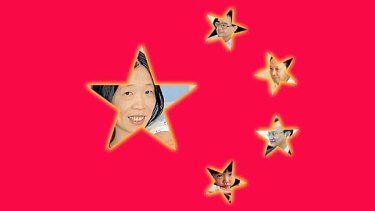 Zhu, a Hong Kong citizen from a Taiwan military family, had given Chou a leg-up into one of the world's most glamorous business empires. He had lent her the money for a $A1 million apartment in Hong Kong. He had even given her share tips and lent her the money to punt on them, interest free.
And then, he says, she blew it all by mixing business and romance with Lin Yongping, a mainlander who Zhu didn't know or trust.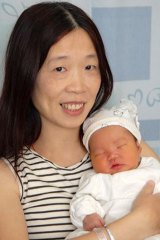 "I don't know how she fell into such a mess with a man from China," says Zhu. "Charlotte is also a victim. I have great sympathy for the family, the only thing I can say is I'm sorry.
"It's not because of the romantic relationship, they hid accounts from us," he says. "I did think 'something is cooking you know, something'. As a result I sued everybody."
Zhu's unorthodox method of "suing everybody" has sucked Chou into a three-year criminal labyrinth. She hasn't seen her four-year-old son Lincoln (now living in Sydney) and two high school-aged children in three years.
And Chou faces several more years in jail if a Guangzhou court accepts the prosecution case that she embezzled millions of yuan from the private university she founded, together with Lin and Zhu. Her star lawyer, Chen Youxi, says the sums were merely repayments of a properly documented loan.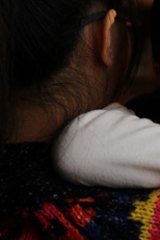 Today's trial marks the second time in a month that Chen will defend a Chinese Australian on embezzlement charges in the Guangzhou Intermediate People's Court. As with the case of Matthew Ng, Chen plans to argue that Chou is caught up in a mere commercial dispute and there is no evidence that is relevant to the charge. "This case is an injustice and a mistake," says Chen.
But it is the commercial and personal background to this criminal case that will be of most interest to those following China's political evolution, including the growing number of international business people wanting to invest in China.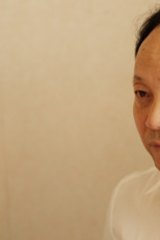 Chou's family and her former lover, Lin, say Zhu simply spent millions of dollars to buy the services of the Guangzhou criminal legal system at their expense. Zhu denies he has the power to do this. And if he did have such power, Zhu says he would not need to use it.
The road to today's trial was laid 10 years ago when a multibillionaire, Robert Miller, hit a Chinese wall. Miller, an American who gained British citizenship but resides mostly in Hong Kong, made his fortune in the 1960s by pioneering the concept of duty free shopping. One of Miller's yachts holds the trans-Atlantic speed record. Two of his daughters married into European royalty, with full princess honours, while the third married into the Getty oil empire.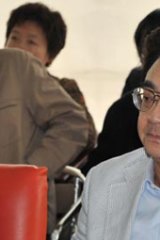 Zhu served Miller for 30 years, he says, and still does occasional contractual work for him. In the late 1990s, Zhu hired Chou (he says he raised her annual salary tenfold to a $HK1 million) and later appointed her to take control of finance for Miller's China operations.
Miller had plans to roll out an American dream theme park in five cities but he was getting nowhere. Shanghai was bleeding money and Guangzhou never got off the ground. According to Lin, Zhu's rift with Chou began before her romance with Lin. Lin says Zhu had tried to swindle Miller in Shanghai and Chou refused to play along.
Whatever was happening in the background Zhu and Chou needed a buyer for the redundant Guangzhou land. Chou brought in Lin Yongping, the Guangzhou businessman whom Zhu came to despise.
Lin brought in contacts from the local education bureau. Miller then faded out of the picture and the American theme park dream evolved into a software training college. The former head of Guangdong's education bureau, Li Xiuhong, helped make the introductions and agreed to serve as president.
Li says Lin Yongping was devoted to the project but too focused on business for his taste. Similarly, he says Zhu provided "good guanxi with local authorities". But his praise for Chou is unqualified, describing her as "a hard-working, a woman with ideas, and steadfast". Li retired in 2003 and later watched Chou get taken as her two key partners fought it out.
"This is actually battle between Lin and Zhu, and Chou was only helping Lin," says Li.
The way Zhu tells it, it all fell apart when he belatedly realised that Chou and Lin were romantically involved. In February 2003, Zhu held a shareholders meeting for their British Virgin Islands holding company (inherited from Miller), but failed to notify the majority shareholders.
The result was that he and an ally issued 50,000 shares to themselves, raising their stake from 20 per cent to 98 per cent at the expense of Lin and Chou, according to Lin and Chou's side of the family. A British Virgin Islands court later deemed the share transaction to be a sham.
Five months later, after Lin discovered what had happened, Zhu and a police escort led two dozen men into the university and detained Lin in his office, while carting away the company files. ''One of them held my head against the desk,'' Lin says.
Zhu doesn't deny the mobster-style raid but says it should not be overplayed. "It was a dispute between shareholders because they refused to give me the accounts," he says. "There was no violence, nothing happened, you know. The police escorted us to protect us because we tried to avoid any argument or conflict."
Somehow this unstable personal and business triangle held together and the South China Institution of Software Engineering grew into an award-winning university, with 10,000 students and a market value of about 1 billion yuan.
Zhu maintained his silent rage. The last time he, Lin and Chou saw each other was in the first half of 2008, in a video link to a court in the British Virgin Islands, where their company was registered.
Zhu fought on in the Guangzhou Intermediate People's Court, despite having the BVI verdict and the two key witnesses against him. It was in this context that Zhu triggered the criminal proceedings against Chou by taking a six-year-old dirt file to police.
He reported that Chou had previously bribed a tax officer called Pan E in connection with Zhu's tax problems, for which he had been detained.
But Zhu concedes that if bribes were paid it was mostly with his money. "Every time Charlotte said pay this for Mr Pan … I just gave money to her and I really don't care who she paid," he says.
POLICE took no interest in Zhu's involvement with any bribery that took place. But on the night of June 24, 2008, three policemen took Chou from her Guangzhou home while her one-year-old son Lincoln was asleep. Chinese authorities notified the Australian consulate, three days later than the consular agreement required them to do.
Chou was was denied sleep for three nights, interrogated around the clock, and denied access to a lawyer for six weeks on the grounds that her case concerned "state secrets", according to her sister Zou Ping, who flew from Sydney to try to find her. She was allowed access to a lawyer on August 8, the opening day of the Beijing Olympics, after Zou had threatened to go to the foreign media.
After 16 months, Chou was tried and convicted of bribery on the basis of her sleep-deprived confessions. She was released after her 18-month sentence ended on December 28, 2008, but immediately re-arrested at the prison gate. She was allowed one phone call to her son Lincoln in Sydney. It was the only time Chou had heard Lincoln speak and she couldn't find the words to respond to him.
''He said 'mummy, mummy', but Charlotte was crying and said nothing to the baby,'' says Zou. "And then they just took Charlotte to the car and drove her away.''
Chou was taken back into detention, this time for embezzlement in relation to a catering contract to the same tax official she was convicted of bribing. A year later her lawyer was finally shown a trolley full of evidence against her - at lunch time on the first day of her trial. Chou said the main piece of evidence against her was a receipt which she said had been obviously fabricated.
Eight months on and there is still no verdict from Chou's second trial. Now she is set to be tried for a third time, on a fresh embezzlement charge, again in the Guangzhou Intermediate People's Court.
When Chou was arrested three years ago Lin Yongping, who lived separately, immediately fled the country and has remained in hiding since. As Lin left he instructed two office assistants to hide the company files, remembering Zhu's office raid of three years earlier. They have both been charged with hiding evidence.
Lin told The Age over internet video that he was so concerned about being discovered by Chinese security, or Zhu, that he would not reveal even what hemisphere he was living in.
"As you know, when it comes to these sorts of things the Communist Party, it can do them very well.''
Chou's sister, Zou Ping, says that when she met Zhu over yum cha in Hong Kong he told her that Lin could not hide from him, no matter where he was in the world.
Both Lin and Zou Ping, told The Age that Zhu and his local Guangzhou allies had paid millions of yuan in bribes to orchestrate Chou's three-year detention as well as parallel commercial proceedings to take control of the university. Lin says he was even invited to pay 12 million yuan to buy a favourable verdict in the commercial case.
"So you can imagine how much Zhu has to pay when he doesn't have evidence,'' Lin says. ''By saying this I may have no chance of ever returning to China.''
Zhu, however, says he does not have such power and even if he did he wouldn't need to use it. ''Do you know how many procedures you'd have to go through to do the things they claim?" he says. "If [Lin] is innocent as claimed why not return and face the law in China?"
During a four-hour video interview The Age asked Lin why he fled Guangzhou, leaving his girlfriend Chou and their one-year-old son Lincoln behind. Lin cried, and took several minutes to compose himself, and declined to answer the question. He, like Chou, hasn't spoken to Lincoln in three years.
Lincoln and a high school-aged sister by Chou's former husband are cared for by Chou's two sisters and her elderly parents in Sydney. The family have taken a long time to forgive Lin for his quick escape.
"We thought he would stand up and take responsibility," Zou says. "But now I totally understand and think he was right. Otherwise he would be definitely, 100 per cent in jail and then I would have one more person to care about."
John Garnaut is China correspondent.