China train station attack: 'They attacked us like crazy swordsmen'
Kunming, China: Witnesses to chilling violence at a Chinese train station recalled moments of fear and chaos after at least 29 people were killed in what authorities called a terrorist attack by Xinjiang militants.
Officials said a group of knife-wielding "terrorists" from the restive Xinjiang region launched a premeditated attack at the Kunming railway station in China's south-west on Saturday night. More than 130 people were wounded.
Armed riot police stood guard as people streamed into the railway station on Sunday only hours after the attack, one of the worst of its kind in China in recent memory.
Standing near shops about 50 metres from the site, a parking attendant said he could not believe what was happening when he saw the attackers.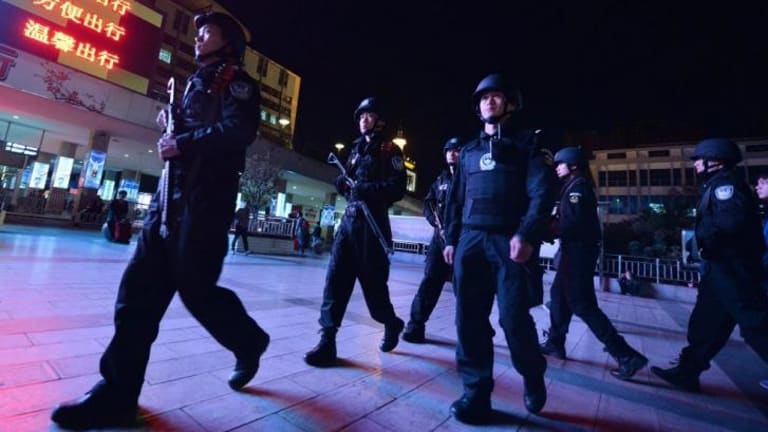 "I walked out and I saw a person with a knife,'' he said. "Then I saw five or six of them. They all had knives and they were stabbing people madly over by the first and second ticket offices."
Police shot four of the attackers dead and captured one, state news agency Xinhua reported. About five others were on the run.
Xinhua quoted the Kunming city government as saying evidence at the crime scene showed the attack was carried out by Xinjiang separatist forces.
The attack comes at a sensitive time as China gears up for the annual meeting of its largely rubber-stamp parliament, which opens in Beijing on Wednesday and is normally accompanied by a tightening of security across the country.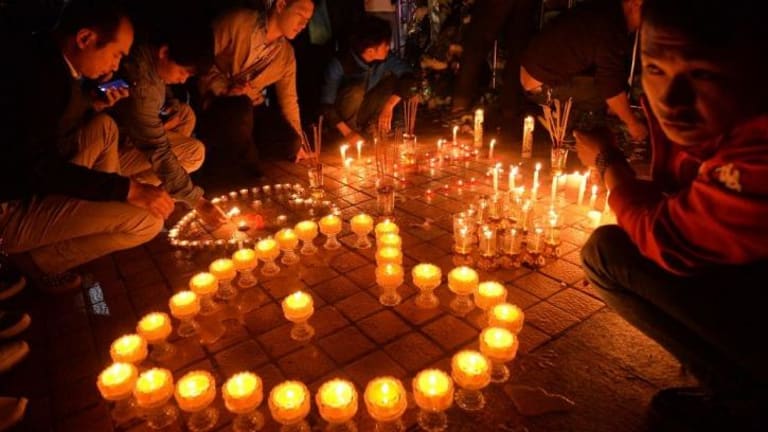 Word of the violence spread quickly, with graphic pictures showing bodies covered in blood posted to the Twitter-like Chinese microblogging service Sina Weibo - posts that were later deleted by government censors. State television showed police wrapping a long, sword-like knife in a plastic bag.
Shop and restaurant workers said hundreds of people had fled into their stores seeking refuge.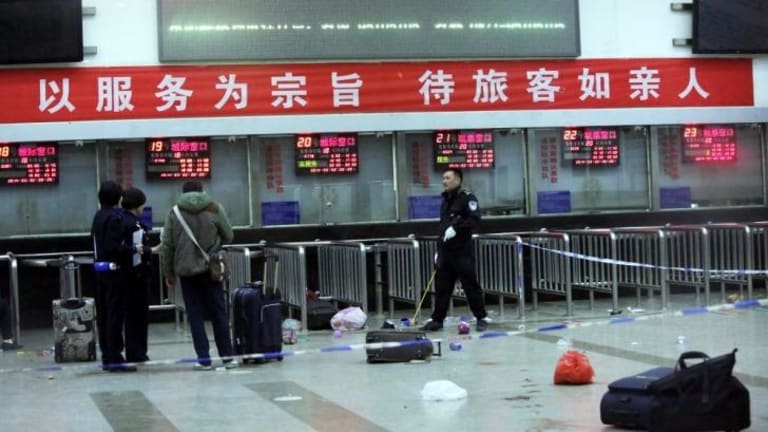 "Last night everyone ran over into my supermarket. The supermarket was full of people, including two passengers who had been stabbed," shopkeeper Ren Guangqin said. "I was terrified. They were killing people. How could I not be scared?"
Scores of patients from the attack spilled into corridors from overflowing wards at a Kunming hospital where they were being treated. In the neurosurgery department, several patients had head injuries.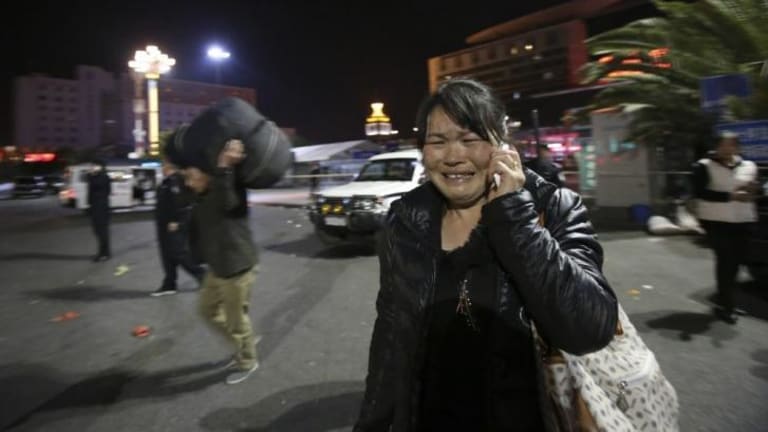 A 20-year-old university student, Wu Yuheng, said the attackers had tried to target people's heads, and he had been nicked on the scalp.
"I was terrified ... they attacked us like crazy swordsmen, and mostly they went for the head and the shoulders, those parts of the body to kill," he said, lying on a hospital bed. "This attack has caused great harm to innocent people but I think before we are sure about the identity of the attackers, we shouldn't make wild guesses on who to blame."
China's domestic security chief, Meng Jianzhu, vowed those responsible would be brought to justice. "This brutal attack on defenceless, innocent people by violent terrorists devoid of conscience exposes their inhuman and anti-social nature," Xinhua quoted Mr Meng as saying.
"They inevitably will face the severe punishment of the law. We must mobilise all resources and adopt all means to break this case," Mr Meng said, echoing comments made by Chinese President Xi Jinping.
Mr Meng, who is also a member of the ruling Communist Party's elite 25-member Politburo, made an emergency trip to Kunming, visiting the train station and wounded victims in hospital.
The attack marked a major escalation in the simmering unrest that had centred on Xinjiang, a heavily Muslim region in China's far west strategically located on the borders of Central Asia.
It is the first time people from Xinjiang have been blamed for carrying out such a large-scale attack so far from their homeland, and follows a smaller incident in Beijing's Tiananmen Square in October that shook the Communist Party leadership.
China stepped up security in Xinjiang after a vehicle ploughed into tourists on the edge of Tiananmen Square, killing the three people in the car and two bystanders. China labelled it a suicide attack by militants from Xinjiang.
Energy-rich Xinjiang, home to the Muslim Uighur people, many of whom chafe at Chinese restrictions on their culture and religion, borders ex-Soviet Central Asia, Afghanistan, Pakistan and India.
Kunming, the capital of Yunnan province, is hundreds of miles from Xinjiang and has little connection to the violence there that has killed more than 100 people in the past year.
"China must handle the incident transparently and not let it become a new political excuse to oppress Uighurs," said Dilxat Raxit, a spokesman for the main Uighur exile group, the World Uyghur Congress. "Serious discrimination and oppressive policies lead to psychological trauma that could provoke victims to adopt extreme measures," he said, adding that there were "no reasonable grounds" for the attack.
Reuters
Morning & Afternoon Newsletter
Delivered Mon–Fri.