'Clowns' quip chills German-Italian relations
BERLIN: Italy's president cancelled a dinner with the German opposition's chancellor candidate Peer Steinbrueck in Berlin on Wednesday after he described the former Italian premier Silvio Berlusconi and comic-turned-politician Beppe Grillo as "clowns".
Mr Steinbrueck, a Social Democrat who will take on Chancellor Angela Merkel in Germany's next national election in September, has a reputation for gaffes and his remark created the first diplomatic incident of his accident-prone campaign.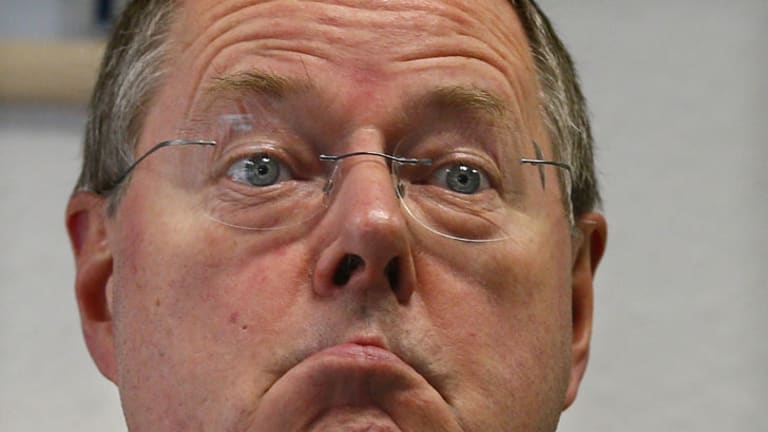 He said on Tuesday he was "appalled that two clowns have won" Italy's February 24-25 election. The vote was actually inconclusive with no party garnering a majority in parliament, although Mr Grillo's anti-establishment party surged dramatically.
Italian President Giorgio Napolitano, an 87-year-old former communist with no natural affinity for Mr Berlusconi or Mr Grillo, made clear that as head of state he would brook no insults to national pride.
"We respect, and naturally we demand respect, for our country," he said in an emotional speech to members of the Italian community in Munich, the first stage of a state visit that includes talks with Merkel in Berlin on Thursday.
"Our country has serious problems in its structure and daily life ... It has darkness but many lights, and you can be proud," he told his compatriots, stifling a sob.
Italian media said Napolitano, who now faces the difficult task of trying to appoint a coalition government, had expressed concern about "populism" after the election during a private meeting in Germany. These reports could not be confirmed.
"Peer Steinbrueck explained to me on the phone that he didn't want to cause offense. But from my point of view a meeting was no longer possible in view of the remarks that he made," Mr Napolitano said according to an advance copy of an article due to appear in mass-circulation German daily Bild on Thursday.
The German candidate's spokesman said Steinbrueck had called the president on Wednesday to "clarify" his remarks and added that the two men had a "friendly" conversation.
Mr Steinbrueck later told a news conference he understood Mr Napolitano's need as head of state to remain neutral and above party political mud-slinging.
Mr Steinbrueck made it absolutely clear in his comments to an SPD rally in Potsdam he was referring to Mr Grillo and Mr Berlusconi, calling the latter "clearly a clown with a testosterone boost".
"My impression is that two populists won," he said.
Mr Berlusconi, a scandal-ridden billionaire media mogul, is very unpopular in Germany and often slated in the media.
Frank talk
But Mr Steinbrueck did himself no favours with his frank talk.
German politicians are expected to strike a serious tone and refrain from interfering in the internal affairs of European partners. On Twitter, some commentators dismissed the acerbic Mr Steinbrueck as the "real clown".
"Steinbrueck behaves like a bull in a china shop," said Michael Meister, deputy leader of Merkel's conservatives in the Bundestag (lower house of parliament).
He accused Mr Steinbrueck of damaging Germany's reputation abroad and some SPD politicians were also critical.
Italy's elections, which threaten to tip the euro zone back into crisis, showed a big swell in support for Mr Grillo's 5-Star Movement and a strong result for Mr Berlusconi. Many had expected the former prime minister to lose heavily to the centre left, which won the lower house but not the Senate.
Both Mr Grillo and Mr Berlusconi campaigned against the austerity measures implemented by technocrat Prime Minister Mario Monti at the urging of Germany's conservative chancellor Merkel.
Mr Grillo, in his popular blog, laid into Merkel for imposing German-style fiscal austerity on Italy. Mr Berlusconi has made more personal attacks on Mr Merkel, whom he blames for his fall from power in 2011 because of her hesitancy on bailouts.
Reuters
Morning & Afternoon Newsletter
Delivered Mon–Fri.