Corruption claims sour Timor party
THE East Timorese political party headed by Prime Minister and former guerilla leader Xanana Gusmao has been accused of corruptly raising hundreds of thousands of dollars in political donations, as Mr Gusmao leads this weekend's celebrations marking the 10th anniversary of his country's independence.
Several companies that reportedly pledged hundreds of thousands of dollars for the election campaign of Mr Gusmao's CNRT party have been awarded lucrative government contracts in the past.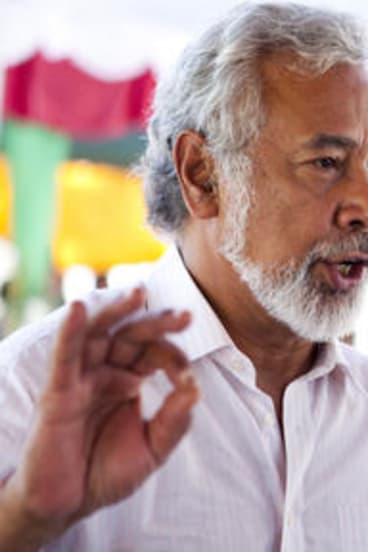 But as dignitaries including Australian Governor-General Quentin Bryce arrived in Dili for today's celebrations, Mr Gusmao hit back at his accusers, saying the promises of money by East Timorese and Indonesian companies at a recent fund-raising dinner were ''fictitious … more show than real''.
Mr Gusmao told The Sunday Age that his party, one of five in the ruling coalition, faced difficult elections in July and needed to raise money.
''If that is corruption then I think political parties around the world are going to find it very hard to continue to do their work,'' he said.
Conceding that East Timor had made mistakes, he said ''we are going to correct them and move on''.
A multi-party committee of politicians, including some from ruling coalition parties, has called on the country's Anti-Corruption Commission, the Office of Prosecutor-General and the National Election Commission to investigate the fund-raising.
Fernanda Borges, chairwoman of the 13-member Global Organisation of Parliamentarians Against Corruption in Timor-Leste, said the reported donations ''appear to be a clear breach of laws that the current government introduced to prevent corruption''.
Ms Borges, leader of the small National Unity Party, said: ''Unlawful donations to political parties pose a serious threat to the democracy that we have fought so hard to protect.
''As we prepare to celebrate 10 years as an independent nation, it is critical that the law is upheld and that these claims are investigated.''
Under East Timor's laws, political parties are prohibited from receiving donations from local companies.
Leaders of political parties, individuals or managers of corporations who breach the laws face up to two years in jail or fines.
East Timorese media have published a list of companies and individuals who reported pledged donations totalling $2.6 million at the fund-raising event, which Mr Gusmao hosted.
He said the allegations against his party were ''politically motivated''.