Facebook turns on Safety Check for Nigerians after Paris backlash
Facebook has switched on its Safety Check feature for the first time since the deadly Paris attacks, this time in response to the bombing in Yola, Nigeria.
"We've activated Safety Check again after the bombing in Nigeria," CEO Mark Zuckerberg posted to Facebook on Wednesday.
"A loss of human life anywhere is a tragedy, and we're committed to doing our part to help people in more of these situations," Zuckerberg wrote.
At least 31 people were killed and 72 injured after a bomb blast tore through the north-eastern Nigerian city on Tuesday.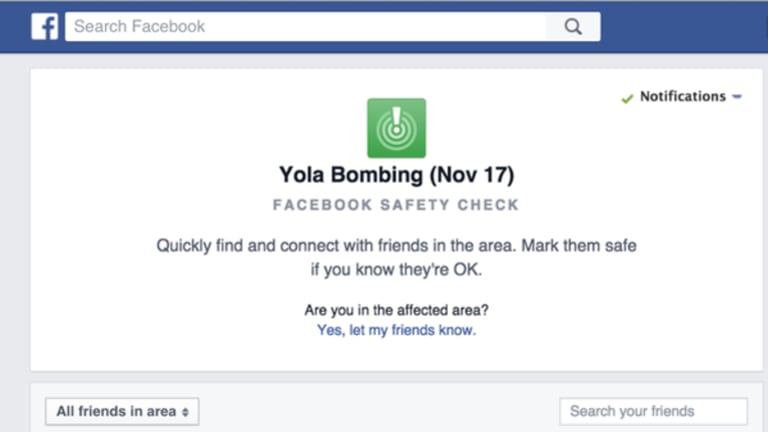 Facebook's decision to turn on the feature follows the backlash it received after the social media platform turned Safety Check on in the wake of the carnage in paris on Friday evening local time, and not for survivors of the Beirut terrorist attack on the same day.
On Sunday Facebook defended its decision to switch on the feature in response to the deadly Paris attacks, but not Beirut.
Two coordinated suicide bombings killed 43 people in the capital of Lebanon, where terrorist activity is a far more frequent occurrence than the French city of light.
The safety check feature was used by 4.1 million people in Paris to let their family and friends know they were safe, according to the social network.
Roughly 85 per cent of Facebook users in Paris and the surrounding suburbs used the alert system, which was switched on shortly after news broke of the attacks in Paris on Friday night local time, Facebook Vice President Alex Schultz said in a post to the site on Sunday morning AEST.
The Paris attack was the first time the feature had been used for an event that was not a natural disaster.
An early iteration of the Safety Check was first used during the tsunami and nuclear disaster in Tokyo in 2011. The feature was last switched on during the Nepal Earthquake in April.
Schultz defended Facebook's decision not to switch on Safety Check following messages from people asking why the feature was not used when terrible things happen in other parts of the world where violence is more common.
"We chose to activate Safety Check in Paris because we observed a lot of activity on Facebook as the events were unfolding. In the middle of a complex, uncertain situation affecting many people," Schultz wrote in his Facebook post.
"So we made the decision to try something we've never done before: activating Safety Check for something other than a natural disaster.
"There has to be a first time for trying something new, even in complex and sensitive times, and for us that was Paris," Schultz said.
"We want this tool to be available whenever and wherever it can help," he said.
The explosion in Yola on Tuesday bore the hallmarks of Boko Haram Islamists, who have repeatedly hit civilian "soft targets" in their six-year insurgency.
At least 17,000 people have been killed and more than 2.6 million made homeless by the violence in that period, with suicide and bomb attacks an almost daily occurrence in the northeast.
with AAP