Former SKorean president plunges to death
Former South Korean President Roh Moo-Hyun, who was at the centre of a multi-million dollar corruption probe, has plunged to his death off a mountainside in a possible suicide.
Police said following Roh's death today they were investigating whether he killed himself.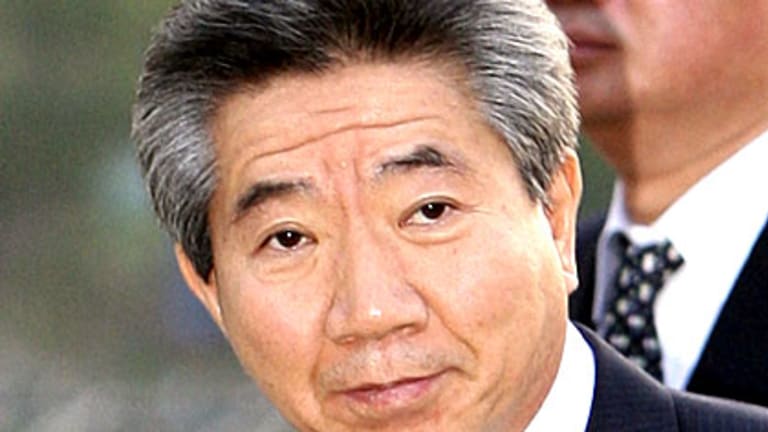 A former aide said the ex-leader, who was in office from 2003-2008, jumped off a cliff after leaving a suicide note.
"Ex-president Roh fell down a mountain. He was transported to a hospital where doctors said he was dead on arrival," a spokesman for the National Police Agency said.
"We're investigating whether he fell by accident or committed suicide."
The tragedy occurred after Roh, 62, went hiking with an aide near his retirement home at Bongha in Gimhae district near the southeast coast.
"President Roh jumped off a rock in the mountain behind Bongha village," former chief presidential secretary Moon Jae-In said.
Roh left a brief suicide note for his family, Moon said.
Yonhap news agency said Roh suffered severe head injuries and died after being moved from a smaller hospital to a larger hospital in the city of Busan.
Busan National University Hospital said in a statement that Roh was pronounced dead at 9.30am from head injuries.
TV footage showed the rocky cliff from which Roh fell. Forensic experts were searching the pine-clad terrain where the incident occurred.
The corruption probe centred around a payment worth $US1 million ($A1.28 million) to Roh's wife from a wealthy shoemaker, and a payment by the same man worth $US5 million ($A6.42 million) to the husband of one of Roh's nieces, Yeon Cheol-Ho.
Roh, who was questioned as a suspect by prosecutors, had publicly apologised for his family's involvement in the case but had not admitted personal wrongdoing.
In an unrelated graft case Roh's elder brother was last week jailed for four years for taking more than $US2 million ($A2.57 million) in bribes during his sibling's term in office.
Roh Gun-Pyeong was sentenced for accepting about $US2.36 million ($A3.03 million) to arrange the acquisition of brokerage Sejong Securities by the state-run National Agricultural Cooperative Federation.
For help or information visit www.beyondblue.org.au, call Suicide Helpline Victoria on 1300 651 251, or Lifeline on 131 114.
AFP
Morning & Afternoon Newsletter
Delivered Mon–Fri.