Girl accused of burning Koran goes into hiding
THE 14-year-old intellectually disabled Christian girl at the centre of Pakistan's latest blasphemy controversy is in hiding under government protection, after being released from prison.
Rimsha Masih was jailed three weeks ago after she was accused of tearing pages from a copy of the Koran and burning them. The blasphemy law carries the death penalty and is strictly enforced.
To international outcry, Rimsha was charged, despite being underage, illiterate and with a mental age of 11, according to government medical reports.
Rimsha's case provoked further outrage when a Muslim cleric from her neighbourhood in Mehrabad, on the outskirts of Islamabad, was arrested for framing her.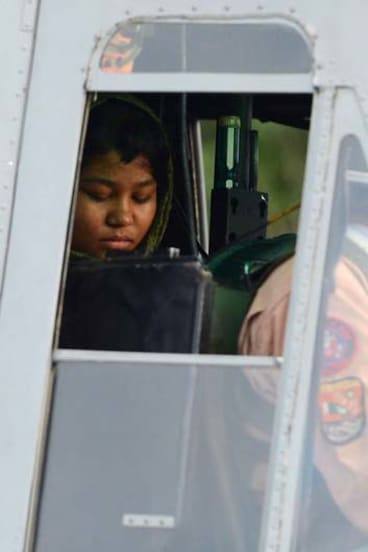 Witnesses say they saw Muhammad Khalid Chishti plant torn pages of the Koran in a plastic bag of ash Rimsha was carrying, in an attempt, it is believed, to run Christians out of the area.
After three weeks in jail, Rimsha was bailed on two separate sureties of 500,000 Pakistani Rupees ($5000).
She was released from Adiala prison in Rawalpindi at the weekend. Wearing a hood over her face, she was taken under armed guard to a helicopter and flown to a secret location, where her family was waiting.
Jailing a young, confused girl has again brought unwanted international attention on Pakistan's blasphemy law, and has highlighted the way it is used to target the country's minorities. Despite her release, Rimsha's safety will remain a serious concern for Pakistani authorities for months, if not years.
Religious minorities are regularly attacked, with religion often used as a cover to persecute someone over a more prosaic offence, a land or water or money dispute, and there are concerns Islamist hardliners will seek to mete out their own punishment to Rimsha or her family.
Blasphemy cases attract hysterical attention in Pakistan.
Judges who have ordered acquittals have been assassinated, while freed suspects have been killed on release.
Salman Taseer, the Governor of Punjab, was assassinated last year by his own security guard because of his opposition to the blasphemy law, while Pakistan's only Christian cabinet member, Shahbaz Bhatti, was shot and killed by the Taliban for urging reform of the law.
Shahbaz's brother, Paul, has since become Minister for National Harmony, and said the government was doing all it could to keep Rimsha safe.
''We are in touch with the Interior Ministry and police, and they have assured us that wherever she stays full security would be provided to her,'' he said.
''Her mother is very happy that justice had been done.''
Amnesty International said hundreds of Christians have fled Mehrabad since Rimsha was accused, fearing violent retribution for her alleged crime.
''The Rimsha Masih case highlights the profound danger to communal harmony and rule of law caused by Pakistan's blasphemy laws,'' it said.
Morning & Afternoon Newsletter
Delivered Mon–Fri.