Human rights concerns as France pushes to enshrine emergency powers
France's National Assembly has begun debating changes to the country's Constitution that would further expand powers of arrest, censorship and surveillance granted by the current state of emergency, with Prime Minister Manuel Valls claiming the powers have already foiled a second plot since the Paris attacks of November 13 that killed 130 people and left 368 wounded.
On Wednesday, the French government also confirmed it intends to renew the state of emergency, which expires on February 26, for a further three months.
The emergency measures have been criticised by the United Nations, Human Rights Watch and Amnesty International. This week Amnesty issued a report it says highlights widespread abuses of human rights in the three months since the measures came into effect.
Marco Perolini of Amnesty International's European and Central Asian Research Program emphasised concerns regarding any proposed extension of the state of emergency beyond February 26.
"A state of emergency is a very exceptional measure, it has to be very short and there must be a very specific reason to declare it," he said.
Inserting the emergency measures into the French Constitution would protect them from legal challenges.
The state of emergency was declared by French President Francois Hollande in the wake of the November 13 attacks. Initially declared for 12 days, the emergency measures were then extended days later to three months by a vote of 551 to six in the National Assembly.
The second plot Mr Valls cited involves a 27-year-old Chechen arrested in December in the town of Tours, who had featured in a video threatening to attack police.
"Networks have been disrupted. Numerous individuals have been identified and placed under surveillance," Mr Valls said.
He insisted that the government's proposals would "in no way alter the conditions that currently justify imposing a state of emergency - on the contrary it will place strict controls on the motives for instating and prolonging it".
The declaration of emergency rule, based on a 1955 law, has given the French Interior Ministry and security forces unprecedented powers to ban demonstrations, carry out warrantless raids and restrict people to their homes and neighbourhoods under "assigned residency" without judicial oversight.
The measures had an impact on public events surrounding the recent Paris Climate Conference. Planned rallies expected to include hundreds of thousands were cancelled using powers to restrict public gatherings.
Twenty-six climate activists were confined to their homes for the duration of the summit without warrants or charges being laid. In total around 400 people have been subjected to assigned residency since the November attacks, according to Amnesty International.
French authorities claimed this was necessary because dealing with the climate protesters would distract them from preventing further terrorist attacks.
Mr Perolini said that Amnesty's research has found the emergency powers have been used in many cases with very little evidence. The evidence is often provided by France's intelligence services and Interior Ministry and is rarely challenged by the courts.
"There are people being targeted for house searches and assigned residency on the basis of very vague reasons. There was the case of a person targeted for assigned residency accused of being an Islamist who was not even Muslim. Another person is a freelance consultant and he is now under assigned residency and cannot leave his town to work."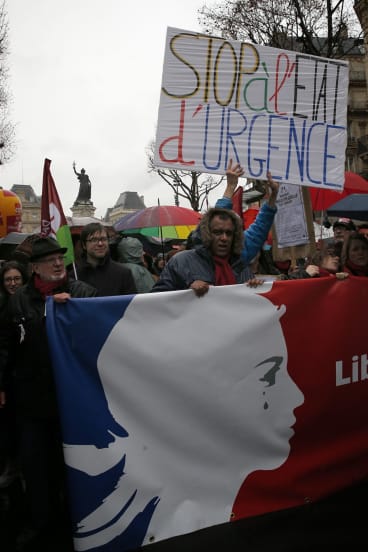 The consultant, a father of three, who spoke to Amnesty under the name "Karim", is suspected of having contact with people involved in militant activity in Syria whom he claims to barely know.
More than 3200 warrantless searches of properties have been carried out since the attacks, according to Amnesty's research. So far only three terrorism-related investigations have resulted from these searches and charges have been laid in only one case.
Government spokesman Stephane Le Foll on Wednesday defended plans to renew the emergency period, stating "it has been useful and must continue to be. The terrorist threat is still very high".
Another proposed amendment for French dual nationals convicted of terrorism to be stripped of their citizenship led to the dramatic resignation of justice minister Christiane Taubira, who refused to support the measure.
Laws to strip dual citizens of their citizenship are already in place in Australia.
Mr Valls said the rule would apply to all citizens "without distinction based on birth, the way nationality was acquired or holding one or several nationalities", without offering more explanation.
Prominent Australian barrister and refugee advocate Julian Burnside was in Paris during the Charlie Hebdo shootings a year ago and compared the reaction to that attack and the November 13 atrocities.
"The response to Charlie Hebdo was surprisingly peaceful, rational and restrained in contrast with the reaction in November. You don't defend your freedom by giving it away. There's a real risk this will become the new norm," he said.
Dr Burnside also voiced suspicion of the French government's linking the use of its new powers to prevent demonstrations and restrict activists to their homes during the Paris Summit to the fight against terrorism.
"If they did that in the immediate aftermath of an emergency situation, it seems like a plausible explanation. If they keep on doing it, it gets less and less plausible. That excuse can only last for a fairly short time," he said.
To be adopted, the constitutional amendments will require either a three-fifths majority in the National Assembly or a successful referendum.
with Telegraph, London, AP
Morning & Afternoon Newsletter
Delivered Mon–Fri.