Iran 'absolutely no threat': Rouhani
Iran's President Hassan Rouhani has called on his United States counterpart Barack Obama to ignore ''warmongering pressure groups'' and seek better relations.
Speaking at the UN General Assembly on Tuesday, Rouhani said Iran poses ''absolutely no threat to the world'', in remarks widely watched for signs of a thaw with the US.
Rouhani condemned international sanctions against Iran and also hit out at America's use of drones.
But he said if Obama rejects ''the short-sighted interest of warmongering pressure groups, we can arrive at a framework to manage our differences''.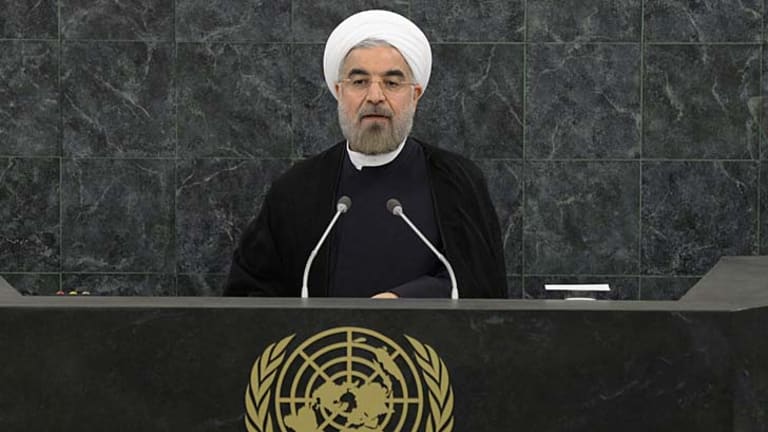 Rouhani spoke a few hours after Obama told the assembly that he wanted a ''meaningful agreement'' with Iran if it acted to end international concerns over its nuclear program.
The Iranian leader reaffirmed his country's position that its nuclear drive is ''exclusively peaceful''.
''Nuclear weapons and other weapons of mass destruction have no place in Iran's security and defence doctrine, and contradict our fundamental religious and ethical convictions,'' he said.
He added that the international community had to accept Iran's nuclear activity, which Western nations say hides an attempt to reach a nuclear bomb capacity.
The UN Security Council has imposed four rounds of sanctions against Iran over its uranium enrichment.
But Rouhani said it is ''an illusion, and extremely unrealistic, to presume that the peaceful nature of the nuclear program of Iran could be ensured through impeding the program via illegitimate pressures''.
It was his first appearance on the world stage since he was elected in the summer.
Nuclear negotiations between Iran and six world powers have been stalled for months, but Iran agreed to a new meeting on Thursday on the sidelines of the General Assembly.
Rouhani said every issue can be resolved through moderation and rejection of violence.
Morning & Afternoon Newsletter
Delivered Mon–Fri.