ISIL releases footage of decapitated Syrian soldiers
Gruesome footage of heads impaled on a spiked fence with bloodied bodies sprawled beneath has been released this week.
The Islamic State of Iraq and the Levant, also known as ISIL or ISIS, claims the bodies are from a battle at a Syrian army base in the northern province of Raqqa.
According the Syrian Observatory for Human Rights, ISIL attacked the base on Friday, leaving more than 85 bodies scattered around the site. At least 50 soldiers of the Syrian army's 17th division, including a colonel, were killed. A further 200 soldiers are missing.
The fate of some of these men appears to have been captured in a spate of videos published on YouTube and Live Leak in the last few days.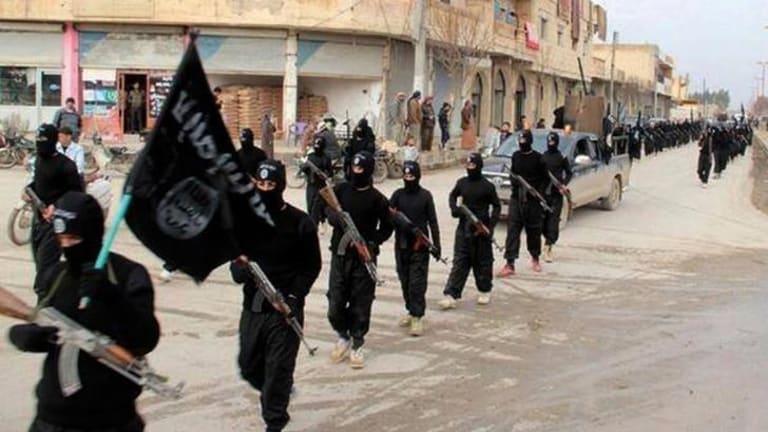 In the as yet unverified footage, more than 15 severed heads are displayed mounted on a security fence near a roundabout. A narrator in one of the videos claims the bodies are of the soldiers.
Most of the heads are embedded onto the spiked poles by their necks, and a few by their mouths.
A few decapitated bodies lie beneath the fence. Several are draped on it, presumably next to their own heads. Many of the heads are shadowed by splashes of blood on the footpath below. Many of faces are wounded.
There were conflicting accounts of the clash at the large base, with the human rights group saying that government forces had abandoned it, leaving behind the bodies of scores of soldiers. Other reports said only part of the base was in the hands of the Islamic State.
The government claimed that its forces were still battling Islamic State fighters in and around the base, and that they were redeploying to rout the militants.
A Syrian ISIL fighter reached in Raqqa on Skype by The New York Times said the assault started with two Saudi suicide bombers who drove into the base before detonating their vehicles.
He had visited the base later Friday. "I could see only bodies; there were, like, 70 scattered everywhere," he said. "Now our brothers with their trucks will bury them in a mass grave."
The fighter, who asked not to be named because he said he was not allowed to speak to the media, added that several hundred soldiers had fled.
He added 13 ISIL fighters had died in the battle, including seven Syrians.
This is not the first time ISIL has distributed graphic images footage of their violent exploits.
In mid June, several ISIL-affiliated accounts tweeted more than 50 images of a mass execution of Iraqi soldiers.
Later that month, senior international relations lecturer and terrorism specialist Dr Andrew Phillips told Fairfax Media ISIL had one of the most sophisticated social media strategies of any jihadist group.
"Social media appeals to jihadists for the same reason it appeals to non-violent political parties and other social movements: it provides cheap, global platforms that enable non-state actors to reach out to geographically dispersed global constituencies while refining their message to tap into local grievances," Dr Phillips said, adding ISIL had recently outstripped al-Qaeda in both physical threat and digital presence.

Since June and the capture of Mosul in Iraq, ISIL has continued to spread across the Middle East.
The group, under the leadership of Abu Bakr al-Baghdadi, have launched a campaign to conquer much of Iraq, Syria, Egypt, Lebanon, Israel and Jordan and unite the region into a caliphate, a kingdom under Sharia law.
Morning & Afternoon Newsletter
Delivered Mon–Fri.