Turkey's currency crisis tests Erdogan's strongman approach
Istanbul: President Recep Tayyip Erdogan has long made clear that he considered no part of Turkish life beyond his reach, not least the economy.
Even before he was re-elected in June with sultan-like powers, he had built his popularity on sustained economic growth fuelled by signature megaprojects — the latest being plans for a canal bisecting the country. But critics have long charged that much of that expansion was built on budgetary sleight of hand, cronyism and corruption.
Now Turkey's worst economic crisis since 2001 — the currency hit another new low on Monday — has confronted Erdogan with the limits of his authoritarian approach and could end his long run of success.
It is also fanning fears of a global contagion, as Turkey's troubles undermine investor confidence in other emerging market economies and raise concerns about the exposure of banks even in developed regions, such as the European Union.
Erdogan's economic troubles, analysts say, are largely of his own making. They have less to do with his dispute with the United States and the prospect of greater sanctions than with his deepening economic interference as he attempts to bend the logic of monetary policy and global financial markets to suit his political purposes.
Yet while Erdogan asserts greater control over life in Turkey — including the media, the judiciary, foreign policy and political decision-making — it is far less clear that he can bully an economy increasingly beholden to global markets to submit to his will, they say.
Authorities have begun investigating people who "carry out actions threatening security" as well as news reports and social media posts that would "serve as economic attacks," the state-run Anadolu news agency said on Monday, citing a statement by the Istanbul prosecutor's office.
It tied the news reports to "forces behind the July 15 coup attempt," referring to a 2016 failed putsch that Turkey blames on a US-based Islamic cleric.
Business leaders warn that the many strands of the President's authoritarian approach are intertwined, and that Turkey will not climb out of its hole until the country enacts major structural reforms that would undo many of Erdogan's constraints.
Those would include allowing a free press, an independent judiciary and returning powers to Parliament. Another step, the release of political prisoners, would help repair relations with Europe.
"We have to do something at home," said Umit Pamir, a former ambassador to NATO. "Only then can investors come."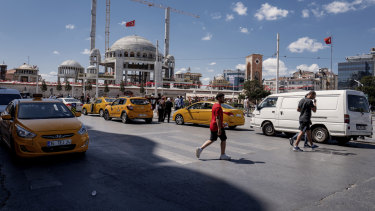 While Erdogan could still change course, whether he will is far from certain. In the meantime, the levers available to him will not avert the economic pain that is now inevitable, they say.
"The interest-rate hikes and budget cuts will be painful," said Atilla Yesilada, an Istanbul-based consultant at Global Source Partners, a management consultancy. "There will be bankruptcies."
Many analysts say that, as he has accumulated power, Erdogan has become increasingly isolated, surrounding himself with advisers who reinforce his own views, while sidelining real expertise.
In particular, Erdogan has insisted on following a policy of keeping interest rates low to allow a huge program of fiscal stimulus based around the construction industry to generate high growth.
In May, in an interview with Bloomberg TV, Erdogan explained why he wanted more control over the central bank and interest-rate policy.
"When the people fall into difficulties because of monetary policies, who are they going to hold accountable?" he asked. "Since they'll ask the President about it, we have to give off the image of a president who is influential on monetary policies," he added.
"It is the fundamental view of the true populist," explained Sinan Ulgen, chairman of the Istanbul-based Centre for Economic and Foreign Policy Studies, also known as EDAM. "The fact of his being elected gives him the right to be responsible for all executive authority."
Yet most economists argue that the policy is no longer tenable and that the economy is already in recession amid mounting foreign debts and a current account deficit. Keeping interest rates low is driving up inflation, which is hurting people's pockets.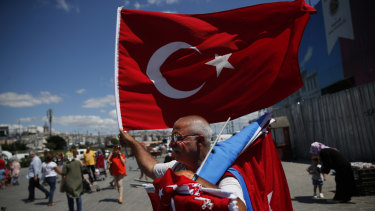 For months, credit-rating agencies and investment specialists have been signalling that the political management of Turkey's economy is scaring away investment.
Turkey has weathered financial storms before thanks to its size and diversity, but the outcome will depend on the "coherence and predictability of the policies that are pursued," the credit-rating agency Moody's advised in a statement in June.
In July, after Erdogan's re-election, and after he appointed his son-in-law Berat Albayrak to the newly combined position of treasury and finance minister, Moody's announced another downgrading of Turkey's credit rating.
"Any perception of encroachment into the independence of the central bank and other public institutions will likely exacerbate investor concerns," it wrote in a statement.
Since the election, Erdogan has passed a flurry of decrees bringing the system of government under the president's control.
The changes centre power increasingly in Erdogan's hands, allowing him to appoint senior officials in almost every area of life. Far beyond the central bank, analysts warn, the changes represent a creeping politicisation of the state.
Among the changes is the elimination of senior civil service positions in the powerful Turkish bureaucracy.
Turkey has always had a strong bureaucracy, modelled on the French system, with a senior bureaucrat, called an undersecretary, in every ministry, assisted by deputy undersecretaries. Those positions have been eliminated, and the civil servant positions replaced with deputy ministers appointed by Erdogan.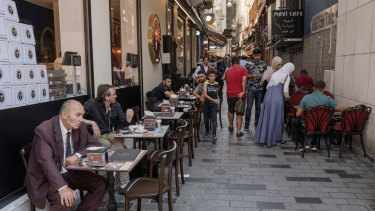 The change is being felt across the administration, Ulgen said. "There is no top bureaucrat who sees 360 degrees," he said. "It is all silos."
Any positive gain from bringing outsiders into the administration has been tempered by the polarising nature of Erdogan's rule, which has increasingly pushed out people who are seen as ideologically or politically opposed to his Justice and Development Party, and favoured party loyalists.
"There's going to be a convergence of the party and the state, more so than in the past, and the top bureaucrat representing the state will not be there," Ulgen added. "The lower levels of the bureaucracy will be open to politicisation as career advancement will be increasingly linked to political affiliation."
Yet relying on the party for appointees excludes a vast pool of talent, something that has also been evident with the purges of 150,000 public employees accused of being sympathisers of Erdogan's foe, Fettulah Gulen, since the failed coup of 2016.
The appointment of Albayrak to the post of treasury and finance minister has been taken as a signal not only of Erdogan's determination to control monetary and fiscal policy, but also of his intention to prepare a dynasty.
Albayrak, 40, holds a MBA from Pace University in New York, and worked as the US representative for Calik Holdings, a Turkish construction and trading company known for its close links to the government.
Even as the business world regretted the departure of more experienced officials from the government, some hoped that Albayrak, being a relative, might be able to persuade Erdogan to moderate his insistence on keeping interest rates low.
But so far Albayrak has not done enough to stem the damage, Yesilada said.
At a news briefing on Friday, Albayrak gave assurances of the independence of the Central Bank, yet the fact that the bank failed to act to shore up the lira showed it was either not independent, or amiss at its job, Yesilada said.
Albayrak was undergoing a "fast on-the-job training," Yesilada said. "If the business community and banks tell him what dire straits we are navigating, he may make the right decision."
As for the immediate crisis, Yesilada called for a hefty interest rate hike of at least 5 percentage points and said that a "handshake with the United States is an absolute minimum."
Ankara kept asking for other options to the crisis, Yesilada said, but he predicted Erdogan would have no option in the end.
"He will wake up and smell the coffee," he said.
New York Times