Mystery over fate of Syrian defector
LONDON: Mystery surrounds the whereabouts of the former Syrian foreign ministry spokesman Jihad Makdissi after he apparently defected. Reports suggested one of the most well-known faces of the Assad regime was on his way to the United States, but the State Department says he has not arrived there.
Mr Makdissi, the most senior Christian official yet to abandon Bashar al-Assad's regime, was reported on Monday to have variously been sacked or defected and to have arrived back in London, where he used to serve in the Syrian embassy.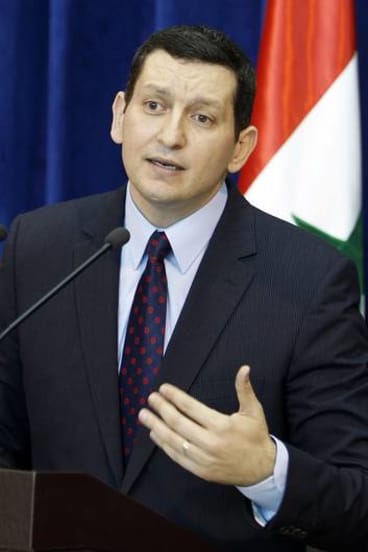 Usually reliable diplomatic sources later suggested he was en route for – or already in – the US after managing to leave the capital, Damascus, for Beirut. British officials insisted he was not in their country.
But a State Department spokesman, Mark Toner, reportedly told the al-Hayat newspaper: "We believe Jihad Makdissi is in London, we cannot confirm. Not aware of him reaching out to US embassy," according to a tweet by the paper's Washington correspondent.
Mr Makdissi has made no statements, but his brother Sami said on his Facebook page an announcement would be made "shortly". Confusingly, Sami was later quoted by a Lebanese news website, al-Nashra, as denying that Jihad had defected and claimed that his Facebook page had been hacked into.
Syria's deputy foreign minister, Faisal Makdad, told Sky News in Britain Mr Makdissi had not defected but was on a "three-month sabbatical".
Mr Makdissi has been the spokesman for Syria's foreign ministry since shortly after the uprising against the Assad regime erupted in March 2011. Fluent in English and a communications professional, he presented the government's version of events during visits by Arab League and UN missions and mediators, and in the wake of several massacres. When government forces were blamed for killing 103 people, including 49 children, in Houleh near Homs last May, Mr Makdissi called it a "tsunami of lies".
Many opposition supporters described his apparent departure as an escape rather than a defection, since he had served the regime loyally for so long – "a rat deserting a sinking ship", said one. But others praised his patriotism and decency. Reports from Damascus said Mr Makdissi's house in the Mezzeh area had been burned.
Syria's new opposition coalition did not comment on the reported defection. But Ausama Monajed, of the Syrian National Council, said: "It is another huge blow to the regime, similar to the defection of the prime minister Riyad Hijab. Makdissi has been their mouthpiece, the person who used to legitimise their actions against the people. It tells you that regime is on its last legs."
Syrian state media did not mention the story. But it was seized on by western governments. "If the man charged with lying to the outside world can't stomach Assad any more it is a pretty damning indictment of the regime," one diplomat said.
In the past the US has debriefed some Syrian defectors – including the head of its chemical arms forces – but has let other governments help Syrian officials flee. Washington did not want to get involved with Manaf Tlass, the army brigadier general and close Assad associate who was helped to escape by French intelligence and was backed by Saudi Arabia. Mr Hijab was supported by Jordan and Qatar.
Syrian opposition sources said there could be a role for Mr Makdissi and other former officials in the transitional government, which is due to be formed in Morocco next week, as long as they do not have "blood on their hands". Western governments are urging that it include members of Syria's minorities, especially Christians and Mr Assad's Alawite sect.
If the man charged with lying to the outside world can't stomach Assad any more it is a pretty damning indictment of the regime.
In western capitals there is a sense that Syria's 20-month crisis is accelerating as rebel forces challenge the government, especially in the Damascus area.
Last week the CIA reportedly issued an assessment that Assad would fall within eight to 10 weeks.
Morning & Afternoon Newsletter
Delivered Mon–Fri.