Romney in final push for swing states
SANFORD, Florida: Mitt Romney made a final plea to the American people Monday night to help him ''change the course the nation is on'', as his allies began blaming hurricane Sandy for stopping him from overtaking Barack Obama in final opinion polls.
Promising struggling Americans that ''we can begin a better tomorrow tomorrow'', the Republican presidential challenger swung through four of the battleground states poised to decide the outcome of Tuesday's election, as aides insisted he would defy the forecasts of a string of major pollsters.
In an effort to shore up his slim polling lead in Florida - the state's 29 electoral votes are central to all his potential paths to the White House - Mr Romney urged supporters to make eleventh-hour attempts to persuade backers of Mr Obama to defect.
''We need every vote in Florida,'' he told thousands of boisterous fans in an airfield hangar in Sanford. ''I'd like you to reach across the street to that neighbour with the other campaign's yard sign.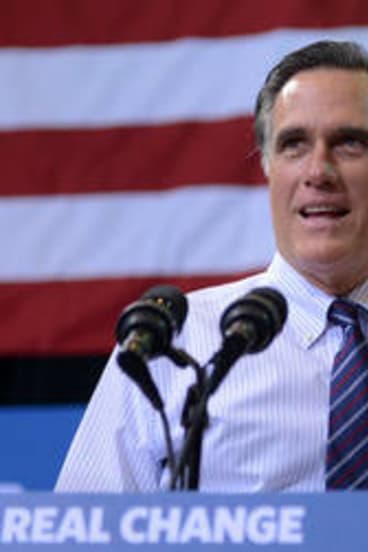 ''You have friends, you have family members. Call up 10 of them, tell them to pray for our country, tell them to vote for Mitt Romney and Paul Ryan.''
Mr Romney later made the same appeals to voters in the battleground states of Virginia, New Hampshire and Ohio, where he was poised to hold an unusual rally on election day itself in an attempt to project confidence and increase turnout among conservatives.
While he made his final push, high-profile conservatives appeared to pre-empt a disappointing result Monday evening by claiming last week's storm in the north-east of the country had halted momentum that had been gathering behind Mr Romney since his startling victory in the first presidential debate.
Karl Rove, the mastermind of George W. Bush's election victories, described the devastating weather as ''a stutter in the campaign'', adding: ''If you hadn't had the storm, there would have been more of a chance for the Romney campaign to talk about the deficit, the debt, the economy''.
Another senior Republican, Haley Barbour, the Mississippi Governor, said Mr Romney's campaign momentum had been ''broken'' by the storm, adding that a blackout on key election issues was ''good'' for Mr Obama.
Closer analyses of polls indicate the boost from Mr Romney's first debate win had already begun subsiding before the storm struck, after Mr Obama was judged to have bettered him in the following two debates and enjoyed some relatively promising economic news. Mr Romney's campaign team continued to pin hopes of victory on more positive in-house polling, claiming public pollsters had misread this year's likely electorate as more favourable to Mr Obama.
The candidate's wife, Ann, is one such proponent of this theory of ''skewed'' polling. ''It's not going to be close,'' she has told people close to the campaign in recent days. ''These polls are all bogus. We're going to win.''
While privately conceding that some battleground states such as Nevada are probably now out of their reach, senior strategists to Mr Romney insist he may yet triumph in Ohio. It is the likeliest ''tipping point'' state pointing to a national victory, although he has never led Mr Obama in polling there.
His sons appeared more open on Monday to the possibility that he would not be victorious. ''Win or lose, we're very excited,'' Matt Romney told ITV. ''It's been a long campaign.''
Mr Romney is expected to cast his vote on Tuesday in his home town of Belmont, Massachusetts. He will later hold an election night party for thousands of friends and supporters at a Boston convention centre.
Telegraph, London
Morning & Afternoon Newsletter
Delivered Mon–Fri.