Oscar Pistorius says sorry to Steenkamp family
Lip trembling, Oscar Pistorius began his murder defence on Monday by issuing a tearful apology to the family and friends of the girlfriend he killed, promising them "that when she went to bed that night, she felt love".
In an extraordinary performance in the Pretoria High Court, Pistorius appeared to address June Steenkamp, the mother of his late girlfriend Reeva Steenkamp, as he said he was trying to protect her when he fatally shot her on Valentine's Day last year.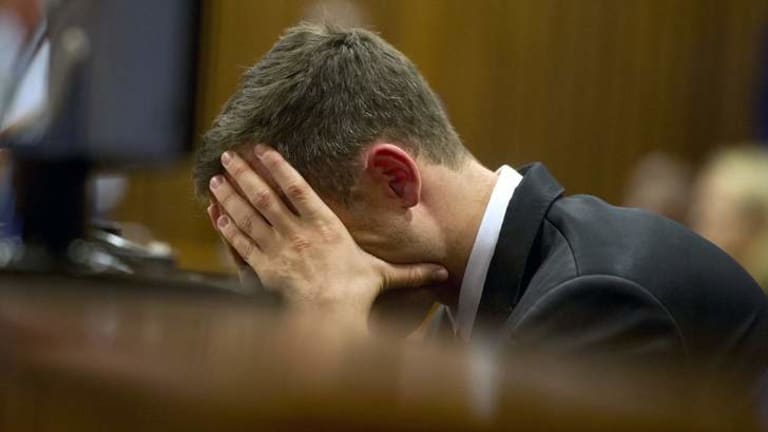 "I'd like to take this opportunity to apologise to Reeva's family, those of you who knew her that are here today," he said, fighting back tears.
"I would like to apologise and say there hasn't been a moment since this tragedy happened that I haven't thought about her family ... I wake up every morning and you're the first people I think of, the first people I pray for.
He said he couldn't imagine the "pain, sorrow and the emptiness that I have caused you and your family".
"I can promise that when she went to bed that night she felt loved. I've tried to put my words on paper many, many times to write to you, but no words would ever suffice," he said.
Mrs Steenkamp remained unmoved as Pistorius spoke.
At the beginning of what is likely to be a lengthy stint in the witness box, his barrister Barry Roux, SC, gently led him through his early life, including the amputation of his legs, the death of his mother Sheila and his athletic career.
Pistorius also told the court he had been taking anti-depressants and other medications since shortly after the incident.
"I'm scared to sleep. I have terrible nightmares about things that happened that night. I smell the blood and wake up terrified," he said.
He told the court he was born without fibula in both legs, and the decision was taken to remove his lower limbs below the knee.
He said notwithstanding this, his mother "made me feel equal to the rest of the kids. She didn't see my disability as something that should hold me back."
The Olympian and Paralympic track star said being on his stumps "throws my weight off completely", adding he couldn't stand without holding onto something.
The death of his mother devastated his close-knit family, and his sister Aimee and brother Carl were in tears as he added: "Everything we learnt in life, we learnt from her."
Pistorius denies intentionally killing Ms Steenkamp, saying he shot her believing she was an intruder.

Lisa Davies is editor of The Sydney Morning Herald.
Morning & Afternoon Newsletter
Delivered Mon–Fri.