Putin keeps straight face as mega-leaker Snowden applies for asylum in Russia
Not since Soviet cosmonaut Yuri Gagarin became the first man in space has Moscow had such fun at America's expense – there was Vladimir Putin on Monday, as straight-faced as all get out, but merciless as he toyed with the US on the fate of Edward Snowden, the mega-leaker behind Washington's burgeoning espionage embarrassment.
Snowden, meanwhile, has broken his silence for the first time since he fled to Moscow eight days ago, saying he remains free to make new disclosures about US spying. In separate comments released via WikiLeaks, Snowden also accused the administration of Barack Obama of denying his right to seek asylum.
Putin's comedy prop, though, was a late night application for asylum from Snowden who has been hunkering at Moscow' Sheremetyevo International Airport.
At a press conference, Putin told reporters: "If he wants to go somewhere and someone will take him, go ahead. If he wants to stay here ..."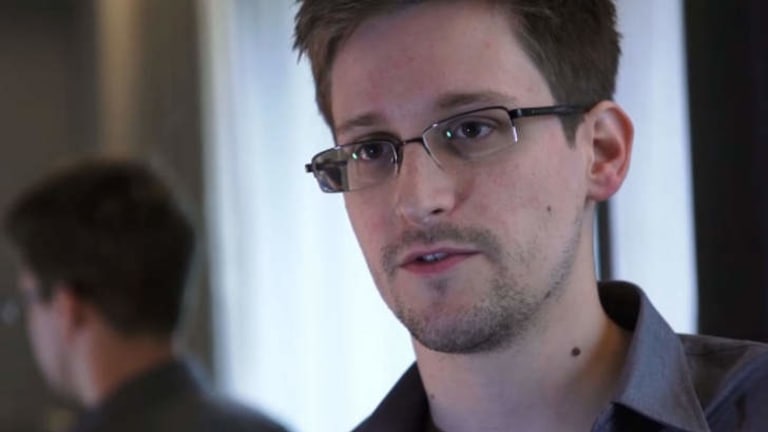 And here Putin fell back on his get-out-of-jail cards. First, Snowden handed Russian officials a list of no less than 15 other countries in which he wants to apply for asylum. Second, in a condition imposed by Putin that renders Russia an impossible choice as a haven for the American fugitive, Snowden "must stop his work aimed at bringing harm to our American partners, as strange as that sounds coming from my mouth".
Strange? The man is a born comic. It is one thing for the Russian leader to irritate Washington by eulogising Snowden as a hero of the people, but in all likelihood Putin does not want the people of Russia having such an out-there, anti-establishment role model living in their midst.
Snowden view
Snowden, though, seems ready to reveal more secrets.
In a letter to Ecuador, Snowden said the US was illegally persecuting him for revealing its electronic surveillance programme, PRISM. He also thanked Ecuador for helping him get to Russia and for examining his asylum request.
"I remain free and able to publish information that serves the public interest," Snowden said in an undated Spanish-language letter sent to President Rafael Correa of Ecuador, seen by Reuters.
"No matter how many more days my life contains, I remain dedicated to the fight for justice in this unequal world. If any of those days ahead realise a contribution to the common good, the world will have the principles of Ecuador to thank," part of the text read, according to a translation.
Snowden complained that the US was illegally pursuing him for an act he said was in the public interest.
No one has ever given us anyone
"While the public has cried out support of my shining a light on this secret system of injustice, the Government of the United States of America responded with an extrajudicial man-hunt costing me my family, my freedom to travel, and my right to live peacefully without fear of illegal aggression," he wrote.
Snowden's thanks to Ecuador may have been premature, though. Over the weekend the previously gung-ho Correa revealed that he had meekly succombed to American pressure, to effectively withdraw what had seemed like an open invitation for Snowden to make his new home in his country's capital, Quito.
In separate comments posted on the WikiLeaks website, Snowden accused Obama and Vice President Joe Biden of blocking his asylum search.
"It is being reported that after promising not to do so, the President ordered his Vice President to pressure the leaders of nations from which I have requested protection to deny my asylum petitions," Snowden said in a statement published on the website. "This kind of deception from a world leader is not justice, and neither is the extralegal penalty of exile."
In the statement, Snowden blamed the Obama administration for adopting "the strategy of using citizenship as a weapon" in its efforts to stymie his search for asylum and said he was "unbowed in his convictions".
Mirth in Moscow
Back in Russia, the irony of Moscow's stance – that the Russians are offering to bring a run-away American leaker into line on Washington's behalf - was fantastic.
At the Kremlin they would have been doubled over in laughter – agreeing that US President Obama was absolutely right in defending the US against the Snowden revelations, with his claim that all countries do it. But right now, only one world superpower was squirming over exquisitely-detailed, country-by-country disclosures on its eavesdropping.
Putin, himself a stranger to human rights as most would like to see them practiced, spoke as though he were the patron saint of activism: "Considering that [Snowden] considers himself a human rights activist and a fighter for human rights, he probably doesn't plan to stop this work, so he should choose a host country and head there.
"When this will happen I, unfortunately, don't know."
Holding himself up as a man of principle, Putin again stressed that Russia would not extradite Snowden to the US: "Russia never gives anyone up and doesn't plan to give anyone up. And no one has ever given us anyone."
Putin has taken to likening Snowden to the Nobel prize-winning, Soviet-era dissident Andrei Sakharov. But as The Guardian points out, the Russian reception for Snowden is vastly at odds with the treatment of whistleblowers in Putin's Russia. Examples include anti-corruption campaigner Alexey Navalny, who is on trial and the lawyer Sergei Magnitsky, who died in prison.
Other options
If Snowden's route to Ecuador may have been blocked, however, another path to South America may open.
One of the attendees at a conference on natural gas, at which Putin made his comments to reporters, was the new Venezuelan President Nicolas Maduro. As a staunch critic of the US, perhaps Maduro could bundle up Snowden and take him home to Caracas.
Russian officials reportedly expected Putin and Maduro to discuss Snowden's fate. But in case such a simple solution does not emerge, it was also reveled that today's iteration of the old Soviet KGB, the FSB, had been in "constant contact [to] find possible solutions" with the FBI in the US.
Putin spoke as European leaders continued to express a mixture of anger and disbelief at weekend revelations on the extent of US surveilance against its allies – bugging and hacking into no less than 38 embassies and foreign missions in Washington and New York. The US has also been using its NATO headquarters facilities in the Belgian capital, Brussels, to run a massive eavesdropping program on the European Union headquarters in the same city.
American allies among the countries whose embassies are listed as "targets" include: France, Italy, Greece, India, Japan, Mexico, South Korea and Turkey.
Obama bluster
On Monday Obama came out fighting – in a blustery kind of way. Rather than deny what the US has been revealed to be doing by way of eavesdropping at home and around the world, he accused all other countries of doing the same.
"We should stipulate that every intelligence service – not just ours, but every European intelligence service, every Asian intelligence service, wherever there's an intelligence service...here's one thing that they're going to be doing: they're going to be trying to understand the world better and what's going on in world capitals," he told reporters in Tanzania.
"If that weren't the case, then there'd be no use for an intelligence service."
Publicly at least, the Europeans were far from placated.
French president Francois Hollande called for the Americans to immediately abandon their spying: "We cannot accept this kind of behaviour bertween partners and allies."
In Berlin, a spokesman for German Chancellor Angela Merkel was withering:
"We're not in the Cold War anymore."
With Reuters

Paul McGeough is chief foreign correspondent for the Sydney Morning Herald.
Morning & Afternoon Newsletter
Delivered Mon–Fri.