Rescuers find survivors, but death toll hits 260
SAVAR, Bangladesh: Dozens of workers have been found alive as they huddled in the wreckage of a collapsed garment factory bloc in Bangladesh, a rare success for rescuers who have pulled out more than 260 bodies.
In an announcement greeted by wild applause from thousands of relatives at the scene, an army spokesman initially announced that 40 survivors had been discovered together in a room, but the figure was later revised to 24.
Screams filtering through the cracks in the concrete suggested more survivors were awaiting help, but a steady stream of bodies raised the recorded death toll to almost double on Thursday and hundreds remain unaccounted for.
"The death toll is now 256," police sub-inspector Wali Asraf, told AFP from the disaster site, adding more bodies were being recovered and that most of those who died were female garment workers. Reuters reported the toll had topped 260.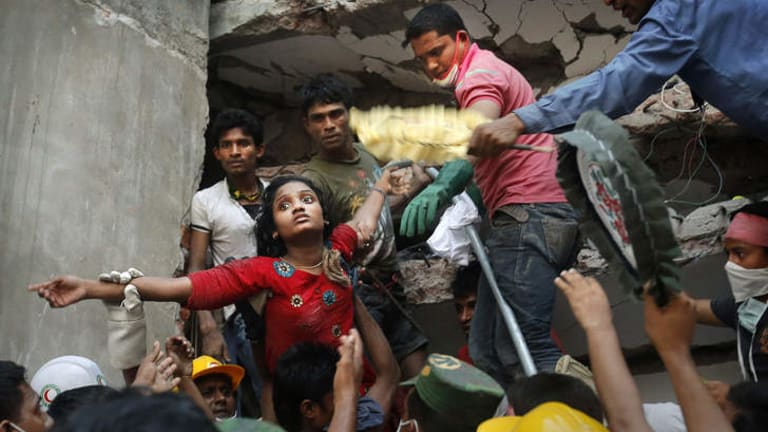 "An unspecified number of victims are still trapped," Mizanur Rahman, a rescue worker with the fire brigade told Reuters, as he clambered over the wreckage. "We can't be certain of getting them all out alive. We are losing a bit of hope."
The collapse of the building on Wednesday on the outskirts of the capital is the worst industrial accident in the country's history and is the latest in a spate of tragedies in the "Made in Bangladesh" clothing sector.
It prompted new criticism of Western brands who were accused by activists of placing profit before safety by sourcing their products from the country despite its shocking track record of deadly disasters.
Only British low-cost fashion line Primark and Spanish giant Mango have acknowledged having their products made in the collapsed factory bloc, while a host of brands including Wal-Mart and France's Carrefour are investigating. This month Mango, which specialises in a fast turnover and constant supply of new garments, announced it would be setting up in David Jones stores in Australia by August. The model Miranda Kerr is the "face" of Mango.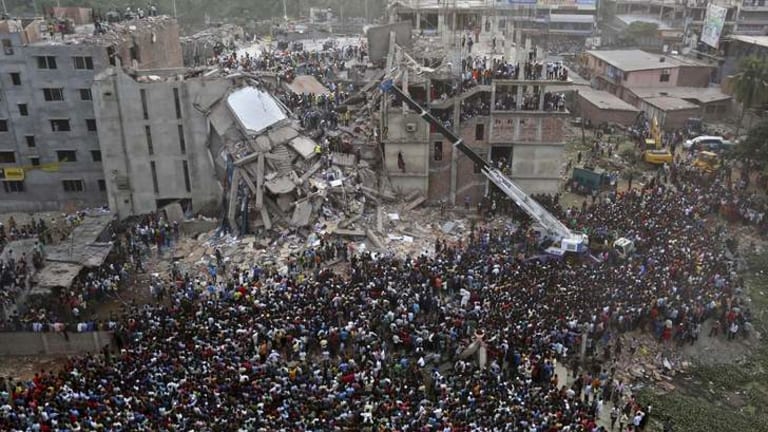 Hundreds of thousands of Bangladeshi workers walked out of their factories in solidarity with their dead colleagues on Thursday as flags flew at half mast and a national day of mourning was held.
More than 1000 textile workers besieged the offices of the Bangladesh Garment Manufacturers and Exporters Association on Thursday, pelting it with stones and clashing with riot police, TV channels showed. The workers demanded all garment factories be shut and the owners harshly punished for accidents.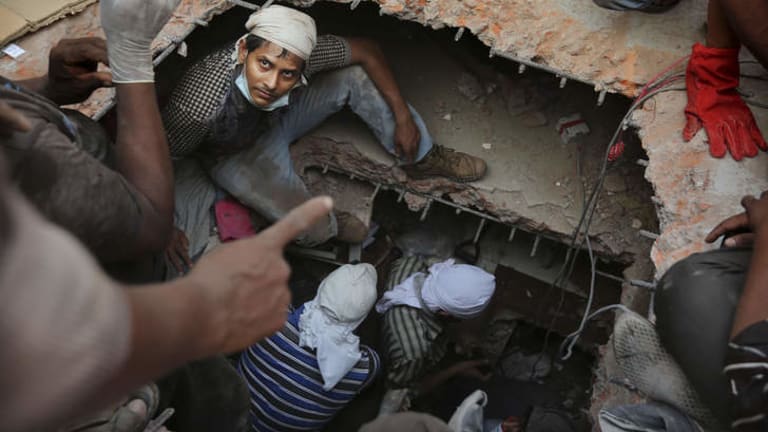 "The deaths of these workers could have been avoided if multinational corporations, governments and factory owners took workers' protection seriously," Amirul Haque Amin of the National Garment Workers' Federation said in a statement.
"Instead, the victims' families must live with the terrible consequences of this tragedy."
The deaths of these workers could have been avoided if multinational corporations, governments and factory owners took workers' protection seriously.
US ambassador Dan Mozena said the accident could affect Bangladesh's market access to the United States. Bangladesh is fighting a petition by US unions to revoke preferential trade access because of worker safety issues.
"It certainly makes the environment of the workplace safety questionable," Mr Mozena told reporters in Dhaka.
Safety problems and poor working conditions plague the textile industry in Bangladesh, the world's second-biggest clothing exporter after China.
Last November a blaze at a factory making products for Walmart and other Western labels left 111 people dead, with survivors describing how fire exits were kept locked by site managers.
Survivors said the building developed visible cracks on Tuesday evening, but factory bosses had demanded staff return to the production lines despite a police evacuation order.
One manager for the New Wave Styles company, one of the five manufacturers in the building, told how the owner had consulted an engineer but allegedly ignored his warnings.
AFP, Reuters
Morning & Afternoon Newsletter
Delivered Mon–Fri.