UN official urges Pakistan to query legality of drones
THE United Nations High Commissioner for Human Rights has advised Pakistan to seek an official UN investigation into whether US drone strikes there are legal.
Navi Pillay told Pakistani Prime Minister Yousuf Raza Gilani he should invite the UN's special rapporteur on extrajudicial, summary or arbitrary executions to visit the country to examine the legality of missile attacks by remote-controlled aircraft in areas near the Afghan border.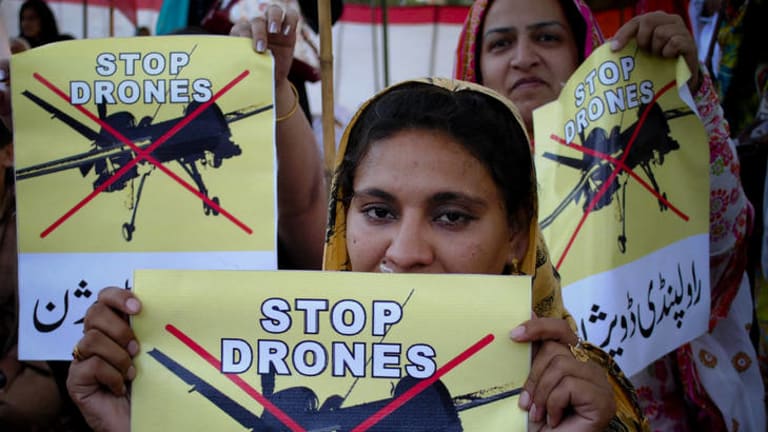 ''Drone attacks do raise serious questions about compliance with international law,'' Dr Pillay told a press conference in Islamabad. ''Ensuring accountability for any failure to comply with international law is also difficult when drone attacks are conducted outside the military chain of command and beyond … transparent mechanisms of civilian or military control.''
This week the US confirmed that one of its planes had killed al-Qaeda's second in command, Abu Yahya al-Libi.
The Obama administration has embraced the program, ordering a sharp increase in strikes against suspected terrorists in Pakistan in recent months. Dr Pillay's intervention comes at a particularly fraught time for relations between Washington and Islamabad.
The Pakistani government has stepped up its denunciations, even calling in a top US diplomat for a dressing-down on Tuesday.
US Defence Secretary Leon Panetta, meanwhile, said Washington was running out of patience over insurgent bases along Pakistan's border.
Despite suspicions that the Pakistan government welcomes the killing of many dangerous militants, officially it has demanded an end to all US strikes. The US government and human rights organisations disagree on how many civilians are killed or hurt by drones.
Dr Pillay said it was vital all civilian casualties were investigated and compensated.
But Pakistan may be reluctant to take up her suggestion of inviting an inquiry by a special rapporteur. Dr Pillay said such an official would investigate not just drones but also ''the spate of killings'' by militants, criminals and state military intelligence agencies.
In a visit to Kabul, Mr Panetta said it was difficult to achieve peace in Afghanistan ''as long as there is safe haven for terrorists'' in Pakistan, singling out the Haqqani network. This is allied to the Taliban and believed to enjoy Pakistani intelligence support.
''We are reaching the limits of our patience here,'' he said. ''For that reason it is extremely important that Pakistan take action to prevent this kind of safe haven from taking place and allowing terrorists to use their country as a safety net in order to conduct their attacks on our forces.
''We have made that very clear time and time again and we will continue to do that.''
Mr Panetta said Haqqani fighters had been seen leaving to attack US forces as recently as June 1, when they detonated a truck bomb and then tried to storm Forward Operating Base Salerno in Afghanistan's Khost province.
The attack was repelled and 14 militants were killed.
Mr Panetta arrived in Afghanistan after a day of violence in which 21 people were killed by Taliban suicide attacks on a bazaar in the southern city of Kandahar, and 18 died in a NATO air strike on a house in eastern Logar province, where members of a wedding party were staying, Afghan officials said.
Afghan President Hamid Karzai cut short a trip to China and issued a statement saying: ''NATO operations that inflict human and material losses to civilians can in no way be justifiable, acceptable and tolerable.''
NATO has said it is looking into reports of civilian deaths. It confirmed that an air strike had been called in during a raid to detain a Taliban commander, but originally said some fighters had been killed and only two women had been wounded.
Villagers displayed the bodies of five women, seven children and six men at the provincial capital after the strike.
■ A bomb yesterday tore through a bus carrying government employees and other civilians near the city of Peshawar in north-western Pakistan, killing 18 people and wounding 35.
GUARDIAN, AGENCIES
Morning & Afternoon Newsletter
Delivered Mon–Fri.