Verdict looms for imprisoned al-Jazeera journalist Peter Greste
Cairo: After six bleak months in an Egyptian prison and 12 court sessions in which the prosecution's case has veered from the farcical to the irrelevant, it is judgment day for Australian journalist Peter Greste and his colleagues.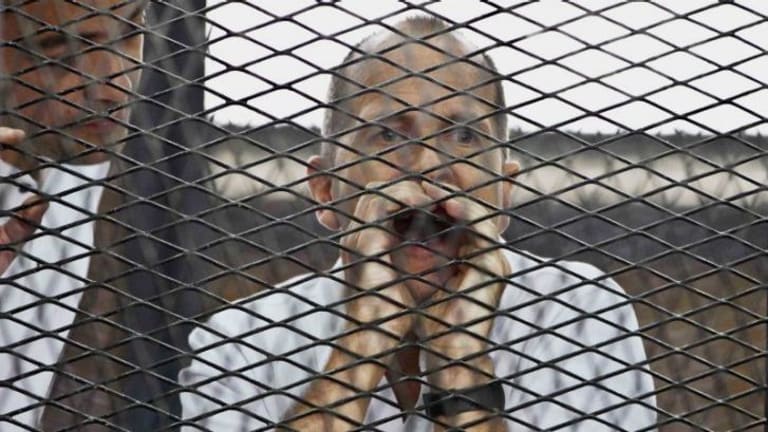 Facing a sentence of seven to 15 years for conspiring with the now-banned Muslim Brotherhood to falsify news to defame Egypt, Greste, a foreign correspondent for al-Jazeera English, his bureau chief Mohamed Fahmy and producer Baher Mohamed, will learn of the court's verdict on Monday.
The three, along with their 17 co-defendants, most of whom are being tried in absentia, have always protested their innocence.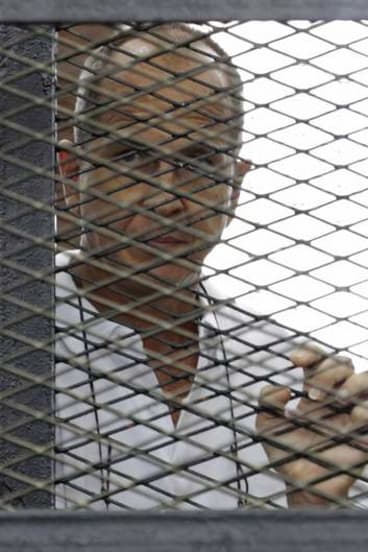 In a case that has drawn condemnation from human rights groups and press freedom organisations around the world, the three have been swept up in Egypt's ruthless security operation against the Muslim Brotherhood and its supporters.
As many as 41,000 people have been jailed in just 10 months, hundreds have been sentenced to death and many prominent democracy activists have received harsh jail sentences under the country's controversial anti-protest law.
The journalists are also caught in a bitter diplomatic row between Egypt and the Gulf state of Qatar, the owners of the international Jazeera news network who are seen as key supporters of the Brotherhood.
Their nightmare began on December 29, when Greste and Fahmy were arrested in a late night raid on Jazeera's makeshift offices in the luxury Marriott Hotel in Cairo. Mohamed was arrested in his home nearby.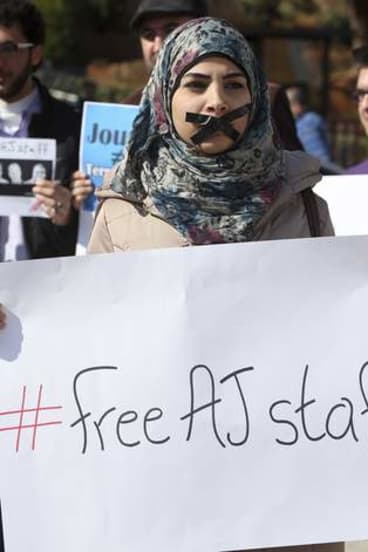 They have since spent 177 days in a 3x4m cell, locked down for 23 hours each day, and have been denied access to reading materials and adequate medical treatment for extended periods of their incarceration.
"From A-Z the case has been a political case," says Mohamed Lotfy, who has been observing the trial for Amnesty International.
"It is feeding the government's rhetoric that Egypt is under attack, that there is a plot against the nation – you could see this playing out in the prosecution's words during the trial."
It is clear, Lotfy says, that the case is being used to "settle scores with Jazeera".
"The judge could see from the outset that the videos are not a threat to national security and could have made a decision to release the journalists," Lotfy says. "He didn't."
The case has had already an impact on the way journalists operate in Egypt, Lotfy says, given it is clear the media is no longer free to do its job.
"It has shown how little media freedom there is in Egypt," he says.
"You are free to support the government as much as you want but if you want to present other views or interview the political opposition or anyone who is going to be critical of the government then you have to think twice – out of fear of being arrested, tried in court and jailed. It will be even worse if there is a guilty verdict."
As Greste noted in his first letter smuggled out of prison, the moment the Muslim Brotherhood was classified a terrorist organisation by the military-backed Egyptian Government, the ground shifted in Egypt.
"We had been doing exactly as any responsible, professional journalist would – recording and trying to make sense of the unfolding events with all the accuracy, fairness and balance that our imperfect trade demands," he wrote back in January.
"Most of the time, it is not a difficult path to walk. But when the Egyptian government declared the Muslim Brotherhood to be a 'terrorist organisation', it knocked the middle ground out of the discourse. When the other side, political or otherwise, is a 'terrorist', there is no neutral way."
Just six months earlier, the Brotherhood was the government in Egypt.
Every journalist – foreign and local – interviewed their leaders and reported their actions. But on July 3, just short of 12 months into his term, Egypt's first democratically elected president, the Brotherhood backed Mohamed Mursi was forced from office by the all-powerful Egyptian military, acting, it said, on the will of the people.
Suddenly, even in opposition, the Brotherhood was relegated to the class of the untouchable.
In the months that followed thousands were jailed and more than 1400 were killed in a security crackdown that is both overwhelming and ongoing.
On Christmas Day, just four days before Greste and his colleagues were arrested, the Egyptian Government announced it considered the Brotherhood a terrorist organisation.
No one was prepared for the political and security consequences that followed.
"The fact that we were arrested for what seems to be a set of relatively uncontroversial stories tells us a lot about what counts as 'normal' and what is dangerous in post-revolutionary Egypt," Greste wrote in his second letter smuggled from prison.
"We were not alone in our reporting, but our arrest has served as a chilling warning to others … Anyone who applauds the state is seen as safe and deserving of liberty. Anything else is a threat that needs to be crushed."
But for a government so determined to prosecute the journalists via a public trial, there is no evidence that they threatened national security through their reporting.
And there is nothing to indicate they produced, as charged, "false news to create an impression … that the country is witnessing a state of infighting and civil war among its citizens, to weaken the respect and status of the state and harm the country's national interests".
Video "evidence" shown to the court included Greste's award-winning BBC documentary on Somalia, Sky News stories on Egyptian tourism and some holiday snaps of Greste's parents, Lois and Juris, in Europe.
There was no evidence that the videos had been tampered with to falsely spread fear and strife among the people, there were no threats to national security.
After a harrowing six months, in which Greste, Fahmy and Mohamed have eloquently spoken out about their incarceration, press freedom and the ludicrous nature of the charges against them, tensions are high.
"Peter is incredibly strong and very calm but he is anxious as we get closer to the end," says his brother Michael, in Cairo for a second, month-long stint of prison visits and court hearings.
"His mind must be racing a million miles an hour – have we covered off on everything at the trial, have we touched on everything, which makes it so frustrating for him because he has no control over any of that."
Peter is incredibly resilient, Michael says, but every person has their limits.
"Of course I worry about it," he says. "It is terrifying – as strong as Peter is there is always the fear that no-one is unbreakable."
On the eve of the verdict, the New York-based Committee to Protect Journalists has again urged the Egyptian Government to free all journalists in its custody.
""Egypt's newly elected president, Abdel-Fattah el-Sisi, has an opportunity to reverse the drastic decline in the country's press freedom record by doing all he can to ensure that journalists are set free from jail," said Sherif Mansour, CPJ's Middle East and North Africa program coordinator.
"Releasing all imprisoned journalists and allowing them to report freely and safely would be a resounding signal that Egypt is changing course."
US Secretary of State John Kerry met with Mr Sisi on Monday and adiscussed the verdict expected in the trial, and the hurried mass trials and death sentences, The New York Times reported. He also alluded to the government's criminalisation of membership in the Muslim Brotherhood.
The verdict is due on Monday.

Middle East Correspondent Ruth Pollard has reported on the Arab revolutions, the battle against the Islamic State, tensions in the West Bank and Egypt's power struggle. Her job has taken her to Libya, Lebanon, Turkey, Jordan, Tunisia and beyond and in 2014 she won a Walkley Award for her coverage of the war in Gaza.
Morning & Afternoon Newsletter
Delivered Mon–Fri.