We will defend ourselves, US tells N Korea
US Secretary of State John Kerry said the United States would defend itself and its allies after North Korea revealed plans to restart a nuclear reactor which would allow it to produce weapons-grade plutonium.
''We've hear an extraordinary amount of unacceptable rhetoric from the North Korean government in the past few days,'' Mr Kerry said.
''So let me be perfectly clear here today. The United States will defend and protect ourselves and our treaty ally, the Republic of Korea.''
The official Korean Central News Agency reported the five-megawatt reactor in the north-western city of Yongbyon would be refurbished and restarted "without delay".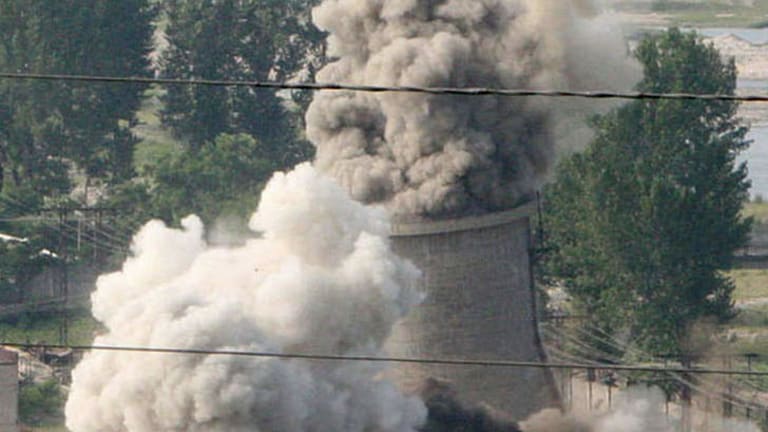 North Korea closed the reactor in 2007 as part of six-nation talks in which it agreed to disarm in return for aid. It blew up the plant's cooling tower in 2008.
''If they restart their nuclear facility at Yongbyon, that is in direct violation of their international obligations,'' Mr Kerry said after meeting South Korean Foreign Minister Yun Byung Se in Washington. ''It would be a provocative act.''
UN Secretary-General Ban Ki-moon said tensions on the Korean peninsula had "gone too far" and could lead to open conflict.
The latest in a near-daily series of nuclear and military threats issued from Pyongyang also provoked aggravation from the isolated regime's main diplomatic ally, China.
China expressed "regret" at Pyongyang's announcement while Mr Ban called for North Korea to lower its high-pitch, aggressive rhetoric because it might invite a "firm response".
"Nuclear threats are not a game," Mr Ban warned on a visit to Andorra. "Aggressive rhetoric and military posturing only result in counteractions and fuel fear and instability."
Mr Ban said that while he believes no country intended to attack North Korea, "I am afraid that others will respond firmly to any direct military provocation".
"Things must calm down," he said, adding that talks were the only way to resolve the crisis. He offered to help establish a dialogue.
In Beijing, Foreign Ministry spokesman Hong Lei called the situation on the peninsula "sensitive and complicated".
"We appeal to relevant parties to remain calm and exercise restraint, return to the track of dialogue and consultation as soon as possible, and jointly seek ways to resolve the issue," Mr Hong said.
Tensions have risen since North Korea conducted its third nuclear test in February and the United Nations reacted by tightening sanctions on one of the most highly sanctioned countries in the world.
Kim Yong-hyun, a North Korea expert at Seoul's Dongguk University, said the decision to reopen the Yongbyon nuclear reactor was different from the military bluster of recent weeks.
''This goes beyond mere provocation. It's a strong, tangible move and perhaps the one that will force the US into the direct dialogue Pyongyang wants,'' Mr Kim said.
The US has deployed a sophisticated sea-based radar to the ocean east of Japan to track any North Korean ballistic missile launches, a Pentagon official says.
The Sea based X-Band Radar platform holds a dome radar designed to track ballistic missiles, then feed the data to a separate command that can fire an interceptor missile to shoot it down.
A Pentagon official speaking on condition of anonymity described the move as a ''routine deployment'' that is ''not in relation to current events.''
The official also said that the anti-missile destroyer USS John McCain has been deployed to the region.
Over the past days the US has sent its most sophisticated weapons to the region in a forceful display of gunboat diplomacy.
The US previously took the unusual step of announcing test bombing by nuclear-capable state-of-the-art B-2 bombers.
It has also deployed F-22 Raptor stealth fighters to South Korea as part of a US-South Korean military exercise, dubbed ''Foal Eagle,'' that is scheduled to last until April 30.
The Korean peninsula has been caught in a cycle of escalating tensions since the North's February nuclear test, which followed a long-range rocket launch in December.
Subsequent UN sanctions and annual South Korea-US military exercises have been used by Pyongyang to justify a wave of increasingly dire threats against Seoul and Washington.
DPA/AFP/Bloomberg
Morning & Afternoon Newsletter
Delivered Mon–Fri.