More than just a pretty face
Lucy Zelic's brothers might have scored goals, but she is determined to kick a few of her own, Fleta Page writes.
Lucy Zelic claims she is ''pretty rubbish'' when it comes to playing football, but the 26-year-old Canberran is out to prove she is no pushover when it comes to dissecting the game she loves.
Zelic made her television debut on SBS2 this week, hosting Thursday FC, the station's new football-based entertainment program, as well as its live coverage of Friday night's A-League opener; a job she's set to continue all season.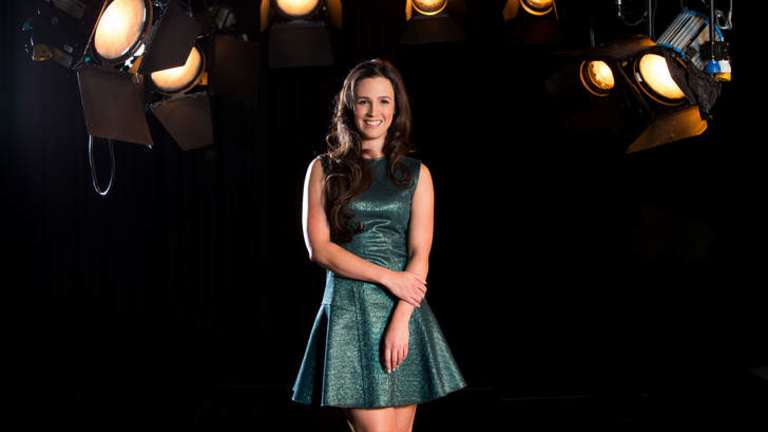 While Zelic was once a Miss Universe Australia finalist, she is more than just a pretty face on the television, and no stranger to Canberra's football fans.
She hosted the official A-League podcast last season but prior to that, got her start with Canberra local radio, hosting 2XX FM's football show The Far Post, which eventually developed into a gig commentating Canberra United's W-League matches.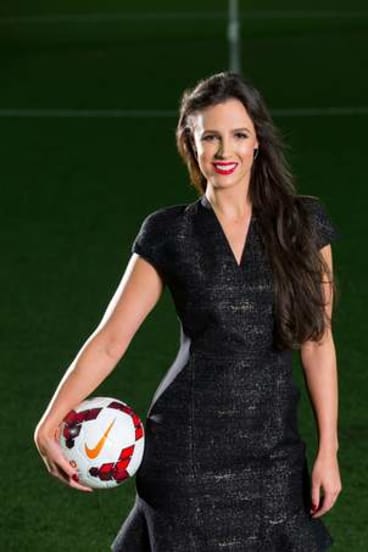 She did that while studying journalism and sports business at the University of Canberra, but Zelic got her real football education at home as the younger sister of international footballers Ned and Ivan Zelic.
Ned Zelic is a name synonymous with a generation of football fans as the man who scored the two goals against Holland to qualify the Olyroos into the 1992 Barcelona Olympics. But at the time his younger sister was just six.
''There's such a big age gap between Ned and I, there's about 15 years, but between my other brother Ivan and I there's about eight [years] so I grew up as his sidekick,'' Zelic says.
''I idolised this guy, he played professional football as well, and most of my memories are from going to watch him train and play at the Australian Institute of Sport with my dad and I remember watching these games and falling in love with it.
''Dad's a builder so back then he used to have a lot of timber lying around, so Ivan used to build his own goals and nick a net or two from the AIS and set it up at home and just belt the ball at me - I was the goal keeper. I had many a blood nose, a black eye - the guy didn't hold back you know. He was beating the ball at his kid sister, but I loved it those days, I loved them.''
Despite the practical football education, her own footballing career didn't take off, with her playing days finishing once she left Daramalan College. She gives a brutal assessment of her own talent.
''I'll be honest, I was pretty rubbish!''
But as the new face of the game on SBS, Zelic is determined to prove that she has all the skills she needs to stick around.
''There's always going to be that stigma attached 'what do women know about football' but I think some of my greatest joy is in response to that, coming out and showing people that I do know what I'm talking about and that you don't have to have played the game to know what you're about,'' she says.
She refers to ''God of football'' Les Murray, who never played professional football, but is on of the most revered people in football.
''I think why can't that extend to women as well?
''I'm aware that you have to gain that respect and credibility, it's not something that happens overnight, it's not something that comes with the last name, it's something that you earn. I don't think I've got something to prove because I'm a woman; I've got something to prove about my knowledge.''
It's a situation she feels no pressure with, confident her years of watching, following and discussing the sport, whether it be the European, Australian or women's game, will translate.
And as the person with the background in W-League, she still follows its fortunes and advocates for the women's game ''among the big boys''.
''I still very much love what the W-League has to offer in terms of football and what they do for women around the country, they're such inspiring women … some seriously gifted and talented women.
''What I love about the W-League … they prove that women can play football. It's trying to stamp out that comparison to men and women.
''And the W-League continues to get better and better, much as the A-League does, in that the football is getting more competitive, we're able to attract a lot of talent from overseas.''
Zelic's great disappointment is that Canberra doesn't have an A-League team, but the passion of the fans won her over to the Western Sydney Wanderers last year, the team that took the spot Canberra was bidding for when the league expanded last season.
''I was hugely disappointed; we felt so confident about it and we had worked so hard on our bid, I know particularly my family was involved … so when we got the news that we didn't get it, a lot of people's hearts were broken, including mine,'' she says.
While she backs the Federation chief David Gallop's views on consolidating the league before expanding again, she ''still has hope''.
''He's not interested in expanding in the next five to 10 years, that's not something in his mind, which I completely agree with from a league perspective, but do I think Canberra is ready for a team? Absolutely.
''We've got the facilities, we've got the support, we've got a big focus on grassroots football and you have a look at a lot of the talent … Tom Rogic for example - the guy's playing Champions League football now, but a couple of years ago he was kicking a football around a paddock in Canberra. We create stars.''
Zelic is that latest star, with the A-League returning to free-to-air television, exposing more people to the league - and she's still pinching herself.
''Coming into this, if you had asked me - in my time at university, a year ago, six months ago even - what my dream job would have been, I don't think I could have fashioned a better one than this.
''I'm definitely living my dream and to have that moment come about is quite surreal.''
Fleta Page is a journalist at the Sydney Morning Herald. She was previously a sports and general news reporter at The Canberra Times.