Poetry, swing and laughter
Fun focus on shopping court mystics, Ron Cerabona writes.
Andrew Hackwill is becoming something of a creative force in the local musical theatre world. In 2008, he and Jonathan Flack wrote It Was That When I Got Here, which won a Canberra Area Theatre Award for best original work. In 2010, Hackwill went it alone to create The Department of Heaven, and last year he collaborated with the Allen Key Collective to write Sanger Hill.
Now, Hackwill is going solo again to write his fourth musical, The Court of Swing Caractacus, which he is also directing.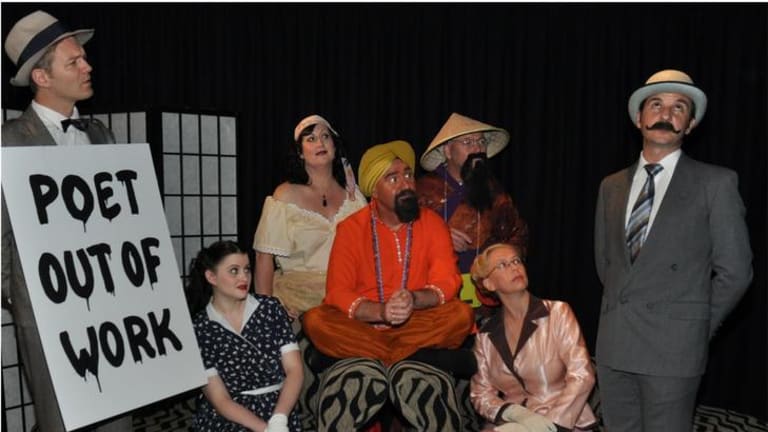 "I've been planning this for a few years," he says.
"It combines three of my, I suppose you'd call them, passions: humour – I like the idea that the audience has a good belly laugh; poetry; and swing."
And with regard to the last, he says, "Swing encompasses not just swing music but also the late 1930s era in general – fashion, music and dance."
The Court of Swing Caractacus is set in Sydney in 1938, the year C.J. Dennis died and Hackwill says the script, written in verse, is in part a homage to the Australian poet whom he ranks with Henry Lawson and Banjo Paterson as one of our best.
"The poem is about 7000 words long, of which about 5000 are supplied by the poet Hec who in some respects is the narrator," Hackwill says. Hec is played by Brian Kavanagh.
"He had the option of reading from a book, but he's not. He's an astonishingly reliable performer."
As with the other performers, Hackwill selected Kavanagh before writing the script and was able to write specifically for each of his actors.
The setting is a shopping court in which three mystics have set up shop. On the eastern side is the Chinese mystic Master Wong Tong Kong (played by Mark Woods). On the western side is the gypsy Madam Elle (Jane Kellett). And in the middle is the Indian guru, Guru Jack (Kevin Crowe). Their most faithful client is the "mystically afflicted shopper" Mary Bean (Alyce Nesbitt).
"They end up under the pump because they're all charlatans," Hackwill says.
The mendacious mystics face an ultimatum from the Accreditor, Dr Wilhelm Schkit (Dim Ristevski) and his assistant ?(Cerri Murphy): each must make one true prediction before sundown or face eviction. Can they do it?
Hackwill says he is a firm believer in the idea that "the story is king" and put a lot of effort into creating an involving yet simple script.
"It's easy to follow but contains enough twists and turns to keep the audience interested," he says.
"It's supplemented by 10 songs, most of which are 1930s style retro swing tunes."
Hackwill wrote the songs, which range from ballads to more upbeat numbers.
Helping bring the show to life are swing dance group the Jumptown Dancers ? and retro swing band Bim Bang Boogie.
Hackwill has his own company, Mad Ferret Productions, and creates his shows as "labours of love". For The Court of Swing Caractacus, in addition to writing, composing and directing, he also designed the sets and is in charge of the music.
He ?thinks that although many companies in Canberra are putting on a lot of good musicals, "audiences are looking to be acknowledged . . . We have such a discerning, choosy audience and there's so much to see. Audiences say, 'What am I going to spend my money on?' and one of the things we feel at Mad Ferret Productions is that it's easy to go and get a big American show, but we don't have an American audience.
"We offer the audience something new and something Australian and jokes that mean something here."
The Court of Swing Caractacus is on at Tuggeranong Arts Centre at 8.15pm? from May 15 to 26, Tuesday to Saturday. Tickets $30/$25, dinner and show packages also available $48/$43. Bookings: 6293 1443.
Most Viewed in Entertainment
Morning & Afternoon Newsletter
Delivered Mon–Fri.