Meet Canberra's new snake catchers and rescuers
Rangers have removed 20 snakes from inside buildings, schoolyards, and building entries since October.
But Canberrans have had no one to call to relocate the animals when they were not posing an immediate threat, until recently when two licences were issued to businesses promising to relocate snakes and reptiles in any event for a fee.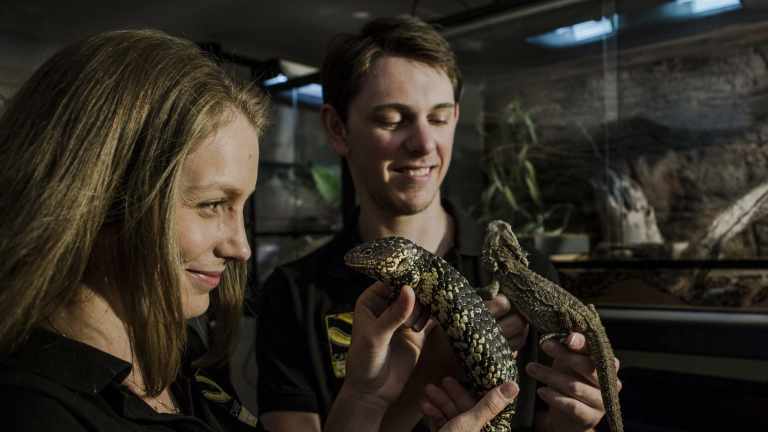 Emma Dunn said she and partner Luke were the first to be issued a licence to catch and release snakes and reptiles in December for their business Canberra Snake Rescue and Relocation after completing a course in Sydney and lobbying the government.
"People think we're crazy, but Luke and I have loved all animals from a young age and we've both had an interest in reptiles," she said.
"[Rangers] don't have time to hang around and keep looking; whereas we're different we've stayed at people's houses for two to three hours."
TAMS rangers relocate snakes for free in circumstances where they would come into direct contact with people, a spokesman said.
"For example when they are inside buildings, in schoolyards or when they are blocking access to buildings," he said.
"Snakes are not removed from backyards or open spaces when they are not trapped, injured or posing a threat to humans."
The Dunns are yet to be inundated but expect the business to take off next season as word spreads.
Phone advice is free, callouts are $50 and the couple charge $20 extra if the reptile is venomous.
So far most relocations have been for eastern brown snakes, blue tongues and shingleback lizards.
"Once we leave someone's house we don't just go to the nearest park and release a brown snake, we have a really good look on the map," Ms Dunn said.
"We try to release them within a certain proximity in terms of their home range but we're not obviously allowed to release it too close to other houses or parks frequented by the public.
"We have to find the most suitable habitat for the animal, but also away from human contact."
Ms Dunn said people should look out for small snakes in their yards during February when eastern brown eggs were hatching.
"They can look a bit look like our legless lizards… for people with cats and dogs you're better off having them indoors as much as you can," she said.
"Baby browns straight out of the egg are just as potent as an adult."
Adult brown snakes were usually more discerning about who they bite and how much venom they used, Ms Dunn said.
But juvenile browns, which could appear spotted or banded, would pump everything in if they bit a human or pet.
The TAMS spokesman said rangers had removed about five snakes per month since the season began in October and more were expected as the weather stayed warm.
"Around 90 per cent of the snakes we remove are brown snakes," he said.
"The remaining 10 per cent are red bellied black snakes or occasionally exotic snake or snakes less common to the region."
The TAMS spokesman said snake sightings were common in backyards close to bushland.
"In almost all cases, it will be a short-lived encounter as snakes will move along quickly," he said.
"They are naturally shy animals and do not enjoy the company of humans."
To report a snake sighting contact ACT Parks and Conservation Service Urban Wildlife Rangers through Access Canberra on 13 22 81.
Canberra Snake Rescue and Relocation can be contacted on 0405 405 304 or on Facebook.
Clare Colley is Head of Audience Engagement at The Australian Financial Review.