Bowen Crossing plan to be unveiled
The design of the long-awaited Bowen Place Crossing in Parkes will be unveiled today.
The National Capital Authority wants public comment on the sweeping underpass that has emerged as the winner of a national competition.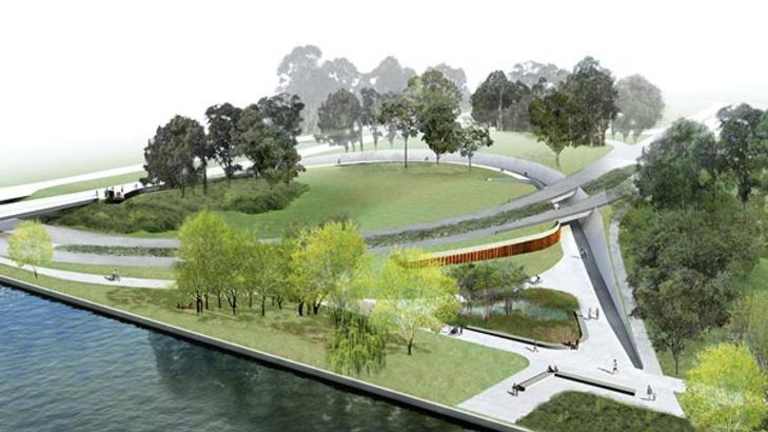 The design includes a 300m-long path connecting Kings Avenue to the existing network next to Lake Burley Griffin.
The authority has been under pressure for several years to provide a safe crossing for the hundreds of walkers, joggers and cyclists who have to cross the busy lakeside road every day.
The NCA says that the winning idea will allow pedestrians and cyclists to pass smoothly under the existing road at Bowen Place.
A wall will be constructed along one side of the path, with open landscaping on the other. Although the design will add a short extra distance for pedestrians and cyclists, the hazardous crossing of Bowen Place will be eliminated.
Five architecture and landscape teams were invited to submit designs for an underpass to improve safety at the crossing.
The winning design was co-produced by Sydney firms Lahz Nimmo Architects and Spackman Mossop Michaels Landscape Architects.
The winner was chosen by a panel chaired by ACT Government Architect Alastair Swayn which also included representatives from the National Trust of the ACT and Heart Foundation.
''The winning design was agreed unanimously,'' Professor Swayn said yesterday. ''The successful design team have created a concept that is more than just a path network, it also makes a space for people to meet and use.''
NCA chief executive Gary Rake said he was pleased with the panel's decision.
''It is a worthy design which considers the needs of users, as well as any potential impact on heritage values,'' Mr Rake said.
Mr Rake said the project was now in its last stage, with the public now being asked to comment.
''Feedback received during this final consultation period will assist the NCA in finalising the design,'' Mr Rake said.
''The public are invited to review the concept plans and tell us if any other elements need to be considered.''
Comments can be made at nationalcapital.gov.au