A leading urban planner, an influential Labor member and a "sucker for causes" - Patrick Troy was a man of many facets.
The professor in urban ecology and human environment died last week at the age of 82, leaving a gap in the Australian National University, where he spent 46 years as a research academic.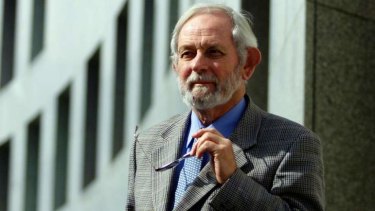 In his long career, he was an engineer, town planner, transport planner and public servant.
In a statement, the ANU described him as "a man with influential ideas, and a great mentor to many of the current cohort of senior researchers and practitioners. His passion was urban development that ensured fairness and equity for people, and environmentally sustainable outcomes."
He published 15 books on cities, and various papers on housing, infrastructure, transport, urban planning and development, and energy and water consumption.
Most recently, he was Emeritus Professor and Visiting Fellow at the ANU Fenner School of Environment and Society.
"A Fellow of the Academy of Social Sciences in Australia, he was driven by a strong sense of social equity as well as a passion for sustainability," the ANU statement said.
Former head of the National Capital Development Authority Tony Powell, who first met Professor Troy in 1964, said he had been heavily influenced by his father, who was a significant figure in the labour movement of Western Australia.
Like Mr Powell, he started his career as a civil engineer, and later became Deputy Secretary in the federal department of Urban and Regional Development in the Whitlam government.
Mr Powell said Professor Troy's career had been defined throughout by an enduring sense of social justice.
"He'd never put himself forward, he didn't like managing other people, he was attracted to causes," he said.
"He had this other life - he was very active in the Labor Party when he came to Canberra and formed a strong association with [former deputy leader of the Labor Party] Tom Uren, and he was very influential in setting up with the Whitlam government.
All that slant that Whitlam had about city planning, and about public transport planning and all that sort of thing, really that came from Pat. Whitlam and Uren looked to Pat to be a guide in that regard."
He worked as an engineer and planner in state and local government before joining the ANU as a research academic.
He also held several public appointments, including on the Australian Housing Corporation, the Board of Inquiry into the Administration of Leasehold in the ACT, and the ACT Planning and Land Council.
"He wasn't concerned about himself, he wasn't concerned about advancement, he wasn't concerned about how much money he made, but he was a sucker for causes, so he was very influential, really," Mr Powell said.
"Apart from that of course he was a really decent man, and from my point of view he really is a great loss."
ANU colleague Ken Taylor said Professor Troy had produced many works that were at "the cutting edge of academic and scholarly thinking".
"I was always really impressed by his depth of thought, and very sharp mind," he said.
"He had a terrific sense of humour, he could be quite cutting and brusque sometimes.
We shall miss him - I will miss him."
A funeral for Professor Patrick Troy will be held on Tuesday, July 31, at Kamberra Function Centre in Lyneham.
Sally Pryor is a reporter at The Canberra Times.