Canberra, where were you? In years to come, all the people who claim to have watched Chris Gayle's World Cup record score at Manuka Oval will be in the 10s of thousands, but in reality just 5544 braved the drizzle.
Those that did were rewarded with one of the greatest ever innings in the history of one-day cricket.
A small pocket of Zimbabwean supporters did their best to replicate the stunning Manuka atmosphere of a week ago, when Bangladesh played Afghanistan in front of a sellout crowd, using a combination of drums, singing, dancing and pumpkins to set the mood.
They were joined by ACT Brumbies vice-captain David Pocock, who was born in Zimbabwe, his teammate Matt Toomua and Australian all-rounder Ellyse Perry.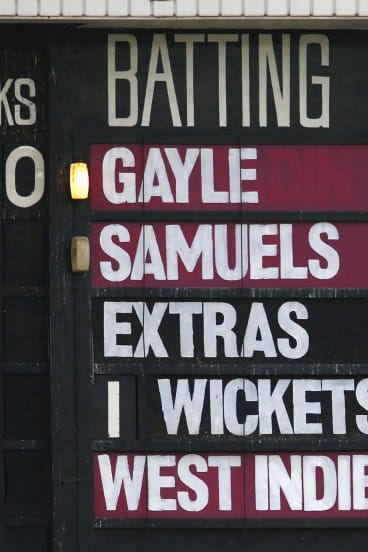 The Zimbabwean fans were grouped down at the Manuka shops end, right where Gayle smashed the first of his 16 sixes - a record for a World Cup innings.
The ball hit one of the fans, paramedics were called, but the woman was reportedly able to continue to dance.
Bevin Mutambara was one of the hardy Zimbabweans, having moved to Canberra in 2005, and said he almost caught Gayle's first six.
Both he and mate Kelvin Mbiza had brought their traditional Zimbabwean cups, known as a mukombe, to drink their refreshments from.
The mukombe is a pumpkin, allowed to dry and hollowed out so it can be used as a drink bottle or cup.
Not your everyday butternut or Queensland blue, but an elongated one with a long thin section on the end of a bulb.
Mutambara got his from a Croatian friend, who apparently also uses it for the same purpose.
"Croatians, the Polish, the Greeks, they grow this in their backyards. It grows green and then it dries up and then just take out the seeds inside and make a hole," he said.
"You can drink anything out of it, it can be alcohol, water, mostly we use it for water."
The mukombe is also used for social gatherings and if you're told to "pass the mukombe", then you're probably talking too much.
"Normally with the traditional brew, there will be a big pot and you dip it in and drink," Mutambara said.
"You're meant to drink whatever you take from the pot, the next guy comes and sculls it as well.
"Someone who holds it and starts talking and talking, you say, 'Hey, pass the mukombe'."
While the Zimbabweans were making most of the noise, Mutambara still thought it was a great day out at Manuka.
"It's a beautiful atmosphere, for Canberra, seriously. I haven't been to a World Cup match myself and it's pretty good, it's awesome," he said.
The atmosphere would have been even better if Canberra had bothered to turn up.

David Polkinghorne covers the Canberra Raiders, local rugby league, Canberra Cavalry, racing and cycling, along with every other sport, for The Canberra Times.
Morning & Afternoon Newsletter
Delivered Mon–Fri.