Larger airport may put Moruya on map
A major redevelopment of Moruya Airport could attract new light and aeronautical industries and enhance the south coast's reputation as a lifestyle retreat.
Eurobodalla mayor Lindsay Brown said a joint venture with investment partners, leasing - and perhaps even selling - the airport were options, although he did not favour selling the council-owned airport.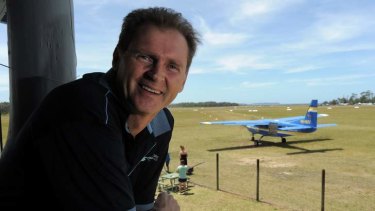 Ideas under consideration include extending the main north-west runway from 1.5 kilometres to 1.8 kilometres to enable jets to land; relocating and upgrading the terminal; developing more accommodation nearby; and extending leases on crown land from 25 to 50 years to make it more attractive for financiers to fund businesses expansion.
''You fly down over the sea, it is one of the very few regional airports right next to the water's edge, it is quite spectacular coming in,'' Mr Brown said.
''We are looking at hangar space, trying to upgrade the runway to bring in another carrier and allow for bigger jets, more tourism and professionals and business people and people to base themselves here.
''You would be surprised at the people who base themselves in Eurobodalla, yet travel interstate every day. There are about 29 people who fly in and fly out each week.''
Regional Express Airlines and charter planes provide services, 80 per cent of which is for business along the coast, including fly-in fly- out medical specialists.
''We need to keep the airport profitable, otherwise we'd have to ship people out to seek those medical services,'' the mayor said.
To accommodate airlines such as Virgin, the council would have to upgrade the runway to fit bigger jets, although army Hercules land and have plenty of space.
The future of a "primitive camping'' ground adjoining the strip would also be reviewed.
Some people enjoyed the lack of facilities and congregated on the site, but it may have better uses, Mr Brown said.
The council had also been focused on smaller, achievable goals that would make a difference on the south coast.
Mr Brown said the shire had improved infrastructure to allow for the growing influx of Canberrans on holidays.
"We built a pipeline to increase water flow into Deep Creek Dam which is our water storage. That was a $30 million spend. And we spent $20 million upgrading our water treatment works, which allows us to pump water through the community, from what had been a turbid state.''
Without a rail line, transport options in the area were limited. Consequently Eurobodalla would never be a heavy industrial area, and people preferred living alongside light industrial and professional sectors.
''What we are trying to do is get b double access down the Kings Highway,'' Mr Brown said.
''At the moment large [trucks] can't come down, therefore we pay a premium for our freight, especially our fruit and veg. We need about $12 million to fix the Kings Highway.
"Most of our freight comes out of Canberra, especially from Canberra Airport, and now that Goulburn is looking to be a major depot for logistics, that's where we are putting our energy.''