Like a Chic to water
Chic Henry's journey from Tasmania to king of Summernats and beyond.
Chic Henry has always had an affinity for mucking about in the water.
Born in Launceston, Tasmania, in 1946, he was a strong competitive swimmer and high board diver from an early age, representing his school in both sports at a state level.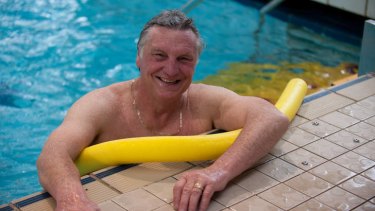 "My mates and I used to dive off the Cataract Gorge bridge in Launceston," Henry said. "We used to go down there on Saturday and Sunday afternoons and dive off the bridge, much to the amusement of the tourists."
In 1963, he was swept up by the surfing craze that had taken hold in Australia.
"I was at a surf carnival at Carlton Beach in Hobart, and that's when I first saw a fibreglass board and I thought, 'This is just so cool!' "
Henry began diligently saving and the following year made his "proudest independent acquisition", a Gordon Woods Island surfboard.
"I just thought it was sensational that I had this damn board," he said.
He fondly recalls hitching to the beaches in the Melbourne area, having to hold the board outside the car because it was so long.
"But people used to pick me up, they were fascinated by the fact that I was hitchhiking with this surfboard that was over 10 feet long," Henry said. "They'd try and jam it in the boot and stick through the window – the people that picked me up were having great fun."
Surfing has brought Henry immense pleasure over the years, taking him up and down the east coast and even across to Hawaii – but the sport has also come close to killing him.
"The first time I thought it was all over for me, I was surfing in the area near where Prime Minister Harold Holt disappeared," he said. "That was a very, very dangerous area. I didn't know until I paddled out and felt the massive currents that were in there."
By this time, Henry had joined the army, undertaking a blacksmith apprenticeship in Balcombe, Victoria before being posted to a Royal Australian Engineers construction squadron in Townsville.
His army income enabled Henry to purchase his first car in 1966.
"My first car was not a great one to carry on about," he grimaced. "It was a Morris Oxford, which was just a little panel van, a little cheapie to get me around."
Henry painted the car blue with paint from his company storeroom, fitted it with black satin curtains and put a mattress in the back so he could sleep at the beach after a day of surfing.
Meanwhile, he sustained his love of indoor aquatic sport by representing the army in swimming and water polo.
"I absolutely love water polo," he said. "It's a great sport, I love the aggressiveness of it. Sometimes it didn't matter to me if we didn't win, I loved it when it was a really tough game and if I got a couple of goals – well, that was cool as well."
Besides the metallurgical aspects of blacksmithing, the army also taught Henry a range of skills that would come in handy years later when organising Summernats.
"The things needed for leadership and working as a team to achieve something, where we had to all buckle down and get on and help each other," he said.
After nine years of service, Henry left the army and worked a varied range of jobs, including as director of a Brisbane funeral parlour, which he feels gave him an interesting insight into human nature.
During the 1970s, Henry's love for modified, high performance street cars came to the fore, which he attributes to his father.
"He was forever fiddling about on cars," Henry said. "We had, at one stage, a '36 Chev Roadster, and it was painted a pretty nice blue. The interesting part about it, I thought it was so cool because it was different and painted a different colour."
His father frequently took him to motor racing events in Tasmania, such as the South Pacific Trophy at Longford.
"That's where the real influence started for me, because I loved the sound of the cars, I loved the look of some of them and the smell of the fuel."
In the early 1980s, Henry was involved in the formation of the Australian Street Machine Federation, which hosted biannual national events, including one at NATEX in Canberra in 1986 – a taste of things to come.
"I tried to get all of the people I was involved with in the Federation to see the benefit of running an event with a big commercial point of view," Henry said. "I had a pretty grand vision of the way I believed it should run."
His associates didn't share the same vision, however, so Henry decided to strike out and go it alone, enlisting Street Machine magazine as a sponsor and staging the first Summernats at NATEX in 1988.
The event featured novel drawcards like a heavily-modified Pontiac J2000 shipped over from the US – "the best street machine in the world at that time…a 100 per cent wow-factor car," Henry said.
"In running an event, if you don't have grand ideas, if you don't have people's imagination, if you don't offer them a fabulous experience … then you're running a mediocre event.
"So I had to stick my neck out."
Though a resounding success, the first Summernats left Henry some $200,000 in debt.
"I've got no-one out there to help me at this time," he said. "I seriously was out there on my own. But I was so determined to make it all happen, so determined not to owe anybody any money."
He proudly declares that he had paid back "every single cent" by the time Summernats rolled around the following year.
Summernats went on to become one of Canberra's primary tourism drawcards, with the stalwart event celebrating its 25th anniversary earlier this year.
"What singularly describes the Summernats more than anything else? It's a festival. And what's a festival? It's a celebration," Henry said.
In spite of its ever-widening appeal, Henry said Summernats' street machine culture continues to be maligned by many people in Canberra.
"A lot of people don't realise how much of a culture this scene really is," he said. "Most people see it as a bunch of grubby rev-heads that are more of a pain than anything else, and that's an enormous shame."
Running the event became increasingly stressful and tiring, Henry said, so he sold the Summernats festival in 2009, though he still maintains a public relations link with the festival.
"My involvement with Summernats will never come to an end, as in The End. The car enthusiast in me is one thing; the other thing is, I treat the Summernats almost like a baby that I brought into the world that I've adopted out.
"But the new parents still allow me to come around and feed it and change its nappy every now and again," he laughed.
Though a relief in some ways, letting go of Summernats suddenly left Henry at a bit of a loss.
"I'm the sort of person that doesn't like being in that untidy situation for too long, I like getting a plan together and moving forward," he said – which brought about his recent move into ACT politics.
The idea had been proposed to him before, he explains, but he gave it serious consideration few months ago "over a cup of coffee with some friends, when I was carrying on to them about what I think should happen, offering my biased political opinions".
Henry discussed the idea with his family before setting out to form the Australian Motorist Party.
"I had a talk with my wife about it, she went into shock," he said. "My son made some astute observations, which was very cool: 'Dad, would you like that many people to dislike you? You've copped such a flogging from the Summernats, are you able to deal with it mentally?' "
The answer, it seems, is yes, with Henry announcing his candidacy for the Member for Ginninderra seat in the forthcoming Legislative Assembly election.
"One of the people I admire greatly is Rudi Giuliani, who solved law and order problems in New York. He had the courage to put his foot down and say, 'Bugger this, we're going to fix it.' And he did.
"The other one is Dr Phil on midday TV, because Dr Phil says, 'Is it working for you?' Well if it's not, then maybe the time comes for you to have a look at it in a different way. So maybe that's what we've got to do."
In the meantime, Henry is enjoying life post-Summernats, keeping fit by skiing, swimming – and taking a twice-weekly aqua aerobics class at the AIS.
"I like getting in there with the ladies who do aqua aerobics, they're good fun. We all enjoy each other's company, and everyone goes hard," he said.
"I don't know what my mates would reckon about it all if they were standing there watching me, but hell – I'm enjoying it, that's all that matters."