Tim the Yowie Man: Investigating the crop circles in Central Tilba
It's about this time of year that crop circles start to "mysteriously" appear in the fields of Wiltshire in England. So imagine my surprise when I recently awoke to the news that a series of crop circles had been discovered in grass at the Central Tilba Public School. Yes, that's that quaint little heritage village tucked in the shadow of Gulaga (Mt Dromedary) near Narooma on our South Coast, better known for its Devonshire teas than for visits by aliens.
While most of us strongly suspect crop circles are of human origin, there are some folk who believe that they are a sign left by alien life forms. Why an alien would gallivant all way across the universe to planet Earth, and then attempt to communicate with us by leaving odd markings amongst fields of wheat, corn and barley in rural England, and now grass in Tilba, has got me beat. But hey, never let the truth get in the way of a good story.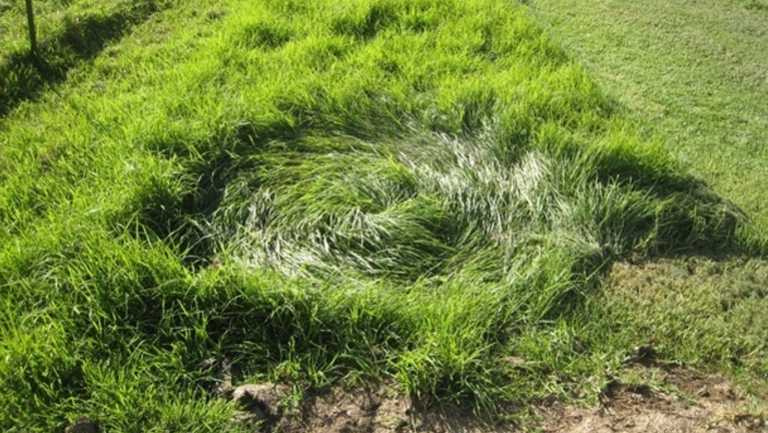 Photos of circles of the flattened grass were anonymously sent to the local newspaper, the Narooma News, which reported that Linda Lonergan, a spokesperson for the school, was puzzled by their appearance. "They fan out from a central point out into an almost perfect circle," explained Lonergan, who added, that "the ends of some of the grass seemed to be dead, like they were heat affected, yet all surrounding unmown grass has no dead ends".
Sure, with the widest circle at less than two-metres across, the Tilba circles aren't exactly on the same scale as the British ones, (often so considerable they are best viewed from the air), but keen to uncover the truth, I steer the yowie mobile down the Clyde Mountain as fast as I (legally) can.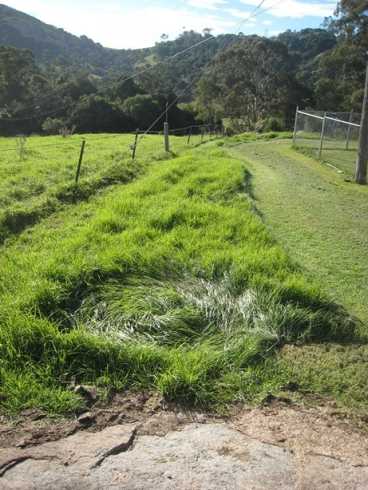 Despite my quick response, by the time I arrive at Central Tilba the circles have vanished, almost as inexplicably as they had apparently appeared. Perhaps after returning to the Mother Ship, the aliens, realising their blunder in landing on the wrong continent, covertly erased all trace of their markings?
Only a few hundred metres up the road from the school (and past a peculiar trail of "big foot" prints painted on the road) the village is abuzz with news of their supposed extra-terrestrial visitors. The barista in the corner cafe cleverly crafts a circle in my cappuccino froth while at the Tilba Bakery once the queueing customers hear of my quest, they start talking in hushed tones. Has someone got something to hide? While ordering a doughnut (yes, it's the closest treat I could find in the shape of a circle), an older lady gently grabs me by the arm and whispers "you might find a clue at the back of that shop", while pointing somewhat disapprovingly in the direction of the Gulaga Gallery & Bookstore on the other side of the road.
So across the road I dash, my Akubra in one hand and magnifying glass in hand. Surreptitiously, I make my way along an aisle of dream catchers, around the display of hemp products and past pots of burning incense to the back of the store, where taking pride of place among an impressive mystic DVD and book collection are, wait for it … a number titles featuring crop circles. There's also a collage of photos of English crop circles from summer's past.
Sherlock Holmes, eat your heart out. I've found the smoking gun, or have I?
That the circles should appear around the corner from a shop actively peddling one of the most extensive collection of crop circle paraphernalia in the country, has to be more than just coincidence, doesn't it?
Putting my hat back on, I immediately corner one of the cheery shop assistants who seems genuinely puzzled by the appearance of circles. "I can't see any obvious human explanation for those circles given their random location and no signs of footprints," she deadpans while handing me a leaflet for a self-awareness workshop "utilising transformational breathwork, ecstatic dance, a hot tub, a giant swing and delicious food".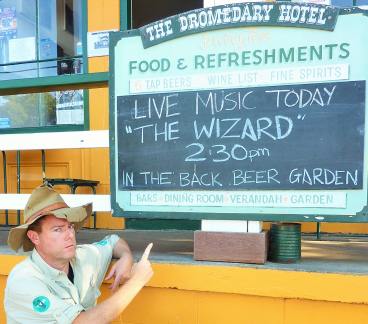 "Heck, maybe that's what's attracted the aliens," I muse to myself.
Local resident Tenzin Butt overhears our conversation and offers his take on the cryptic circles. "While humans are probably responsible for the majority of the circles, there are others, possibly like these Tilba ones that cannot be explained," says the beanie-clad Butt.
With the chances of a confession from the gallery staff looking less and less likely, I head over to the Dromedary Hotel, the village's two-story circa 1896 watering hole. On the pub's wooden deck, while waiting for a virtuoso pianist named The Wizard, who, with his long white beard looks as if he is auditioning for the role of Gandalf in Lord of the Rings, to finish his warm-up, I start chatting to a couple of well-lubricated locals. A single shout is all it takes for them to spill the beans. Far from trying to flush-out a troop of travel-weary little green men with pointy ears and googly eyes, (or a charming shop assistant in psychedelic clothing), the duo claim I should focus my investigations "fair and square on a certain local handyman with a good sense of humour".
However, with the sun setting behind magical Gulaga, I don't want to take any chances. What if the circles aren't the handiwork of an over-imaginative janitor with a leaf blower, and that aliens really are hiding under the floorboards of the gallery, waiting to jump out and kidnap (or worse, probe!) an over-inquisitive Akubra-clad columnist? I promptly follow the trail of footprints back out of the village and motor back up the Clyde.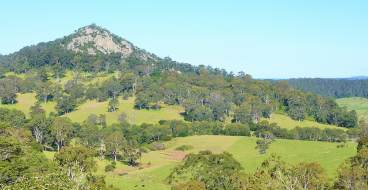 Browsing incense-filled galleries, tracking painted footprints and listening to the musical incantations of a wizard isn't the usual way I spend my afternoons, but then again Central Tilba is no ordinary place.
Fact file
Central Tilba: Central Tilba is a picturesque working heritage village classified under the National Trust and has been named as one of Australia's top 20 heritage sites. It lies on the slopes of Mt Dromedary (797m), near Narooma and is about a 3-hour drive from Canberra via the Kings and Princes Highways
Stay: If you are braver than me (or want to enjoy a relaxing wintry weekend in delightful tea houses, creative craft stores and eclectic galleries), you may wish to bunk down overnight. There's a selection of delightful B&B's in and around Central Tilba, my pick of which is the "The Two Story B&B" (full breakfast and treats), housed in the 1894 original post office and residence. tilbatwostory.com or Ph: 02 4473 7290.
Mystery footprints: I've since discovered that the strange "big foot" prints in the village first appeared some years ago, just before one of the Tilba Easter festivals. They lead from a temporary car park, down the road, ending at the entrance gates to the festival.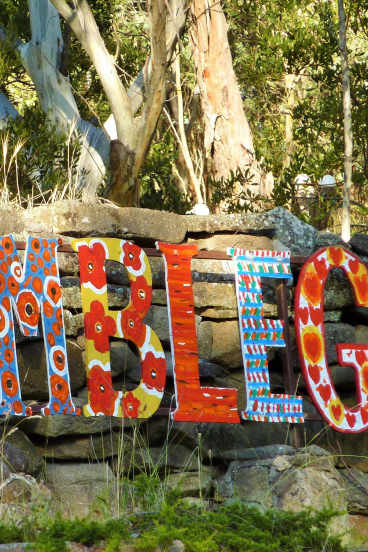 Tim's tip: A pleasant five-minute stroll up the winding path behind the Dromedary Hotel leads to a lookout which offers panoramic views of Central Tilba, the surrounding countryside and beyond to Montague Island.
Next weekend: To mark this year's winter solstice, on Sunday, June 21, at 5.30pm Central Tilba is holding a lantern parade, followed by a family-friendly dinner hosted by the Country Women's Association (CWA).
Mailbag
Where in the Snowies?
Last week: If you live in Canberra's north-western suburbs, last Saturday morning you may have heard the screams of joy from Stewart Mackenzie, of Murrumbateman, who, after countless second places in this quiz, was first through after 10am correctly identifying last week's photo, as part of the colourful entrance to the Bimblegumbie Mountain Retreat on Alpine Way at Crackenback.
Jenny Churchett, of Stirling, who, "played many games of cards in the rain and helped chop wood" was one of several readers to extol the virtues of the quirky bed & breakfast. "The main house is stunning with its collection of glass vases," writes Luke Hyatt, who adds, "and a big plus is that the Wildbrumby Schnapps Distillery is just a few hundred metres down the road." Annie Lyons of St Leonards even sent in a photo of the personalised welcome sign which greeted her extended family when they "took over the whole property" for a recent Christmas.
Bouquets to the Hobson family of Campbell who resorted to "phoning a friend" in Cooma to arrive at the correct answer and brickbats to Jenny McLeod's 'friend' who popped over at 9.59am, distracting her from submitting her correct entry. Surely no one has anything else better to do at 10am on a Saturday, than to enter this competition?
How to enter: Email your guess along with your name and address to timtheyowieman@bigpond.com. The first email sent after 10am, Saturday, June 13, with the correct answer wins a double pass to Dendy cinemas.
Canberra's intrepid adventurer, mystery investigator, and cryptonaturalist. Nobody knows the Canberra region like Tim the Yowie Man.