Military elders warn against moving navy HQ to Brisbane
Former chief of navy Vice-Admiral Russ Crane and former chief of army Lieutenant-General Ken Gillespie say Prime Minister Kevin Rudd's plan to move Garden Island's naval headquarters to Brisbane is impractical, a poor use of public funds and possibly a strategic risk in a time of war.
Admiral Crane, who has not commented on military matters since stepping down in 2011, said if Garden Island was to be redeveloped it seemed inevitable the maintenance and repair facilities operated for the Defence Materiel Organisation by Thales Australia would have to be moved as well.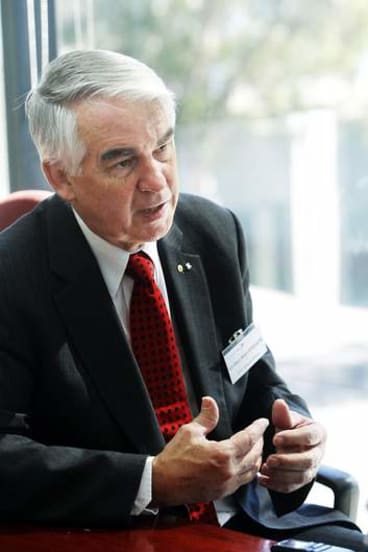 ''If the intent is to redevelop Garden Island for purely civilian purposes then you have to replicate the support facilities as well as the base [in Brisbane],'' he said. This would cost far more than the $6.4 billion foreshadowed in Mr Rudd's address to the Lowy Institute in Sydney on Tuesday morning. The graving dock at Garden Island was the largest dry dock in the southern hemisphere, Admiral Crane told Fairfax. ''To replicate that [in Brisbane or elsewhere] would require an enormous capital investment,'' he said.
Both General Gillespie and Admiral Crane say Port Brisbane's unique geography would leave any fleet units stationed there at risk in a time of war. Located on the landward side of Moreton Bay, the port's access to the open sea is limited to relatively narrow (250 to 300 metres) and shallow (14 to 15 metres) channels that needed to be dredged constantly.
Admiral Crane said it would be a relatively simple exercise for an adversary to sink a vessel across a channel or to mine them using special forces troops or from the air. If the channels were blocked, ships at the fleet headquarters would not be able to put to sea. Ships at sea would not be able to return for replenishment, maintenance or repairs.
General Gillespie said it was hard not to conclude Mr Rudd was playing politics with defence policy. ''This [proposal] is not the best outcome for the country, the defence industry - which is already reeling from the effects of cuts and uncertainty - or for national security,'' he said. ''Seeing no funds have actually been allocated it would appear there is an element of politicking involved.''
He is concerned if the move does go ahead it would be at the expense of vital defence projects. ''Billions of dollars have already been cut from defence spending in the forward estimates,'' he said. ''What would have to be cut to pay for this?''