Senate joins push on peacekeepers
The Senate is adding pressure on the Australian War Memorial to honour peacekeepers on its Roll of Honour, after senators heard a moving account of their sacrifices during overseas service.
Senators supported a Greens' motion on Wednesday calling on the government to ask the memorial council to take into account the ''vast'' community support for including peacekeepers on the roll, at the council's first meeting next year.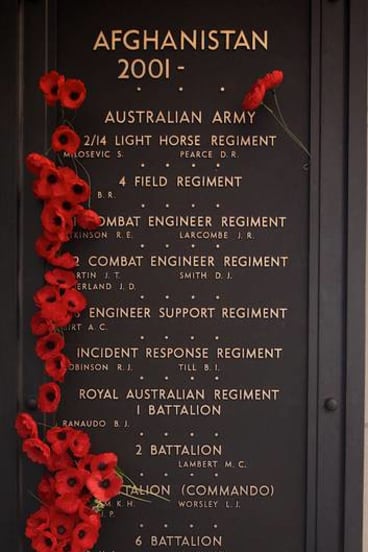 The motion was passed ''on the voices'' with no objection from Labor or Coalition senators.
The council has postponed a decision, despite receiving a petition signed by 17,800 people calling for peacekeepers who died on active duty to be remembered alongside other soldiers killed in action.
Incoming War Memorial boss Brendan Nelson is promising to walk along the Roll of Honour and read the peacekeepers' Remembrance Book on his first day in the job, December 17.
Dr Nelson, a former defence minister, will make it a high priority to meet Sarah McCarthy and Avril Clark, who have unsuccessfully campaigned for peacekeepers to be included on the Roll of Honour.
The Greens' Penny Wright, who moved the motion in the Senate, said 48 Australians had died on peacekeeping missions overseas. The operations were not classified as war-like, she said, as peacekeepers watched from the gallery.
''It is this distinction which often appears arbitrary, based on the circumstances in which people are operating rather than the way in which they died or the very fact that they died while selflessly serving Australia in situations of danger and risk, which is unfair and illogical,'' Senator Wright said.
''This is a matter of huge concern for peacekeepers and their families.
''They have a fundamental sense that their service is not properly acknowledged or valued by Australians and when they die, their deaths are somehow less important or meaningful.''
Senator Wright said Australian peacekeepers in Rwanda were forced by the United Nations mandate to stand by and not try to stop a massacre.
''Many [peacekeepers] were later diagnosed with post-traumatic stress disorder and it is not hard to imagine that the frustration and guilt that comes with witnessing the killing of civilians without being able to intervene may have contributed to this condition,'' she said.
She said that in Honiara, a member of the Australian Defence Force died after falling into a pit while looking for hidden weapons.
Senator Wright read into Hansard the names of Australian peacekeepers not recognised on the honour roll.
''Failing to include these peacekeepers sends a message to the veterans, their families and the wider community that their service is less important, even though peacekeepers are deployed by the Australian Defence Force to serve on behalf of Australia and in our interest,'' Senator Wright said.
''Family members have asked me why the service of their loved one was it any different just because they were wearing a blue beret with their Australian uniforms.''
Ross Peake is a senior reporter for The Canberra Times