Canberra Demons vow to be more than one-hit wonders
Kade Klemke had a simple message as he looked around at the shattered faces of a weary Canberra Demons outfit: "Be proud of how far we've come."
Canberra's dream finals run came to a crushing halt in a 18.10 (118) to 8.14 (62) blitz at the hands of the Sydney Swans in the NEAFL preliminary final at Blacktown International Sportspark on Saturday.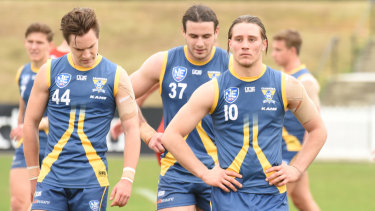 While the Swans advance to the decider against the firing Southport Sharks, the outclassed Demons can start packing for their end of season trip.
Although Canberra's season ended in devastating fashion, player-coach Klemke hopes this season is just the tip of the iceberg for an outfit that rose from the doldrums to silence the doubters.
The Demons' average age is about 21 on a roster boasting the NEAFL's Rising Star in Mitch Maguire as well as four men he beat for the award in Mitch Hardie, Angus Baker, Jarrod Osborne and Alex Paech.
Klemke's arrival signalled a major culture shift and now he is confident the club will have at least one player picked up in the AFL draft as he sets his sights on turning Canberra into a NEAFL powerhouse and a hub for the next generation of superstars.
"It's the beginning of the Canberra Demons. We don't want this to be a one-year wonder, we want to be known to do this successfully and to be a finals side every year," Klemke said.
"We're building something pretty special with the group of guys we have, the support staff and the coaching staff.
"This can be a real destination club for players that want to get to the highest level possible, and we're confident we've got some guys that might get the opportunity to get drafted this year.
"That's another thing we want to see, we want to see guys get drafted from this team and be a pathway. Fingers crossed for those boys, we're a red hot chance to maybe get one drafted this year with the year we've had and how young we are, that would be great for the footy club."
Canberra's preliminary final showing against the Swans shows where the holes are. At times the midfield was dominant, at times it fell away and the opposition looked quite convincing.
Klemke has his eyes locked on adding more depth in the midfield and hopes his current crop can add some size over the off-season to compete with more mature opposition teams.
The 28-year-old is being realistic when he says "we've got a few holes in our team we need to fix" but he is confident of retaining the bulk of his young group for next season and beyond.
He believes the high-pressure environment of finals football will be a massive boost going forward with players to receive feedback and off-season goals during exit interviews over the coming weeks.
Klemke's parting message will be simple: enjoy the off-season, because in late in November "we start all over again".
"We'll come back ready to go, knowing what we can do. We know our capabilities, if we can just be consistent we can definitely match it and go one step further next year," Klemke said.
"We're disappointed, we really wanted to make the grand final as every side would do. Hopefully that can drive us even further into next year. We're realistic, we've got a few holes in our team we need to fix.
"We probably need some recruits but also the experience for the young guys if we keep most of the group, which we should, the experience is going to do a massive thing for them."
AT A GLANCE
NEAFL preliminary final -
SYDNEY 4.2 8.3 15.8 18.10 (118)
CANBERRA 1.1 5.5 6.8 8.14 (62)
GOALS – Sydney: J Bell 3, D Cameron 3, G Rohan 3, S Wicks 2, J Rose 2, J Stern, J Brown, H Ellem, J Maibaum, R Stoddart. Canberra: B Fulford 2, C Owen-Auburn, M Maguire, R Stevens, A Paech, M Hardie, A Smout.
BEST – Sydney: J Maibaum, J Brown, J Rose, H Marsh, D Cameron, K Veerhuis. Canberra: I Taylor, M Maguire, A Smout, A Paech, T Highmore, S Martyn.
Caden Helmers is a sports reporter for The Canberra Times