Canberra Capitals kickstart contract talks
Canberra Capitals coach Paul Goriss is wasting little time in setting his sights on a WNBL championship defence with contract talks set to ramp up over the coming fortnight.
A mountain of work lies ahead of Capitals chiefs Carrie Graf and Lucille Bailie, who are faced with an off-contract coach in Goriss and boast just three players on the books for next season.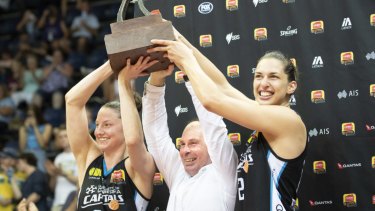 The Capitals have already opened talks with some players about returning next season, with fans set to get the chance to celebrate with them in a reception at the University of Canberra on Tuesday.
Marianna Tolo, Leilani Mitchell, Kelly Wilson, Maddison Rocci, Lauren Scherf and Hannah Young are entering free agency while imports Kia Nurse and Kaili McLaren will soon return home.
Three-time grand final most valuable player winner Kelsey Griffin joins Keely Froling - who is quickly sinking back to reality after returning to university on Monday - and Kristy Wallace on the 2019-20 roster. Goriss is making no secret of his desire to be the man steering the ship again.
"My number one priority is making sure the Capitals are taken care of. That's making sure we continue to build a dynasty and a great legacy here," Goriss said.
"We've done that over the past couple of years, we're slowly building, to build on this championship and get a repeat. A back to back one is not that easy.
"It's making sure we get the right people and hopefully keep the core group around as much as possible. You don't know what other people's motivations are as to whether they stay or go, so we'll try to keep as many as we can here.
"With me, it's just wait and see when the contract comes along."
Tolo turned down the chance to play in the United States to give her body a break leading into an Olympic Games year in 2020 and could re-sign with the Capitals.
Mitchell put contract talks on the backburner to focus on a championship tilt and the star guard is considering her next move following the upcoming WNBA season.
The 33-year-old is weighing up her options because she has more than herself and Mikaela Dombkins to worry about nowadays - Mitchell also has to consider their son Kash.
"We were just waiting on the finals, so now that's over with I'm sure we'll have some talks next week or in the coming weeks about what will happen with the team," Mitchell said.
Wilson will soon sit down with her husband to discuss the prospect of breaking the 400-game barrier, with the school teacher weighing up the chance to go out with back-to-back titles.
Griffin took a gamble when she signed a two-year deal with the Capitals to become the second face on a new look roster heading into the 2018-19 campaign.
She hopes a long-awaited championship will see more follow suit next season but concedes expecting everybody to return is simply too much.
"It's a bit like last year really. To be honest there is a lot you want in teammates. I want people who want to be here, and I think if there was ever a reason to stay, this season would be a reason," Griffin said.
"If people have different reasons, different motivating factors to go play elsewhere, I fully support that. If they want to stay and play, that's fantastic.
"Too much you want to convince somebody to come and stay or convince somebody to come here and play. I really like it when people know, and have a goal in mind to win a championship.
"All of my teammates know that, but if they move on to bigger and better things then I support them and I am very grateful for the time I got to have with them this season."
Caden Helmers is a sports reporter for The Canberra Times