Capitals plan funeral trip after Graf's loss
A small contingent of Canberra Capitals representatives are heading to Melbourne today for the funeral service of coach Carrie Graf's father, as the club endeavours to maintain the status quo in her absence.
Graf's father, Richard, died on Saturday morning after she took a leave of absence to be with him. The team were told of his passing after their upset win against Bendigo on Sunday.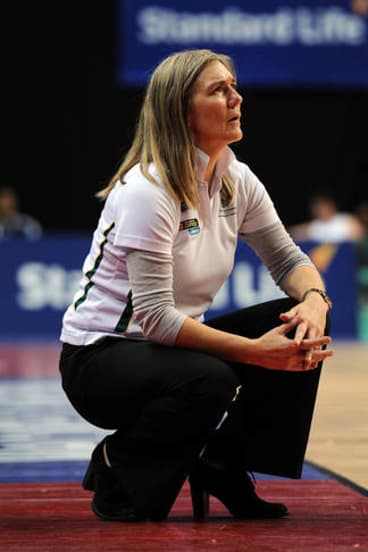 Basketball ACT boss Tony Jackson, will be attending, as will a handful of players, with Lauren Jackson expected to be among those supporting the Opals and Capitals mentor.
''We've really left it up to the discretion of the girls if they want to go,'' assistant coach Sandy Tomley said yesterday.
''Wednesday is usually our day off anyway, the girls have team weights in the morning - we're trying to keep it as same as possible, but if anyone requests to miss weights because they're planning on going down, then we'll grant that.''
''We know that Graffy would like to keep the status quo as much as possible, Graffy's not really someone who wants to change things up too much, and I think that's the best thing that we can honour for her and her dad, is keep our mind on business and try and get a win this weekend.''
Last weekend's double header were the first games in eight seasons that Graf hasn't been at the helm of the Capitals, a situation which left long-term assistant Tomley in charge.
''This is my eighth year, and this is definitely the first game that I've ever had to coach for us.
''Graffy's always been there on the sidelines, in the change rooms before and after games - so yes, it's unusual,'' she said. ''Whether that was a factor [in the loss] against Adelaide - having a bit of distraction with Graffy, we tried not to make it distracting, but of course she's always in the girls' minds, and she's always in the coaching and support staff's mind.''
The players used doubts about the Capitals ability to match the top two teams in the league without Jackson or Graf as motivation to bounce back and win against the previously undefeated Bendigo.
''We knew we were always going to have critics because people were saying Lauren's out, and now Graffy's out, so I think that was fuel for us to do as best as we can,'' Tomley said.
The Capitals face Bendigo again this weekend at the newly re-named Lauren Jackson Stadium in Albury.
Bendigo will be bolstered by the addition of WNBA player Kelsey Griffin who was cleared yesterday to join the team.
Morning & Afternoon Newsletter
Delivered Mon–Fri.