The physical and emotional stability learnt through boxing is just one aspect of a new program which aims to change the lives of young people in Canberra.
A pilot program to empower youth was run at the Stockade training centre in Dickson and organisers hope more funding will enable it to continue.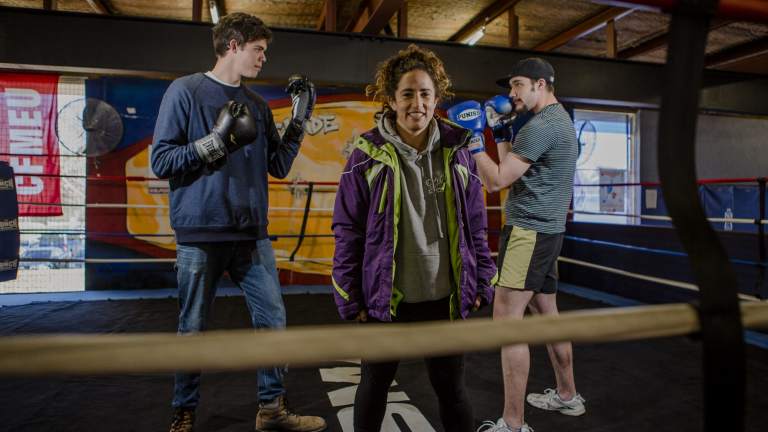 The idea came together with the help of a life coach, champion boxer, nutritionist and a youth engagement worker. Nine young people were involved to help bring the project to fruition.
Life coach Laura Aoun said the program, called IN, was based on a similar model in Canada, called Shape Your Life.
"We collaborated on this great idea to combine the three elements for disadvantaged young kids," Ms Aoun said.
"We started with the boxing and the kids absolutely loved it."
Ms Aoun said her part in the program was helping the kids realise a dream and set goals to achieve it.
"It's about introducing them to the concept of dreaming," she said.
"For some kids, it's a bizarre, strange thing. I think it's a wonderful gift to give, especially disadvantaged young kids.
"It's something foreign and it's something so empowering."
Northside Community Service youth engagement worker Dan Hanford said the pilot program was one among many activities held during the school holidays to engage Canberra's youth.
"We're trying to get the program funded for vulnerable young people to develop some self-esteem, physical fitness, some life skills, and a respect for others, which is the culture that you get in a boxing gym," he said.
"A lot of young people we find don't respect violence so they use it pretty casually. Learning this they will learn to respect themselves and respect others."
For champion boxer Bianca Elmir, the program is one she wishes had been around when she got started.
"I was so frustrated. I had such limited control over my life because I was having a really rough time with family and stuff; I just wanted a bit of purpose, and that is what fighting gave me," she said.
"It gave me consistency, when everything else in my life was so chaotic."
"It gives them stability and that is something they can transfer to anything that they do in their lives," Ms Elmir said.
The organisers hope to create a bi-weekly supportive community space for vulnerable young people.
Phone 6257 2255 for more information.
Kimberley Le Lievre is the Editor of The Sunday Canberra Times