BEN TREFFERS was born to be an Olympian.
Just not for Australia.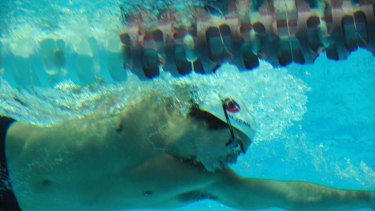 Kiwi blood flows through the 20-year-old's veins, but the Canberra-raised backstroker would love nothing more than to wear the green and gold at the London Games.
The reigning national 100m backstroke champion can follow in the footsteps of his dad Mark and aunty Lynne Dalzell by punching his ticket at the Olympic selection trials in Adelaide, starting Thursday.
Mark Treffers, a 1974 Commonwealth Games gold medallist, represented New Zealand in the pool at the infamous 1972 Munich Olympics, remembered for the kidnapping and slaying of members of the Israeli Olympic team by Palestinian terrorists.
He finished sixth in the final of the men's 1500m and became a dual Olympian at the 1976 Games in Montreal, where he was joined by Ben's aunty, Lynne Dalzell.
Along with comparing training notes with his dad, Ben Treffers has been picking his brain about what to expect on the world's biggest stage.
"He talked about how [in Munich] it was just shock," Ben Treffers said.
"I've read a bit about it and watched the movie.
"It just seemed like the Germans were putting on a fun-filled kind of Games so security was really low-key.
"If I get to the Olympics and start to experience it I'll have more of a meaning of what it really is."
Treffers has been a part of the AIS program under the tutelage of coach John Fowlie for the past five years, knowing he'd have to give up his chance to compete for New Zealand.
"It wasn't a hard decision, as I could see how good I could be at swimming and the chance I had to work with John," Treffers said.
"I wouldn't want to be swimming anywhere else.
"The Australian team's got a good chance to win some medals and I want to be a part of that."
Getting on the team is Treffers' immediate goal.
He needs to finish in the top two in the 100m backstroke in an A-qualifying time to book his spot.
But he's got no shortage of more experienced competitors standing in his way.
Hayden Stoeckel won bronze in the 100m backstroke in the 2008 Beijing Olympics, while Ashley Delaney collected that same colour medal in the 50m, 100m and 200m backstroke at the 2010 Commonwealth Games in India.
Treffers failed to gain selection to New Delhi by a heartbreaking 0.01sec - the same margin which cost him a berth at the 2009 world championships.
"I've had enough near misses but I think it's made me a a better swimmer," Treffers said.
"If I didn't miss out on world championships in 2009 and Commonwealth Games in 2010, I wouldn't be sitting here, trying to make the Olympics.
"I don't think I would've been able to make the changes that I needed to make.
"John Fowlie and I sat down and sought out a way I could really improve.
"I needed to get fitter and work harder and it's all paying off."